AudioReputation is reader-supported. When you buy through links on our site, we may earn an affiliate commission Learn More
Whether you're looking for a great home theater system under $3,000 or you just want a pair of great-sounding tower speakers, you should check out the latest Novus speaker line by Aperion Audio. In this review, we'll be talking about Aperion Audio Novus 5.0.2 system and we'll give you our impressions about each speaker and about the system as a whole.
Novus speaker line is the latest line introduced by the award-wining Aperion Audio. In terms of pricing their Aperion Audio Novus 5.0.2 system is somewhere in between their first Intimus system and their flagship Verus systems. In terms of performance and especially in terms of performance/value ratio, Novus 5.0.2 is an excellent system and deserves our recommendation.
There are quite a few pretty big selling points. First of all, Aperion Audio Novus speakers look simply magnificent, especially the towers. They are not much pricier than the Intimus speakers, but they look so much better. Intimus speakers sound really good, but the design is a little bit too generic or a bit too ordinary. Novus towers feature a simple design but have some very unique and eye-catching details like the slotted and very thin bass reflex ports, adjustable metal feet, and silk dome tweeters.
The build quality of the speakers is impeccable. The manufacturer paid attention to every detail. The enclosures are made of wood and are anti-resonant. Each speaker has 5-way gold-plated binding posts. The speakers have high-quality drivers (aramid-fiber and aluminum cone woofers, and silk-dome tweeters with ferrofluid voice coils).
What makes the Novus 5.0.2 system different from other home theater systems in the same price range is the addition of two A5 height modules and adjustable tweeter gain feature. Most of the high-end home theater systems in this price range don't come with any kind of height speakers/modules or, in some cases, they come with in-ceiling speakers. Only a few of them come with Dolby Atmos modules. You can install those height modules in various ways. Treble gain adjustment is also a great addition. On the rear panel of the Novus towers and bookshelf speakers, you will see a simple jumper that allows you to lower the gain by 3dB and make the treble silkier and more laid back.
All the previously mentioned features are pretty important and they all add some value but the biggest selling point is, obviously, the sound quality and surround sound performance. Aperion Audio Novus 5.0.2 truly excels in this department. The sound is spacious, loud, clear, and the surround effects are very lifelike. This is the reason why you must check it out.
When it comes to disadvantages, the most noticeable is the lack of those really low frequencies. The manufacturer decided not to include a dedicated subwoofer and, in our opinion, that wasn't a good idea. Those tower speakers can go pretty low (down to 36Hz) and they do a pretty good job but they can't compete with a dedicated subwoofer. Also, the system doesn't come with mounting equipment so, if you want to mount the surround speakers or height modules, you will have to pay extra.
Aperion Audio Novus 5.0.2 System Review
Aperion Audio Novus 5.0.2 System is a high-performance home theater speaker package that delivers an immersive and detailed sound experience. It features advanced driver technologies, a high-quality crossover design, and a sleek design. Great for movie lovers and audiophiles, who want to experience the full impact of sound in their home theater. Robust build quality and sleek design.
Elegant and unique design

Excellent build quality

The bundle comes with two height modules

Tweeter gain adjustment feature (tower and bookshelf speakers)

Multiple installation options for height modules

Very good bass response (considering the fact that there's no dedicated subwoofer)

Impressive sonic performance with clear dialogues and immersive surround and height effects
The system doesn't come with a subwoofer

Mounting equipment for the surround channels and height modules is not included
Aperion Audio Novus 5.0.2 system, like every previous home theater system made by Aperion Audio, offers great value for money. The most noticeable selling point is the addition of two A5 height modules but that's not the only quality of this impressive surround sound system. Novus 5.0.2 has a unique design, it's made of high-quality materials, and its sonic performance exceeds expectations. This system can handle any audio content you throw at it, whether it be music or Dolby Atmos surround sound. The thing that's not so great about it is the lack of dedicated subwoofer and the lack of mounting equipment.
What's in the box?
Every speaker is nicely packed and protected with high-density open-cell foam. Besides the speakers, you will only get a simple owner's manual, and a 5-year transferable warranty. You will have to buy the speaker wire and connectors on your own (the manufacturer recommends at least 14AWG). The same goes for the mounting brackets and other mounting equipment and, of course, for the subwoofer (in case you want one).
The good thing about this system is that you don't have to buy the whole bundle at once. You can start with the towers and then add center, surround, and height speakers.
Specs
Aperion Audio Novus 5.0.2 Specifications
DIMENSIONS
Novus Tower Speakers
Width
8.5in
Height
37.2in
Depth
10.63in
Weight
27.2lb (each)
Novus Bookshelf Speakers
Width
7.1in
Height
11.8in
Depth
7.9in
Weight
10.1lb
Novus Center Speaker
Width
19.1in
Height
7.3in
Depth
9.1in
Weight
18.3lb
Novus Height Module
Width
5.7in
Height
7.1in
Depth
7.9in
Weight
7.7lb
DRIVERS
Novus Tower Speakers
Configuration
2-way
Woofers
5.25in aramid-fiber cone x2
Tweeters
1in silk-dome with ferrofluid x1
Novus Bookshelf Speakers
Configuration
2-way
Woofers
5.25in aramid-fiber cone x1
Tweeters
1in silk-dome with ferrofluid x1
Novus Center Speaker
Configuration
3-way, vertical array
Full-range woofers
5.25in aramid-fiber cone x2
Midrange woofers
4in aramid-fiber cone x1
Tweeters
1in silk-dome with ferrofluid x1
Novus Height Module
Configuration
2-way
Woofers
5.25in aluminum cone x1
Tweeters
1in silk-dome with ferrofluid x1
ENCLOSURE TYPE
Novus Tower Speakers
Ported (front-firing), Anti-resonant, Internally braced
Novus Bookshelf Speakers
Ported (front-firing), Anti-resonant, Internally braced
Novus Center Speaker
Sealed, Anti-resonant, Internally braced
Novus Height Modules
Sealed, Anti-resonant
ACTIVE OR PASSIVE
Novus Tower Speakers
Passive
Novus Bookshelf Speakers
Passive
Novus Center Speaker
Passive
Novus Height Modules
Passive
CONNECTIONS
5-way gold-plated binding posts
TECHNICAL DETAILS
Novus Tower Speakers
Frequency response
36Hz-30kHz (+/- 3dB)
Sensitivity
88dB (2,83V/1m)
Impedance
4Ω
Recommended power input
20-150W
Novus Bookshelf Speakers
Frequency response
45Hz-30kHz (+/- 3dB)
Sensitivity
85dB (2,83V/1m)
Impedance
4Ω
Recommended power input
20-100W
Novus Center Speaker
Frequency response
70Hz-30kHz (+/- 3dB)
Sensitivity
87dB (2,83V/1m)
Impedance
4Ω
Recommended power input
20-100W
Novus Height Modules
Frequency response
120Hz-30kHz (+/- 3dB)
Sensitivity
87dB (2,83V/1m)
Impedance
6Ω
Recommended power input
20-100W
ADDITIONAL FEATURES
Novus Tower Speaker – treble adjustment

Novus Bookshelf Speaker – treble adjustment

Novus Height Module – 3 placement/installation options
Design
The manufacturer did a great job when it comes to design. The speakers are simple, yet very sophisticated and with some nice and subtle details. They are available in two colors pure white and stealth black. The finish is done in matte black and white which seems insignificant but it's actually quite important and prevents reflections when watching movies in a dark room.
Available in two colors – pure white and stealth black
The cabinets are sleek and stylish, with rounded edges. They are made of wood and feel solid and durable. Each speaker comes with a removable magnetic cloth grille. You can use the speakers with or without the grille – it's just a matter of taste. We like the look without the grilles, especially on pure white version.
The speakers are quite hefty but not too large. The bookshelf speakers are even smaller than average. They look like a pair of desktop speakers.
Towers, center channel, and bookshelf speakers have backward-angled baffles, which is not just a design-related thing but also has an important impact on the performance (will be discussed later).
Another eye-catching detail that makes the tower and bookshelf speakers special is the front-firing bass reflex port (slotted port). The majority of manufacturers prefer rear-firing ports since they are easier to design and don't affect the overall aesthetic of the speaker but Aperion Audio opted for a different solution. You might think that front-firing ports look bad, but Novus speakers will prove you wrong. The manufacturer managed to incorporate front-firing bass reflex ports without affecting the visual appearance. If anything, those bass reflex ports made them look even better.
Tower speakers have great-looking slotted bass ports and adjustable metal feet
Each speaker features 5-way gold-plated binding posts on the rear panel. Bookshelf and center speakers also have threaded inserts so you can mount them if you want to. A5 height module has threaded inserts on three sides which allows you to install it in different ways. In addition to binding posts, on the rear panels of the towers and bookshelf speakers, you'll find a jumper that regulates the twitter gain and allows you to adjust the treble to your likings.
The rear panel of the bookshelf speaker
Features
As mentioned in the design section, towers, bookshelf speakers, and center speakers have backward-angled (slopping) front baffles. The idea behind this design is not only to make them look good but also to align the phase between the woofers and tweeters.
Slotted reflex ports affect the looks even more that a subtle slope, but they also have their purpose. They are supposed to reduce air-leak noise when very low frequencies are produced. Naturally, we were skeptical about the ability of these thin ports to do that, but the speakers proved us wrong.
Each speaker, including the height modules, features 1in fiber-silk dome tweeter with a ferrofluid-cooled voice coil. These tweeters are the main reason why Novus speakers can deliver neutral, very detailed, and extended treble response up to 30kHz. These tweeters are supposed to deliver a more laid-back response without any brightness or harshness.
Five main speakers (towers, bookshelf speakers, center speaker) have aramid-fiber cone woofers paired with previously mentioned fiber-silk dome tweeters. The towers have two 5.25in woofers while the bookshelf speakers have one 5.25in woofer. Both towers and bookshelf speakers have 2-way driver design. The woofers have long-throw excursion which is supposed to improve the dynamic range and reduce the distortion.
The center speaker is a bit more complicated. It features a 3-way design with the same silk dome tweeter as other speakers, two 5.25in aramid-fiber woofers (one passive, one active), and one 4in mid-range woofer. 4in mid-range woofer is located right in the center of the speaker. It's responsible for the vocals and it's supposed to deliver perfectly clear dialogs.
Unlike other speakers, A5 height modules have aluminum cone woofers. Also, their drivers are coaxial. We've had some doubts about their performance and about the coloration of the sound coming from these speakers but they proved to be the perfect match with the rest of the system.
One of the special features you can't find on other speakers is the tweeter adjustment jumper on the rear panel of the Novus tower and Novus bookshelf speakers. These jumpers regulate the signal gain for the tweeters and make the treble response softer. We usually find those silk dome tweeters pretty neutral and detailed but if you find the treble too bright, you can always try to lower the gain.
Another interesting feature is the ability to mount the speakers. You can mount the surround speakers, the center speaker, and height modules. Height speakers are the most interesting part since they are the most versatile. You can simply place them on top of the towers or a TV stand. You can also mount them on a front wall or ceiling. Your choice depends on your preferences but also on the configuration of your room. If you want to use them as height speakers (for Dolby Atmos and DTS:X effects), it's safer (but also much harder) to mount them on a wall or ceiling.
Installation, Performance, and Sound Quality
The installation is pretty much straightforward. You have to buy all the wires and connectors on your own, but that's pretty much expected. We tried the bookshelf and tower speakers (as stereo pairs) with our integrated Marantz PM7005 amplifier. For the home theater surround sound test, we used our Marantz – SR7011 AV receiver.
Connecting everything shouldn't take too long, but you will need some time to mount the surround and height speakers (in case you want to do that). Also, it's very important not to run any wires from your amp to the tweeter adjustment. Tweeter adjustment is a separate feature and it doesn't have anything to do with the amp.
As mentioned previously, if you want to mount the height modules and use them as Dolby Atmos speakers, you have three options – place them on top of the tower speakers (the sound gets reflected off the ceiling), mount them on the front wall above your TV, or mount them on the ceiling. You could also mount them on a sidewall.
Height module installation/placement options
The recommended burn-in time is 20-40 hours and, after that, the speakers will show their full potential.
In a stereo configuration, Novus towers offered quite impressive performance. The bass was dynamic, fast, accurate, but it lacked depth and detail. That's exactly the reason why this system needs a dedicated subwoofer. The midrange reproduction was the best part. The vocals were clear and tonally correct. There was some subtle coloration in the low-midrange region and it was very pleasant. Those new German silk dome tweeters delivered a mellow and crisp treble response. We didn't feel like it was too bright at any moment. So, even without adjusting the treble settings, the high-end was perfect. It was detailed and pleasant, almost sparkling. Now, some people like more intense, more exciting treble (something like Klipsch) but if you are into laid-back but detailed high-end reproduction, as we are, you'll be very happy. Aperion did a great job with that new tweeter.
In our home theater setup, the performance was even better. The installation of height modules took some time since we wanted to mount them on a front wall, above the screen. We didn't want to place them on towers and the reason is pretty simple – getting the sound to bounce of the ceiling and hit the right place is not that easy and, in some cases, there's not enough space for the sound to bounce back correctly. Also, the reflection patterns and the quality of the reflected sound depend on the material the ceiling is made of. So, if you have a dedicated home theater room with upholstered ceiling and wall panels or if your ceiling is covered with some sound-absorbing material in order to prevent reflections, placing the height modules on the towers and expecting them to reflect the sound correctly would be stupid. In our opinion, the best option would be to mount them on a ceiling and direct them toward the watching area, but this kind of installation takes longer than mounting them on a front wall. We opted for the second-best option but if your room is pre-wired for a home theater system or if you have enough patience and knowledge to run the wires on your own, go for the best option.
Recommended Reading :

To test the coherence and clarity of vocals and the overall performance of the front speaker line (towers and center speaker) we used a few Blu-rays including Les Misérables, La La Land, A Star is Born, and Bohemian Rhapsody. Now, out of all these, only La La Land and A Star is Born came with Dolby Atmos tracks while the rest came with either 5.1 or 7.1 tracks, but the point was to test the dialogs and vocal clarity and we were amazed. The vocals in songs, dialogs, music – everything sounded perfectly clean and coherent. There was no noticeable sibilance, harshness, and no distortion, even at high volumes. Dolby Atmos track in La La Land combined with our Novus 5.0.2 managed to spread out the orchestra all over the room. The vocal precision was amazing. That 3-way center channel allowed us to hear every syllable and every lyric clearly. What gave us goosebumps was that Live Aid 1985 scene from the Bohemian Rhapsody, even though it wasn't Dolby Atmos. The front channels did their job flawlessly as always, but the involvement of surround channels was breathtaking. They moved us from the stage to the crowd and then back to the stage. It sounded just perfect.
To test the surround sound and object-based effects, we had to use something with a little bit more action. So, we picked out a few Blu-ray discs including Mad Max: Fury Road (UHD with Atmos track), The Bourne Identity Ultra HD with DTS:X track, and Fast & Furious 6 (also UHD with DTS:X). We were a little bit skeptical about the involvement of height modules, mainly because of the different driver configuration (coaxial) and different type of woofer (aluminum cone instead of the aramid-fiber cone you can find on other speakers). However, they were a perfect match. With the height modules, the soundstage expended to the maximum. Sounds were all around us. Gunshots, cars flying, raindrops, everything sounded perfectly natural.
One thing we noticed is the lack of really deep, earth-shaking bass. Novus 5.0.2 definitely deserves that kind of bass but, unfortunately, the bass module is not included. Towers are supposed to go down to 36Hz and those 2 aramid-fiber woofers do the job very well but, sometimes, you need more than that. Adding a powerful 10in or 12in subwoofer to the system would make a huge difference. You would be able to set the crossover to 36Hz (or a little bit higher) and make the job easier for the tower speakers while improving the overall performance of the system. Adding a subwoofer to this system is highly recommended. The lack of a dedicated LFE channel is probably the biggest downside of the Novus 5.0.2 system.
The Competition
At a $3,000 price tag, there's a lot of competition. There are various home theater speaker systems made by Klipsch, Polk Audio, Martin Logan, B&W, SVS, and other reputable manufacturers. They all have their own pros and cons and your choice depends mostly on your taste in sound. Some systems offer deeper and more detailed bass but a little bit less clarity when it comes to dialogs. Some systems deliver a bit too intense treble reproduction while others have more laid-back treble. Most of them are very well made (and that's completely expected at this price point) but they don't all look equally good and only some of them are a good match for your room (in terms of size and design). So, before making a purchase, it would be best to see the speakers and, more importantly, to hear them. 
We have decided to present to you three interesting alternatives – the cheaper Intimus speaker system made by Aperion Audio, Klipsch's RP-800F home theater system, and Bowers and Wilkins MT-60D mini theater system.
---
Aperion Audio Intimus
Inntimus home theater system, just like Novus 5.0.2, is made by Aperion Audio. This is a little bit cheaper option ($500 price difference). Intimus comes in 3 different configurations. Each configuration includes 2 Intimus 5T towers, 2 Intimus 5B bookshelf speakers, and Intimus 5C center speaker. There's a version with Brutus II 10D 10-inch subwoofer (priced at $2,100) and a version with Brutus II 12D 12-inch subwoofer (priced at $2,500). Also, there's a special Atmos bundle with Brutus II 12 D and four Aperion 8in in-ceiling speakers (priced at $3,150).
In terms of design and aesthetics, the Intimus system is not a match for Novus 5.0.2. Intimus speaker line is made with care, too and it does look very solid, but it's not as beautiful as Novus line.
Novus towers and bookshelf speakers come with jumpers that can lower the tweeter signal gain (by 3dB) and change the sound signature if you prefer softer treble. They also come with height modules. On the other hand, Novus 5.0.2 speaker system doesn't have a dedicated LFE channel while Intimus systems come with either 10in or 12in Bravus II powered subwoofer.
When it comes to sound quality and surround sound performance, they both have their good sides and some imperfections. The problem with the Novus 5.0.2 is pretty obvious. That 0 is the problem. Intimus systems deliver deeper, more textured, and more detailed bass. On the other hand, Novus delivers a clearer midrange and more neutral and extended treble response.
---
Klipsch RP-8000F 7.1/5.1.2
Because of their trademark spun copper drivers and Tractrix horn tweeters, Klipsch speakers are probably the most recognizable speakers on the market. Klipsch RP-800F 7.1/5.2 bundle is a little bit pricier than Novus 5.0.2 ($150 price difference). The bundle includes two RP-8000F towers, two RP-600M bookshelf speakers, one RP RP-404C center channel, and two RP-500SA Dolby Atmos elevation/surround sound speakers. You can use those two RP-500SA speakers as your height modules and make a 5.1.2 system or you can use them as your rear surrounds and make 7.1 system. It's all up to you.
Discussing the aesthetics and the build quality, in this case, would be stupid. Both systems are beautiful, but in different ways and they are both very solid.
The only difference, in terms of configuration, is the subwoofer. RP-800F comes with a huge 15in subwoofer, while Novus doesn't. That's the biggest advantage of the Klipsch's home theater system. It truly delivers thunderous bass. On the other hand, Klipsch speakers are known for their intense treble response. Some people like it but we don't. The manufacturer managed to make it softer by using the titanium drivers and by changing the horn design but it's still too bright for people with sensitive ears. On the other hand, the Novus system delivers more extended, flatter, and more laid-back treble.
---
Bowers & Wilkins MT-60D
B&W MT-60D is not a match for Novus 5.0.2 when it comes to performance, but it is a match in terms of pricing. They are basically priced the same (only $50 difference). MT-60D system consists of 5 M1 speakers and one PV1D subwoofer. MT-60D home theater system is significantly smaller and it's a nice choice for small rooms, while the Novus system can be used in medium and larger rooms, especially if you add a subwoofer (or even 2 subwoofers) to the system.
The most eye-catching part of the MT-60D system is the spherical PV1D subwoofer. It truly looks amazing. The subwoofer features a DSP chip and has a simple touch-sensitive panel on the front so you can play with the bass response (boost it or lower it). Those five M1 speakers are smallish but surprisingly loud for their size. Each M1 speaker has 1in aluminum dome tweeter and 4in woven glass fiber woofer. Compared to Novus towers, Novus bookshelf speakers, and Novus center speaker, these speakers are too tiny and it's not fair to compare their sonic performance or loudness. MT-60D is great for small rooms but it can't outperform Novus 5.0.2. If you are looking for something that matches the performance of Novus 5.0.2, you could check out Bowers & Wilkins 600 Series (5.1 system would cost you at least $3,850 – the price varies depending on the subwoofer size).
---
Comparison Table
| Surround sound system | Height speakers | Subwoofer |
| --- | --- | --- |
| Aperion Audio Novus | Height modules | No |
| Aperion Audio Intimus 5T | No | Yes (10in or 12in) |
| Klipsch RP-8000F 7.1 | Height modules | Yes (15in) |
| Bowers & Wilkins MT-60D | No | Yes () |
Frequently Asked Questions
Where are Aperion speakers made?
Aperion speakers are manufactured in China. The build quality of these speakers is impeccable, and although the design is simple, the materials used are top-of-the-line. The manufacturer pays attention to every detail, making this one of the best speakers on the market.
Final Thoughts
In many ways, Aperion Audio Novus 5.0.2 is an excellent home theater system. It looks very stylish, it's well made, and only high-quality components were used (aramid-fiber and aluminum cone woofers, silk dome tweeters). The system comes with two A5 height modules for object-based surround sound effects, which is a great addition. Also, Novus towers and bookshelf speakers have adjustable tweeter gain, so you can make the treble response softer. This system delivers excellent value for money and completely deserves our recommendation.
However, you should have two things in mind. First, Novus 5.0.2 doesn't come with a subwoofer and, if you want the best possible experience, it's highly recommended to buy one (Aperion Audio Bravus II 10D and Aperion Audio Bravus II 12D are both great choices). Second, mounting equipment for the surround, center, and height speakers is not included and you have to pay extra for it. So, if you want to add one 10in Bravus subwoofer, buy two stands for the surround speakers, and two wall brackets for the height modules, the price of the whole system will reach $4,000.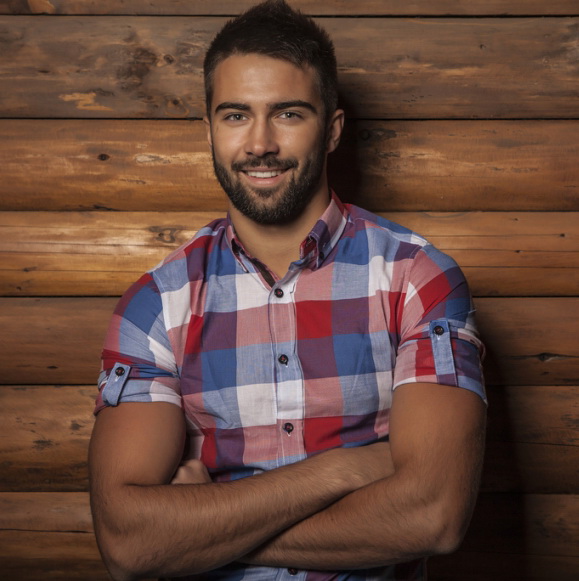 Hello, my name is James Longman.
I'm a writer and editor at AudioReputation. I disassembled my first portable AM/FM radio when I was only 8. At the age of 11, I burned the circuit board on my old boombox cassette player. I'm not going to explain how but it was reckless and stupid.
Since then, I have become much more careful around radios, boomboxes, and other audio devices (at least, I like to think so) but I have never lost the passion for audio equipment. Throughout 20 years of my professional career, I've been working for various audio equipment manufacturers and even started building speakers on my own in my little workshop.
I love the work we do here at AudioReputation. Testing, comparing, and evaluating all kinds of audio devices (speakers, soundbars, headphones, home theater systems, etc.) is something I truly enjoy. I try to be unbiased and give you my honest opinion on every piece of equipment I test. Still, you should take my reviews with a pinch of salt and always be just a little bit skeptical. The fact that I liked some speaker or soundbar doesn't mean that you are going to love it. If you have the opportunity, you should test it/hear it before buying it.