AudioReputation is reader-supported. When you buy through links on our site, we may earn an affiliate commission Learn More
According to the Collins Dictionary, Nirvana is the term from Buddhism that represents the highest spiritual state that can possibly be achieved. Colloquially, this term is often used to describe the state of perfect peace and happiness. Naming a piece of audio equipment Nirvana is a bit ambitious or even pretentious, but it doesn't necessarily have to be just a marketing gimmick. Nirvana headphone amp by Auris Audio is supposed to get your audiophilic ears to the edge of orgasm. Naturally, we were a little bit skeptical about this claim, but we were proven wrong. This divine headphone amp will give you nothing but pure enjoyment and happiness. Sounds interesting? Read our in-depth review to find out more.
---
Auris Audio is a Serbian audio company founded in 2013 by Mr. Milomir Trosic. Serbia is not the first country that comes to mind when you think of high-end amps/preamps/DACs, but Trosic's audio company is about to change that. Their product scope is not huge but it's growing and, even more importantly, every single device is crafted meticulously Their attention to details, devoted approach, careful tuning, and rigorous quality control procedures are impressive. Every product is handmade in a small in-house facility near the city of Krusevac, in Central Serbia. Just by looking at Auris Audio equipment, you can conclude that they don't make compromises when it comes to the quality of components.
Their weapon of choice is tubes and you'll find them in each amp, headphone amp, and preamp made by the Auris Audio. The company uses all kinds of tubes made by different manufacturers and they test every vacuum tube they install. For some products, they even use NOS tubes (NOS stands for new old stock). Just imagine – you could get a headphone amp with tubes made decades ago.
The product we are about to review is a headphone amp called Nirvana. It's a tube amp powered by the iconic EL34 tubes, one of the most popular tubes when it comes to British guitar amp design. There's an almost undivided opinion that EL34 tubes represent the essence of the so-called British sound.
There's no doubt that Auris Audio Nirvana is a high-end device. Not only because the price implies so, but also because it exceeds the expectations in every possible way. It's one of those amps that delivers perfect performance with any pair of headphones you throw at it. Any dynamic or planar magnetic headphones you can think of – this amp can drive them and it will bring out the best of them each and every time. Listening to some high-end planar magnetic headphones paired with the Auris Nirvana is complete bliss.
The only downsides we can think of is the price. Considering the design, build quality, quality of components, and sonic performance, we don't think that Auris Nirvana is overpriced but it's still expensive and this will be a deal-breaker for many people. If you are an audiophile looking for your next headphone amp and you don't mind spending $5,000+, you should give Auris Nirvana a try. Believe us – you will be stunned.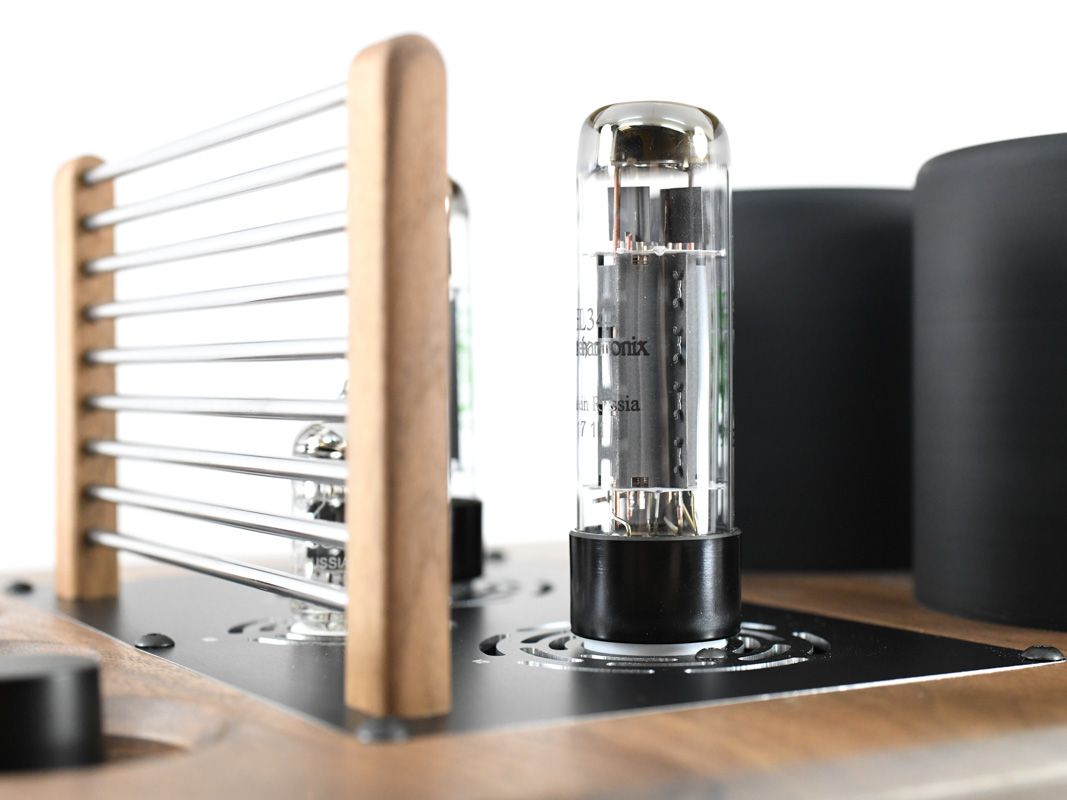 Impeccable classy/retro design

Exceptional build quality

Iconic EL34 tubes

Analog amplification with 6.5W of max power output per channel

Can drive any pair of dynamic or planar-magnetic headphones you can think of

RCA line inputs x2 + XLR 3-pin inputs

3 headphone outputs (4-pin balanced XLR x1, 6.35mm/3-pin XLR outputs x2)

Flawless and incredibly musical performance with enough clarity, dynamics, warmth, and smoothness to bring you to nirvana
Auris Audio Nirvana is the end-game headphone amp. If you can afford it, you must have it. It's expensive but it's completely worth it.
Official video – Auris Audio Nirvana
What's in the box?
Auris Audio Nirvana comes in a large and hefty box. The box contains two separate units – PSU (power supply unit) and the headphone amp (main unit). Everything is nicely protected with huge pieces of foam. Both units have the same width and depth which enables stacking (although, it's recommended to keep the units next to each other, not stacked). Besides the PSU and the headphone amp, you'll get a power cable for the PSU, one umbilical cable for connecting the PSU to the main unit, tubes, user manual, and a warranty card. You will also find a pair of white gloves that you can wear while installing tubes. You are supposed to buy all the other cables and interconnects separately.
You can choose between two versions – white with lighter wooden panels or black with darker panels
Specs
| Auris Audio Nirvana Specifications | |
| --- | --- |
| PSU DIMENSIONS | |
| Width | 300m/11.8in |
| Height | 95mm/3.7in |
| Depth | 390mm/15.4in |
| Weight | 7.2kg/15.9lb |
| MAIN UNTI DIMENSIONS | |
| Width | 300m/11.8in |
| Height | 190mm/7.5in |
| Depth | 390mm/15.4in |
| Weight | 11.8kg/26lb |
| TUBES | |
| Input tube | ECC82/12AU7W x1 |
| Power tubes | EL34 x2 |
| MAX POWER OUTPUT | 6.5W |
| OUTPUT IMPEDANCE | Variable 32Ω/80Ω/150Ω/300Ω/600Ω |
| INPUTS | |
| RCA line in | x2 |
| XLR balanced | x1 |
| OUTPUTS | |
| 4-pin balanced XLR | x1 |
| 3-pin XLR/6.35mm OUT | x2 |
Design
The moment you take it out of the box and look at it, you'll know how premium Auris Nirvana is. It features a classic retro design with wooden plates on the top and at the bottom, and with leather in between. The actual chassis is made of metal, and wood and leather are there mostly because of the looks (which is a good thing). This wood/leather combo looks truly premium.
The Nirvana headphone amp features a two-piece design. You have two separate units – PSU and the main unit. The units are a perfect match and they both have the same kind of wooden plates and leather wrappings. You won't see any rough edges or glue residues – the manufacturer paid attention to every little detail. The people from Auris Audio brought the visual appearance to perfection. There's absolutely nothing they can do to make it look even better.
Impeccable craftsmanship
The PSU unit is simple and stylish. On the top, there's a metal plate screwed onto the wooden plate. The metal plate has venting ports carved into it and shaped like a leather A (for Auris). Because of these ports, it's recommended to place the units next to each other and not to stack them. On the front panel, there's a nice-looking ON/OFF switch that matches the color of the leather.
Power supply unit – top and front panels
On the rear panel, you'll find the main power switch (it's supposed to stay on all the time), power input, fuse with input voltage selector (110V/220V), and power output port for connecting the PSU to the main unit (the umbilical cable for connecting the units is included in the package).
Power supply unit – rear panel
On the front panel of the main unit (the Nirvana headphone amp), you have two backlit VU meters (on the far left and far right) and three headphone outputs in the middle. There's one balanced 4-pin XLR output and two combo unbalanced outputs (6.35mm/3-pin XLR). At the bottom, there's a small LED power indicator. The color of the LED indicator matches the color of the VU meters (soft yellow) which is another small but important detail – as said previously, the manufacturer paid attention to everything.
Amplifier – front panel (headphone outputs and VU meters)
On the rear panel of the main unit, there are 2 pairs of RCA inputs, a pair of XLR inputs (left and right channel), and a power input (for connecting the main unit to the PSU).
Amplifier – rear panel (RCA and XLR inputs)
The most interesting part of the main unit is the top panel. You'll see two huge transformers, three tubes, a metal grille that protects the tubes, and three dials/selectors.
Amplifier – top panel (transformers, EL34 tubes, ECC82/12AU7W power tube, grille, and dials)
The first dial on the left is for selecting/matching the impedance, the second is the volume dial, and the third is the input selector.
Impedance, volume, and input dials
Features
Let's start with the most noticeable thing. Auris Audio Nirvana is a tube amp. Tube amp design was invented and perfected decades ago and there're practically no secrets when it comes to tube amps. Many tube amps (especially those cheap entry-level amps) produce too much noise and the reason is simple – the manufacturers don't use the right components (not because they don't know the right components but because the right components are more expensive).
The most important things when it comes to tube amps are output transformers, power supply units, and of course, the tubes. The Auris Audio team did everything right. You can see they used two hefty hand-made transformers, one for each channel. The transformers are manually wound on double C cores. The PSU is a separate unit which is always the safest choice when trying to achieve an audiophile performance.
Tung-Sol 12AU7W/ECC82 is used as an input tube. It's a very popular tube in the audio industry (low-noise line amps, phase inverters in vacuum tube push-pull amp circuits).
EL34 tubes are used as power tubes. They are even more popular than the 12AU7W/ECC82. This tube can be found in many British guitar amp designs and it represents the essence of the British sound in music. Many rock bands and musicians used at least one (or multiple) amps with EL34 tubes throughout their careers (Tom Morello, Mick Mars, Johnny Ramone, Eric Clapton, James Hetfield, etc.). EL34 is the most common tube in amps made by Marshall, Orange, Sound City, Laney, Hiwatt. EL34 tubes are known for balanced response throughout the spectrum, deep and tight bass, sweet mids, and extended and detailed highs.
Nirvana is designed to work with any pair of headphones you could think of (dynamic or planar-magnetic). The range of supported headphone impedances is huge – it can work with anything from 32Ω to 600Ω. You won't experience any issues with hard-to-drive headphones.
The manufacturer claims that the amp can deliver up to ''6.5W of pure class-A power'' which sounds great, but it doesn't give you any useful info on the RMS power output for the given load (30Ω, 100Ω, 300Ω) so you won't get the full picture just by reading the specs. Then again, you will never get the full picture just by reading the specs, even if the specs are very comprehensive. You should always hear the amp performing before you make a purchase. So, let's move onto the performance section.
Performance
As mentioned earlier, Auris Audio Nirvana is supposed to work with any pair of headphones and we decided to put this claim to the test. We went through all the demanding dynamic headphones and all the planar-magnetic headphones we had at our disposal including Sennheiser HD 800 (300Ω impedance/102dB sensitivity), Beyerdynamic DT 990 Pro (250Ω/96dB), DT 880 Pro (250Ω/96dB), LCD4 (200Ω/97dB), LCD3 (110Ω/102dB), HifiMan Susvara (60Ω/83dB), HifiMan HE1000 V2 (35Ω/90dB), MrSpeakers Ether 2 (16Ω), and OPPO PM-3 (26Ω).
We were using our Shciit Yggdrasil DAC, and we streamed the music via ROON running on our desktop PC. We've also tried this headphone amp with our Marantz TT-15S1 turntable connected to PS Audio's Stellar phono preamp.
Since EL34 tubes represent the very soul of the British sound, our choice of music was pretty obvious. We decided to use the collection of our favorite British rock albums and to spice it up with some other bands and artists we like (The Clash, The Cure, Oasis, Pink Floyd, Black Sabbath, Queen, Iron Maiden, Jefferson Airplane, The Cranberries, Janis Joplin, Fleetwood Mac).
Amazingly, Auris Audio Nirvana had no problems handling any of the headphones we threw at it. It was surprisingly silent at all times while unraveling layers and layers of pure joy and bringing out the best of every pair of headphones attached to it.
Auris Nirvana presented us with perfect clarity, precision, and airiness with all the headphones we used. Naturally, it's not the same amount of airiness and 3D effect with closed-back and with open-back headphones, but each headphone model sounded better than ever before. The sound, in general, was natural, smooth, and had the kind of warmth only EL34 tubes can produce.
Auris Nirvana simply gets everything right. The sound reproduction is dynamic and layered. It's precise and neutral but never too analytical.
One of our favorite headphones, Audeze LCD4, sounded amazing. The bass was earth-shaking (heavy, fast, impactful), the mids were perfectly clear and dynamic, and the highs were sparkling. Nirvana didn't cause any brightness or harshness in the treble region. The headphones never sounded dull. The soundstage was both wide and deep, allowing us to close our eyes and pinpoint the exact position of each instrument. Nirvana and LCD4 worked in perfect synergy.
Nirvana was able to achieve the same kind of synergy with every headphone model, allowing them to shine and show their full potential. It had no problems driving HifiMan Susvara or Sennheiser HD 800.
The sound is better in balanced mode – the reproduction becomes slightly more detailed and you get to hear a few more hidden layers of music. 
Check out our article on 'SPL Phonitor XE Headphone Amp'.
The Competition
There are quite a few high-end headphone amps on the market, but we can't think of an amp that's on the same level as Auris Audio Nirvana (at least, not in its price range). We decided to present to you three very interesting (and a little bit cheaper) alternatives.
---
Auris Audio HA-2 SE
HA-2 SE comes from the same assembly line. It's another high-end headphone amp but it's significantly cheaper than the Nirvana ($3,500 price difference).
HA-2 SE is not as capable or versatile as Nirvana. It features three RCA inputs (no XLR inputs) and only one 6.35mm headphone output (no balanced output).
Like the Nirvana, HA-2 SE supports headphone impedances up to 600Ω. It comes with a simple aluminum remote that only allows you to adjust the volume and mute it.
HA-2 SE features the same input tubes (ECC82) as Nirvana, and it uses 4 PL95 (or EL95) power tubes.
Another difference is that HA-2 SE is a single unit (no separate PSU).
Naturally, Nirvana offers more refined and more detailed sound reproduction, while the HA-2 SE offers a bit warmer signature. The difference in sound quality is not enormous. In case you like the design, quality of construction, and sonic performance of Auris Nirvana but can't afford it, you should give HA-2 SE a chance.
---
FOSGATE – Signature Headphone Amp
FOSGATE-Signature looks really good but it's definitely not as premium-looking as the Auris Audio Nirvana or HA-2 SE, but then again, FOSGATE-Signature is priced slightly under $1,500 which makes it much more affordable than the Auris Audio headphone amps.
This is actually a hybrid amp. It uses two 12AX7 tubes for the input stage and ''video buffers'' for the output stage.
FOSGATE-Signature is a low-power amp and it's not as capable as the Nirvana, so you won't get the same kind of synergy with just any pair of headphones. You will have to use some more efficient headphones to get the best possible performance. The amp can technically drive more demanding headphones, but they will never sound as good as they would sound with Nirvana.
FOSGATE-Signature has a few interesting features you won't find on Auris Audio Nirvana. It has bass EQ and surround sound function (which is supposed to improve the soundstage).
FOSGATE-Signature doesn't have balanced outputs, only 6.35mm output.
---
Feliks Audio Euforia Headphone Amplifier
Feliks Audio is another Eastern European brand. This headphone amp manufacturer comes from Poland. We don't know what's the deal with manufacturers from Eastern and Central Europe and tubes, but they seem to love their tubes more than other amp designs.
Euforia is priced similarly as HA-2 SE and it's significantly cheaper than our favorite Auris Audio Nirvana. In terms of design, Euforia is a very likable amp. It's simple and stylish, but it's not on par with the sophisticated Nirvana design.
Euforia uses 2 6AS7G power tubes and 2 6SN7 driver tubes. This amp has only 6.35mm headphone output (no XLR balanced outputs) and it has only one pair of RCA line inputs.
Feliks Audio Euforia delivers very dynamic, rich, and airy sound reproduction. It's more neutral and less warm than an average tube amp. If we would have to pick one thing that Nirvana does better, it would have to be the bass reproduction. Euforia has a great bass response – the bass is fast, accurate, and balanced with the rest of the audio spectrum, but Nirvana offers more in terms of quantity, bass extension, and impact. Nirvana also offers more layered reproduction and airier soundstage.
---
Comparison Table
| Headphone amp | Supported impedance | Power per channel |
| --- | --- | --- |
| Auris Audio Nirvana | 32Ω-600Ω | 6.5W (max) |
| Auris Audio HA2 SE | 50Ω-600Ω | 1W (max) |
| FOSGATE-SIGNATURE | 30Ω-500Ω | 1W (RMS) @30Ω |
| Feliks Audio Euforia | 32Ω-600Ω | N/A |
Frequently Asked Questions
How would Auris Audio Nirvana compare with the new HA2-SF?
Although the two have a lot of similar features, the company has upped the ante with the HA2-SF a little. While the new model uses four ECC99 power tubes, Nirvana has only 2 EL34s, but they use the same input tube – ECC82. Nirvana's VU meters are powerful compared to HA2-SF's, but this has a downside too. Nirvana's VU meters only move with very hard-to-drive headphones. HA2-SF does not have this issue. But Nirvana is still one of the best tube amplifiers on the market, though.
Compared to Manley Absolute, how is Auris Nirvana?
The Auris Nirvana gives the Manley Absolute a run for its money, even though the latter has some impressive features and is a popular amplifier among professionals. Nirvana boasts 3 headphone jacks while Absolute only has two, and has a flawless and incredibly musical performance with enough clarity, dynamics, warmth, and smoothness that is unmatched. You can expect some feedback from Absolute depending on the setting you've chosen, but you don't have to worry about that with Nirvana.
Final Thoughts
Auris Audio Nirvana is the kind of amp that exceeds your expectations regardless of how high your expectations are. It sounds impossible but it's true. Its huge three-dimensional soundstage, layered sound reproduction, the ability to bring the best out of any headphones, and its impeccably neutral response will show you the true meaning of the term Nirvana.
If you are in the market for a high-end headphone amp and you are willing to spend $5,000+ on a piece of audio gear, Auris Audio Nirvana must be on your shortlist.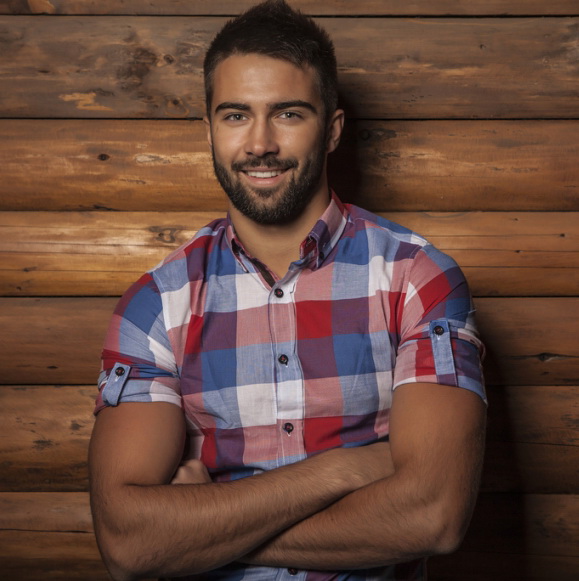 Hello, my name is James Longman.
I'm a writer and editor at AudioReputation. I disassembled my first portable AM/FM radio when I was only 8. At the age of 11, I burned the circuit board on my old boombox cassette player. I'm not going to explain how but it was reckless and stupid.
Since then, I have become much more careful around radios, boomboxes, and other audio devices (at least, I like to think so) but I have never lost the passion for audio equipment. Throughout 20 years of my professional career, I've been working for various audio equipment manufacturers and even started building speakers on my own in my little workshop.
I love the work we do here at AudioReputation. Testing, comparing, and evaluating all kinds of audio devices (speakers, soundbars, headphones, home theater systems, etc.) is something I truly enjoy. I try to be unbiased and give you my honest opinion on every piece of equipment I test. Still, you should take my reviews with a pinch of salt and always be just a little bit skeptical. The fact that I liked some speaker or soundbar doesn't mean that you are going to love it. If you have the opportunity, you should test it/hear it before buying it.