AudioReputation is reader-supported. When you buy through links on our site, we may earn an affiliate commission Learn More
Today's integrated amplifiers are much more versatile, capable, and efficient than they used to be. Even the cheap ones. Some 20 years ago, most integrated amps had only line-level analog inputs and maybe phono inputs. Today, they also have digital inputs, AM and FM tuners, and even wireless streaming capabilities (Bluetooth and wi-fi). Improved versatility is definitely a good thing but it can also be confusing and it may lead to trading quality for features. We are here to discuss the process of choosing the best high-end integrated amplifier for different audio setups, explain the importance of different features, and give you some recommendations. Let's start with the basics.
---
What is an Integrated Amplifier?
An integrated amplifier is a piece of audio equipment that combines two units – preamplifier and power amplifiers into one. More often than not, it's a combination of three units – preamp, Digital-to-Analog Converter (DAC), and power amplifier.
So, an integrated amp is a two-in-one or three-in-one unit and it does the job of all the above-mentioned units. Like a preamp, it allows you to connect different analog and digital audio sources to it, select the input your want to use, and adjust the volume. Like a DAC, it converts the signals coming from digital sources into analog and, like a power amp, it amplifies those analog signals and sends them to your speakers. That's, in a nutshell, the purpose of an integrated amplifier.
Are Separate Units a Better Option Than an Integrated Amplifier?
Generally speaking, using separates (preamplifier, DAC, power amplifier) will give you a higher-quality sound. Every audiophile and audio enthusiast will argue that this is a better option. A system that consists of separate units gives you more flexibility and allows you to choose the units you want to pair with each other. Furthermore, when you want to make an upgrade, you can replace just one unit and get a completely different sound signature (more customization options). It also enables better stereo separation and a cleaner signal path with less interference.
However, integrated amplifiers also have some advantages. First of all, they have a significantly smaller footprint, which can be an important factor when facing space limitations. Also, they are simpler – there are fewer interconnects and the user interface is usually much more intuitive since you don't have to shift between three different units.
Recommended Reading : How to Build the Ultimate Home Theater Experience?
Furthermore, as the price goes up, the difference in the final product (sound quality) between a system made of separates and an integrated amplifier becomes less and less noticeable. Some high-end integrated amps made by reputable manufacturers (Marantz, Peachtree, HEGEL, Rega, NAD, Nu Prime, GOLDMUND, etc.) deliver the performance that's on par with similarly priced systems made of separate units.
Class-A VS Class-AB VS Class-D Integrated Amplifiers
One of the most confusing topics when it comes to both power amplifiers and integrated amplifiers are amplifier classes and their advantages. Amplifiers are divided into classes based on their circuit topologies (the way their output stages are configured). The most important characteristics of an amplifier are signal gain, linearity, efficiency, and power output. Different classes of amplifiers have different advantages and disadvantages, and there's no such thing as an ideal amplifier.
Class-A
Class-A amps are often described as the most musical. Many audiophiles consider Class-A amplification the best kind of amplification because of signal linearity and clean power output. And also because of very low distortion, especially when it comes to push-pull Class-A amps.
Recommended Reading : What to Look for When Buying an AV Receiver?
The biggest disadvantage of Class-A amps is their low efficiency. You see, Class-A amps have their output devices conducting all the time, even when there is no audio signal, which results in a lot of wasted power that turns into heat. The efficiency of Class A amps almost never goes above 30% (only 30% or less of the consumed power is converted into the power of the output). Because of such a low efficiency and because so much power gets converted into heat, Class-A amps are usually very large and heavy and have huge heatsinks. Class-A amps are maybe the golden standard but are not recommended for high-power applications.
Class-B
Class-B amps are designed to fix the efficiency issues of Class-A amps but retain the same level of performance. Do they really do that? NO! The manufacturers have managed to improve the efficiency by arranging the output devices in a push-pull scheme and by preventing all the output devices to conduct at the same time. Instead, only half of them perform at a time. That way, the efficiency is significantly increased (often above 70%).
However, there's one huge problem with Class-B amps and it's called the crossover distortion. Without going into detail, this distortion is very noticeable (audible). So, Class-B amplification solves the efficiency issue but introduces an even bigger issue.
Class-AB
The idea behind Class-AB amps is to combine the linearity and distortion-free output of Class-A amps and the efficiency of Class-B amps. In theory, that would eliminate all the disadvantages of Class-A and Class-B amps.
Recommended Reading : Top Rated Wireless Surround Sound Systems
Class-AB amps use the same working principle as Class-B amps with a push-pull arrangement of output devices but with a different ''division of labor''. This ''simple'' solution reduces the crossover distortion significantly and makes it inaudible.
Many high-end integrated amplifiers are Class-AB or some modification of Class-AB.
Class-AB amplifiers
Class-G and Class-H
These two classes are basically modified versions of Class-AB. These amps use the so-called low and high-voltage rails that allow them to lower the power consumption and increase efficiency. Depending on the demands (low-amplitude or high-amplitude transients), the system uses low or high-voltage rails.
The biggest problem with these amps is their price. They are simply more complicated and pricier to build. The introduction of MOSFETs and the use of MOSFET transistors instead of bipolar transistors reduced the price and their complexity but they are still quite expensive. High-end integrated amplifiers using Class-G or Class-H amplification are also quite common.
ARCAM SA20 Class-G amplifier
Class-D
Class-D amps are often referred to as digital amplifiers, which is a mistake. They are much more efficient than any other amp type (the efficiency is higher than 90%). The difference between Class-D and all the other amplification types is that Class-A and Class-AB amps all have at least one output device active at all times. Even when there is no signal. Class-D amps use the so-called pulse-width modulation to control the output devices and switch them quickly between on and off state.
Closely related to the very high efficiency of Class-D amps is a very low waste of power, which means they never get hot (at least not as hot as Class-A or Class-AB amps). Combining Class-D amplification with SMPS (switched-mode power supply) improves the efficiency even more.
Recommended Reading : Top Rated Surround Sound Amplifiers for 5.1 & 7.1 Systems
Contrary to the popular belief, Class-D amps are not crappy. Some of the common issues with Class-D amps, compared to Class-A, are poorer treble reproduction, inconsistencies in sound quality depending on the speaker impedance, and low headroom. However, the manufacturers are working hard to improve Class-D designs and mitigate the downsides. Class-D amps are truly getting better and better every year. Some high-end Class-D amplifiers sound almost just as good as Class-A amps.
Class-D amplifiers
Tube Amplifiers VS Solid-State Integrated Amplifiers
Another confusing topic when it comes to amplifiers is tubes VS solid-state. The main difference between the two types is in the way they amplify the audio signal. Tube amps use tubes/valves, while solid-state amps use electronics.
The most important difference between the two types is in the audio reproduction and their signatures. The sound that tube amps produce is most commonly described as "warm". But what is warm? Basically, it means that the sound is spacious with good bass and midrange reproduction. What's also important for tube amps and the reason why people love them is that heartwarming distortion they produce when they are overloaded.
Luxman SQ-N150 Integrated Tube Amp
Solid-state amps, on the other hand, don't have some distinctive sound signature or something common for all the solid-state amps. Their sound output depends highly on the quality and type of electronics. That being said, solid-state amps are not a bad option – they are just not tube amps.
The biggest advantages of solid-state amps are their durability (much more durable than tube amps), lower price, and customizable sound output (you can take advantage of the fact that they have circuitries that you can play with).
In a way, the difference between tube and solid-state amps is like the difference between LPs and CDs.
---
Now that you know the basics and are aware of different amp types, here's our selection of the best high-end integrated amplifiers for different budgets.
---
Best High-End Integrated Amp Under $1,000 – Marantz PM7000N
Marantz PM7000N is the most versatile, most powerful, and most musical high-end integrated amplifier under $1000.
It features a modern and slim design with a relatively small footprint. It's also fairly light. The build is not exactly top-notch (considering the price), but it's satisfying.
The user interface is very intuitive. The central part of the front panel is occupied by a nice LCD display. All the controls (playback, volume, input select) are on the front panel, too. Below the display, you have treble, bass, and balance dials. To get a higher sound quality, you can press the direct monitor button (it bypasses tone adjustment circuitry).
The rear panel houses all the inputs. You have four physical digital inputs (optical x2, coax x1, and USB Type-A x1). There's an upgraded phono input utilizing HDAM technology and the FET input stage. Also, you have 3 RCA audio inputs, one RCA OUT, and one subwoofer pre-output (for adding a powered subwoofer).
When it comes to wireless connectivity, this unit features Bluetooth connectivity (V4.1), wi-fi connectivity (2.4/5 GHz), and has HEOS built-in which makes it multiroom-capable (compatible with all HEOS wireless soundbars and speakers).
The unit has a built-in AKM's DAC module (AK4490EQ) that enables 24bit/192kHz conversion and enables playback of lossless files like ALAC, FLAC, WAV, and DSD (up to 5.6 MHz).
The unit supports Airplay2 and allows you to stream music from Spotify, Amazon Music HD, Tidal, Deezer, etc.
Marantz PM7000N has upgraded Marantz SPKT-1+ speaker terminals (5-way binding posts). The advertised power output is 60 W/ch into 8Ω loads or 80 W into 6Ω loads. The unit covers a 5Hz-100kHz frequency range with less than 3dB deviation. The THD is lower than 0.02%.
PM7000N delivers clear, detailed, and spacious sound. It offers class-leading transparency, accuracy, and musicality with an impressive soundstage and stereo separation.
---
Best High-End Integrated Amplifier Under $2,000 – Rega Elex-R
Rega Elex-R is nothing like the previous Marantz unit when it comes to versatility. This amp is all about music. It comes with a remote which doesn't really match the price (it looks cheap and not very user-friendly).
Elex-R has a very strong and slim aluminum chassis with a nice and sleek matte black finish. The chassis has an improved heat dissipation for cooler performance.
The unit features a very clean and simple design. The front panel houses only a few controls – the power button, input selector, 5 LED input indicators, and a volume dial. The rear panel houses 4 RCA inputs, one phono input, one recording RCA OUT, and RCA preamp outputs. Also, there are two sets of gold-plated 5-way binding posts for connecting speakers.
This unit doesn't have digital inputs and doesn't support wireless streaming or any other fancy feature you may find on some other units in this price range. There're no tone adjustment options or headphone outputs.
Thanks to its improved heat dissipation and a large transformer inside it, the unit can push 72W per channel into 8Ω loads or even 90 into 6Ω loads. It's not the most powerful unit in its class and it's not the best choice for very large rooms and demanding speakers, but it's great for anything other than that.
The biggest highlight of Rega Elex-R is its musicality. Its MM phono section is probably the best in the class so if you are looking for the best amp to connect your turntable, Elex-R is just a perfect option.
The sound output is fast, accurate, dynamic, and very engaging. There's nothing to complain about when it comes to sound quality. It's the most refined-sounding integrated amp at this price point.
---
Best High-End Integrated Amplifier Under $3,500 – Peachtree Audio nova500
In terms of design, Peachtree Audio nova500 is probably one of the most sophisticated units in its class. It has an elegant and very eye-catching housing available in gloss ebony or piano black finishes. It comes with a simple and user-friendly remote.
The front panel has a sleek brushed aluminum plate with a dedicated button and LED indicator for each input. This panel also houses the power button, volume dial, and a headphone output with a dedicated headphone amp circuitry capable of driving even the most demanding headphones (170mW RMS into 600Ω headphones).
On the back, you have a bunch of different inputs. There are two TOSLINK inputs, one coax input, one USB Type-B for connecting your PC, one USB Type-A input (the so-called DyNEC input) for iOS devices, one AUX/RCA inputs, one MM phono input (that can be used as a regular line-level input), preamp output, and a set of LOOP IN/OUT ports for connecting an external EQ.
The unit houses a high-end DAC (ESS 9028 PRO) that can decode high-res files up to 32bit/384kHz. It can play all kinds of lossless files (FLAC, ALAC, WAV) including DSD files.
Nova500 supports a home theater bypass feature which means that you can easily integrate it into your home theater system.
This integrated amp delivers an impressive power output. You will get 500 W/ch into 8Ω loads or even 700W into 4Ω. The THD is less than 0.003% (4Ω speakers at 1kHz). Despite its relatively small footprint, this amp will have no problems driving even the most demanding speakers.
The sound output is dynamic and very engaging. The bass frequencies are handled with ease and authority. The delivery is quite neutral but not anemic. If you need more warmth, you can always add a tube buffer to sweeten the output.
The unit has a wi-fi button for wireless streaming but this feature is not available yet and should be available through some of the future firmware updates.
---
FAQs
Q: What amplifier brand is the best?
A: It is impossible to single out just one brand or just one model. We all have our favorites but the truth is – there're so many great high-end integrated amplifiers as well as power amplifiers made by numerous highly reputable manufacturers.
If you're looking for tube amps, try brands like Allnic, LUXMAN, EleKit, Audio Research Reference, Balanced Audio Technology, VTL, Manley Labs, McIntosh Laboratories, Jadis, etc.
If you're looking for a solid-state amp, the number of viable choices is even bigger. You could try some of the well-known brands like Marantz, Peachtree, Arcam, Audiolab, Hegel, Rega, Anthem, NAD, Cambridge Audio, Yamaha, Krell, Mark Levinson, Parasound, Bel Canto, Naim, Outlaw Audio, GamuT, Vinnie Rossi, Linn Majik, NuForce, SimAudio Moon, Bryston, Musical Fidelity, etc.
Q: Why are integrated amplifiers so expensive?
A: We don't think they actually are. I mean, the price of high-end integrated amplifiers can go well above $10,000 but you can also find a bunch of relatively affordable integrated amps (usually solid-state Class-D or Class-AB) for less than $1,000. Generally speaking, integrated amps are cheaper than separate units offering the same audio quality and features.
Q: How long do integrated amplifiers last?
A: On average, integrated amplifiers can last 10+ years, but there's no rule. Your integrated amp can last for more than 20 years if you treat it well. In general, solid-state amps will last longer than tube amps and they won't require any additional investments.
Q: Are tube amps better than solid-state amps?
A: This question is practically impossible to answer. Tube fans will always argue that tube amps are more musical and that they deliver the warmth and musicality that solid-state amps simply cannot. However, the manufacturers can tune their solid-state amps in many different ways and get all kinds of sound signatures. In the end, this is just a matter of preference. It is a never-ending debate.
Also Read: 5 Best Portable Voice Amplifiers For Teachers
Q: How do I choose a high-end integrated amplifier?
A: First of all, you set your budget limit. For most of us, the price is a crucial factor, and setting your limit will help you concentrate on things you can actually afford. Things to consider when setting the limit are amp class (Class-D amps are the cheapest while Class-A and Class-AB amps are usually pricier) and amp type (high-end solid-state amps are cheaper).
After you set the limit and decide what kind of amp you want (what class and what type), you can start looking for features and connections you need to hook-up all of your equipment. If you want to connect your turntable, look for phono inputs. If you have both analog and digital sources, look for something with both types of inputs (AUX, RCA, optical, coaxial). Furthermore, if you like streaming music, look for something with Bluetooth and wi-fi connectivity. Have in mind that each of these features and connections raises the price (especially wi-fi connectivity).
Once you find the amp that can handle all of your sources, check the power output and look for something that can drive your speakers with ease. You don't want something that gets hot, even when the volume is relatively low.
Finally, test the amplifier if you have the chance. Actual real-life testing, preferably with speakers similar to yours, is much more important than comparing and matching the power ratings and impedances.
Q: Does an integrated amp need a preamp?
A: No, an integrated amplifier already has a built-in preamp. Technically speaking – if you're not happy with the number or type of inputs on your integrated amp, you can connect a preamp to it and use the available inputs on the preamp. However, in order to do that you have to bypass that built-in preamp. If you don't do that, the audio signal will go through two preamps and that will cause a very noticeable distortion and noise.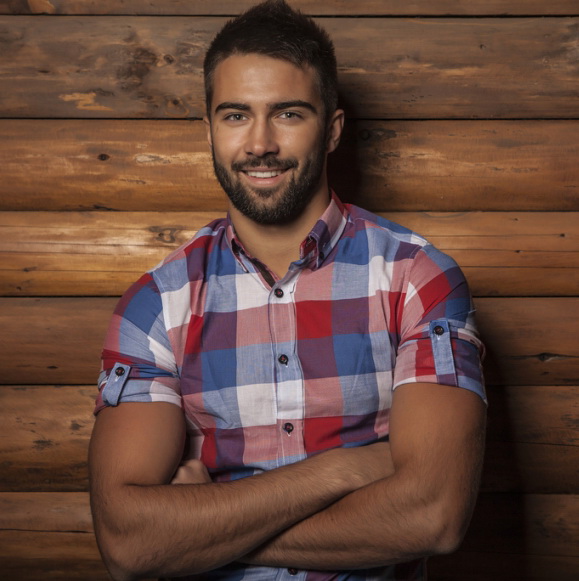 Hello, my name is James Longman.
I'm a writer and editor at AudioReputation. I disassembled my first portable AM/FM radio when I was only 8. At the age of 11, I burned the circuit board on my old boombox cassette player. I'm not going to explain how but it was reckless and stupid.
Since then, I have become much more careful around radios, boomboxes, and other audio devices (at least, I like to think so) but I have never lost the passion for audio equipment. Throughout 20 years of my professional career, I've been working for various audio equipment manufacturers and even started building speakers on my own in my little workshop.
I love the work we do here at AudioReputation. Testing, comparing, and evaluating all kinds of audio devices (speakers, soundbars, headphones, home theater systems, etc.) is something I truly enjoy. I try to be unbiased and give you my honest opinion on every piece of equipment I test. Still, you should take my reviews with a pinch of salt and always be just a little bit skeptical. The fact that I liked some speaker or soundbar doesn't mean that you are going to love it. If you have the opportunity, you should test it/hear it before buying it.