AudioReputation is reader-supported. When you buy through links on our site, we may earn an affiliate commission Learn More
Looking for a soundbar with great bass delivery? You've come to the right place. Our article on 6 best soundbars with built-in subwoofers in 2023 is here to help you find the perfect soundbar for you. We will discuss the most important features to look for in a soundbar, analyze their prices and cost-effectiveness, and present to you our selection of soundbars with the most powerful bass reproduction.
One thing you must be aware of before you start your search is that soundbars are too small to have actual subwoofers built inside. You see, the subwoofers are, by definition, large bass drivers (usually 8-15in in diameter) so it's impossible to install them inside a slim soundbar. Instead, the manufacturers use passive bass radiators and bass reflex ports to improve the bass response. Can you get the performance that can match the performance of a dedicated subwoofer? Probably not. But you can still get a very tight, controlled, and punchy bass that's much better than the bass you are getting from those tiny speakers built inside your TV.
So, if you really need powerful bass you should probably go for a soundbar with a dedicated subwoofer, but if you want the most compact solution, a soundbar with a built-in subwoofer (or rather passive bass radiators) is a viable solution. And we are here to help you find the best one for your needs.
Best Soundbars with Built-In Subwoofers – Comparison Table
After long research and experimenting with different kinds of soundbars, we have put together this beautiful list of 6 best soundbars with built-in subwoofers in 2023. Our selection is quite diverse so regardless of your requirements or budget, you should be able to find at least one soundbar that's perfect for your setup. The following soundbars are our top picks.
6 Best Soundbars with Built-In Subwoofers in 2023
---
1. Best Bass Under $150 – Pyle PSBV200BT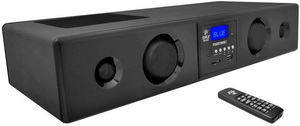 Pyle PSBV200BT is maybe not the most beautiful or most compact soundbar on the market, but it's one of the bassiest and most powerful soundbars with built-in subwoofers under $150.
Things we like
The soundbar comes with a simple remote (batteries included), 3.5mm audio cable, user manual, and a warranty card.
The soundbar has a very simple boxy shape. It's definitely not the most attractive bar on the market but it's not ugly. The bar is 23.8in wide, 9.8in deep, 4.7in tall, and it weighs 11.7lbs.
On the front side, you have two 3in full-range drivers and two 1in tweeters, arranged in 2 channels. In the middle, there's a simple control panel with a backlit LCD display, 7 control buttons (power, standby, source, and playback controls), one USB port for music playback, and one SD card slot.
On the top, there's another 5.25in mid-woofer driver. On the back, you have two pairs of RCA inputs, one AUX input that doubles as the FM antenna connector (AUX cable serves as the antenna), and a DC power input.
The installation is done in a few minutes. Unfortunately, you can't mount it – the only option is to place it on a TV stand. To control everything, you can use the onboard buttons or the included remote. The remote is not only more convenient but it also gives you much more control – you can select one of 11 available EQ modes, adjust bass and treble, and engage 3D virtual surround.
Pyle PSBV200BT also features Bluetooth connectivity (2.1 + EDR). The Bluetooth connection works fine and delivers fairly reliable performance.
The soundbar delivers an impressive amount of bass. The sound is powerful and loud. PSBV200BT doesn't have optical or HDMI inputs (only analog RCA and AUX) so it doesn't support any surround sound format, but it has the 3D surround sound feature which is supposed to make the soundstage bigger and simulate surround sound.
Things we don't like
Pyle PSBV200BT is much bigger than the average soundbar so placement could be an issue. Also, the bar is not wall mountable – you can only place it on a TV stand.
The soundbar lacks versatility and doesn't have any digital audio inputs. There are no HDMI ports, no optical TOSLINK ports, and no coaxial inputs. If your TV doesn't have analog audio outputs (AUX or RCA), you won't be able to connect it to the soundbar.
---
2. Best Under $200 – Yamaha YAS-108
Looking for something sleeker, slimmer, and much better-looking than the Pyle PSBV200BT. The next device on our list of 6 best soundbars with built-in subwoofers is YAS-108 and it's the perfect choice under $200. It's maybe not as bassy as Pyle bar but it's much more versatile and can be paired with a dedicated subwoofer (sold separately).
Things we like
Yamaha YAS-108 comes with a detachable power cable, remote, optical cable, mounting template, manual, and a warranty card. HDMI cables are not included – you have to buy them separately.
YAS-108 has a very sleek and visually appealing design. Most of it is wrapped in a very premium-looking acoustic fabric. The bar is fairly slim (35in long, 5.2in tall, and 2.2in deep) and it's mountable.
You have some basic controls and LED input indicators on the top. There're 5 indicators and 5 touch-sensitive buttons (source, two volume buttons, mute, and power button). The included remote allows you to activate some additional features. You can select between stereo and surround sound, adjust the bass, dim the LED lights, engage the bass boost, adjust the bass level, engage 3D virtual surround, or the clear voice feature.
All the inputs are on the back. This bar features 2 HDMI ports – one HDMI ARC OUT and one HDMI input. There's also one optical input, one analog AUX input, and one subwoofer output (for connecting a dedicated subwoofer).
YAS-108 features Bluetooth 5.0. The pairing is fast and the connection is reliable within the standard 30ft range. The soundbar supports multipoint pairing – you can pair two devices simultaneously with the bar.
The soundbar supports PCM 5.1, Dolby Digital 5.1, and DTS 5.1 surround sound formats. It can also simulate surround sound experience thanks to the DTS Virtual:X.
YAS-108 houses two 2.2in woofers and two 1in tweeters. They are arranged in two channels (one woofer and one tweeter per channel). On the left and right ends, you have two 3in bass reflex ports. The sound is clear, accurate, and quite detailed. The bass is punchy and tight. If you want something more powerful, you can always add a subwoofer.
Things we don't like
The inputs are somewhat awkwardly placed – using HDMI cables with L-shaped connectors can make the installation much easier.
The soundbar doesn't have a display which could be a problem if you like to have a visual confirmation of your actions.
DTS Virtual:X doesn't really deliver a great simulation of surround sound. The sound is much better without it.
---
3. Best Dialog Clarity Under $200 – ZVOX SB380
ZWOX is not the largest or loudest or bassiest soundbar, but it's the best one under $200 when it comes to dialog clarity. Thanks to its special hearing aid technology, this bar can boost the dialogs and make them crystal-clear. ZVOX SB380 is an excellent choice for hearing impaired.
Things we like
ZVOX SB380 comes with a remote, mounting template, user manual, and a warranty card.
The soundbar is compact and slim. It's simple but stylish, and it's also very rugged – the whole cabinet is wrapped in a very strong black aluminum grille. SB380 is 35.5in long, 5.5in tall, and 3.3in deep.
On the front, you have just a simple ZVOX logo. When you press any button on the remote or on the control panel (located on the right end of the bar), you will see a hidden 4-digit display. The display shows the volume level, active sound mode, AccuVoice levels, and current input. Once you're done using the remote, the display will disappear in a few seconds.
All the inputs are located on the back. SB380 has one RCA input, two optical inputs, and power input.
The most special feature of the ZVOX SB380 is the AccuVoice. It's a technology developed by ZVOX. This hearing aid technology puts an emphasis on the dialogs and makes them much more intelligible. There are 6 levels of AccuVoice so you can select the one that suits you best.
Thanks to the PhaseCue sound processing, SB380 can simulate surround sound. When the surround sound is engaged, the soundstage becomes bigger but you won't really get the performance that's on par with real home theater systems.
Also, SB380 features ZVOX's output leveling technology. This technology levels out the sound – it makes all the soft sounds louder and all the loud sounds softer.
SB380 houses three 2in full-range speakers arranged in three channels (it has a dedicated center channel). The soundbar also has a built-in 4in subwoofer. The output power is 45W. This bar is designed to deliver perfectly clear vocals, but it can also deliver surprisingly punchy and tight bass.
Things we don't like
The soundbar lacks HDMI inputs – it has only two optical inputs.
Unlike many other soundbars in the same price range, ZVOX SB380 doesn't feature Bluetooth.
---
4. Best Soundbar with Built-In Subwoofer Under $100 – WOHOME Soundbar
The market is flooded with all kinds of cheap soundbars made by different no-name brands. However, they are not equally good or equally reliable. Our top suggestion when it comes to cheap bars is WOHOME. It has its flaws and it doesn't have some fancy features you can find on pricier bars, but it's still pretty good for the price.
Things we like
WOHOME comes with a simple and intuitive remote, wall mounting kit, optical cable, AUX cable, manual, and a warranty card.
The bar is not very attractive or sophisticated but looks nice. It's cylindrical with a plastic cabinet and a hard aluminum grille on the front protecting the drivers. The bar is 38in wide and has 4in in diameter. It can be placed on a TV stand or mounted on a wall.
All the drivers are on the front. WOHOME bar has 6 drivers arranged in 2 channels. There are two 3in subwoofers, two 3in full-range woofers, and two 1in tweeters. In the middle, there's one bass reflex port.
On the right panel, there's a tiny control panel with 4 buttons – power, source, and two volume buttons. All the inputs are on the back, in the left corner. The bar has one analog RCA input, one coaxial, one optical, one 3.5mm input, and one USB port.
The bar also features Bluetooth 4.2 so you can stream audio wirelessly from your phone. You can't use Bluetooth to watch video content since aptX LL Bluetooth codec is not supported. The Bluetooth connection delivers reliable performance and a good range.
The sound is quite loud and powerful. The bass is punchy and well-controlled. You can select one of four available EQ modes – music, TV, movie, and default. In default mode, you can adjust the bass and treble levels.
Things we don't like
WOHOME bar doesn't have any HDMI inputs or HDMI ARC output. If you need a cheap soundbar with HDMI connections, you can buy the upgraded version of the WOHOME bar, which is slightly pricier.
The soundbar doesn't support Dolby and DTS surround sound formats.
---
5. Best VIZIO Bar – Vizio SB362An-F6
VIZIO is quite a popular brand when it comes to budget soundbars and TVs. SB362An-F6 is one of the best-looking and best-performing VIZIO bars. The biggest downside of this soundbar is the lack of versatility – SB362An-F6 has a limited number of connections and doesn't even have HDMI inputs.
Things we like
SB362An-F6 comes with all the necessary equipment including the remote, audio cables, mounting template and screws, user manual, and a warranty card.
The bar has a very attractive and unique design. It's nothing like other boxy soundbars made by VIZIO. Most of the bar is wrapped in black fabric.
On the front, you have two 2.7in drivers (left and right channel) and two passive bass radiators. In the middle, there's a series of 10 LED lights that are supposed to indicate the mode, source, etc. All these parts are protected with that black grille.
On the left end of the soundbar, there's a simple control panel with some basic buttons (power, volume, source, Bluetooth).
All the inputs are located on the back. This bar has only one TOSLINK input, one 3.5mm audio input, and a USB port for music playback. There are no HDMI inputs.
If you like to stream music wirelessly, you'll be happy to know that this bar features Bluetooth connectivity. There's no info about the Bluetooth version but the reliability and connection range are satisfying.
When it comes to those fancy features, SB362An-F6 supports TruVolume, which is one of the common VIZIO features and is used to level out the sounds and make the volume more consistent. It also features DTS Virtual:X, which is supposed to expand the soundstage, introduce height-effects, and give you more cinema-like experience.
The sound is clear, articulate, and fairly balanced. The bass is present and punchy but not extremely powerful. The vocals are surprisingly clear even though there's no dedicated center channel (only left and right).
Things we don't like
The connectivity is quite limited. SB362An-F6 doesn't have HDMI inputs or HDMI ARC output.
LED indicators located in the middle of the bar are not very intuitive. They are, in fact, quite confusing.
DTS Virtual:X does change the listening experience but it won't blow you away.
---
6. Best-Sounding Soundbar with Built-In Subwoofers Under $300 – Klipsch RSB-3
The last device on our list of 6 best soundbars with built-in subwoofers comes from one of the most reputable brands when it comes to surround sound and home theater speakers. Klipsch RSB-3 is a great-sounding and very attractive soundbar with only one important flaw – it lacks HDMI connections.
Things we like
The soundbar comes with a power adapter (adapters for different world regions are included, too), remote, optical cable, mounting template, manual, and a warranty card.
Like other Klipsch gear, the bar has a very attractive look. Front, top, and bottom are wrapped in a hard aluminum grille. The bar is 2.6in tall and can fit under any TV. You can place it on a stand or mount it.
In the middle of the front panel, right at the top, there's a simple control panel with some basic controls (mute, Bluetooth, source, and volume) and 6 LED source/mode indicators.
The grille protects two front-facing 2.5in oval woofers and two .75in horn tweeters. On the left and right panels, there are two 2.5in bass reflex ports (the manufacturer calls them subwoofers).
All the connections are on the back. The bar houses only one digital TOSLINK input, one AUX input, and one USB port for music playback.
The bar features Bluetooth, too. The pairing is fast and the connection is reliable. Multipoint pairing is not supported.
Recommended Reading :

To select the source and volume, you can use those buttons on the unit but you will need the remote for all the advanced settings. The remote allows you to turn on/off the LED indicators and activate one of two special sound modes – surround and dialog. Dialog mode is the EQ setting designed to improve the intelligibility of the vocals and surround is supposed to simulate surround sound effects and give you better, more cinema-like listening experience.
Klipsch RSB-3 delivers quite a loud and powerful sound. The bass is strong, punchy, and tight. The mids are clear and detailed. The treble is somewhat brighter but still fun and engaging.
Things we don't like
The biggest (and probably the only) downside of the RSB-3 is the lack of versatility. This bar has a very limited number of audio connections. There's only one digital audio input (TOSLINK optical) and there are no HDMI connections.
---
This was our list of 6 best soundbars with built-in subwoofers in 2023. Hopefully, it helped you understand what to pay attention to when looking for a soundbar or even find the perfect soundbar for your setup. If you want to find out more, we recommend you to go through our FAQ section. If you are willing to share your experience with soundbars or have additional questions, leave us a comment below.
---
Buying Guide
In this buying guide, we'll discuss the essential factors to consider when choosing a soundbar.
Audio Quality
The audio quality should be your top priority when selecting a soundbar. Look for a soundbar that delivers clear and well-balanced sound, with high-quality drivers and subwoofers that can handle a wide range of frequencies. This will ensure you get the best audio experience possible, especially for action movies.
Compatibility
Check if the soundbar quickly connects to your television or other devices. Some models have limited connectivity options, so choosing one that suits your needs is crucial. Bluetooth and HDMI are two popular and widely used connections that you should consider.
Design and Size
The design and size of the soundbar also matter. Measure the space where you plan to place it to ensure you select the model with the best size and fit. Small soundbars can only deliver a certain amount of sound, while larger soundbars can provide the appropriate amount of sound for your space. The space where you install the soundbar must also have a current or modern design that complements it.
Price
Price is another crucial factor to consider. While soundbars with built-in subwoofers can cost hundreds of dollars, you don't necessarily have to spend much to get a quality product. Don't fall into the trap of assuming that the more expensive the soundbar, the better the quality.
Additional Features
If you're an explorer, consider looking at additional features like voice assistants, built-in equalizers, and remote controls. These features can enhance your overall experience and make you happy with your purchase.
Reviews
Lastly, read consumer reviews and comments on the products you're considering. This will help you get the most for your money and avoid potential issues or problems.
FAQs
Q: What is the best soundbar with a built-in subwoofer in 2023?
A: There's no single answer to this question. You see, different setups, different TVs, and even different sound preferences call for different solutions. Our best advice is to go through our list of 6 best soundbars with built-in subwoofers in 2023 and read our reviews. We did our best to make a comprehensive list that includes both budget and high-end soundbars, small and big bars, more or less bassy bars. So, regardless of your preferences and budget, you should be able to find at least one that meets your needs.
Q: Are soundbars with built-in subwoofers good?
A: First of all, just like we've said, soundbars with built-in subwoofers don't have actual subwoofers built inside – the subwoofers are simply too big to fit soundbars. Instead, they have passive bass radiators and bass reflex ports. You can find these ''bass enhancers'' on many soundbars and they are quite effective. They can make the soundbars sound bigger than they actually are. However, none of these "bass enhancers" can replace a dedicated subwoofer. So, yes – soundbars with built-in subwoofers are pretty good and are definitely worth it, but you have to be aware of certain limitations that come with the size and slimness of the soundbar.
Q: Is SONOS better than Bose?
A: If you're looking for a versatile and reliable wireless audio equipment, our top recommendation is always SONOS. Bose does have some nice wireless soundbars, soundbar/subwoofer combos, and even some wireless surround sound systems, but they are much harder to install than SONOS and are slightly less reliable when it comes to wireless performance. SONOS definitely offers more bang for the buck.
Q: What is a 2-channel soundbar?
A: A 2-channel soundbar is a soundbar with drivers arranged in two channels – left and right. That doesn't necessarily mean that a 2ch soundbar has only two drivers. The number of drivers varies – there can even be 6 drivers, but they will still be arranged in just two channels.
Q: How do wireless subwoofers work?
A: Wireless subwoofers usually use different radio frequency bands to communicate with soundbars. The subwoofers have built-in receivers and the soundbars are the hubs and have built-in transmitters. They send the audio received from the TV to the subwoofers. The subwoofers receive this audio and reproduce it.
Q: Are cheap soundbars any good?
A: Some cheap soundbars are actually pretty good. Some are much better than the price tag implies. But you can't expect audiophile performance from a $100 soundbar. That's simply impossible. You will never get the same performance or feature set from a $100 device and $500 device. This applies to soundbars or any other piece of audio equipment.
You can find a few affordable and great-performing bars on our list of 6 best soundbars with built-in subwoofers in 2023. They are all viable options if you are on a budget.
Conclusion
As everyone knows, sound bars with built-in subwoofers will be important in 2023 since they provide a rich audio experience for home theater or other music needs. You will hear incredible audio from the soundbars mentioned above and feel tremendous bass.
On top of that, the voice assistant is a wonderful, cutting-edge function that allows you to have a movie theater experience at home.
Depending on your preferences, budget, and other qualities, you can choose your ideal soundbar from our list.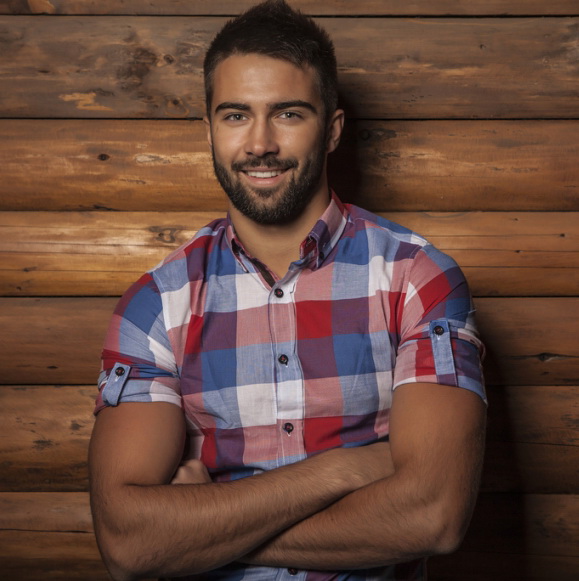 Hello, my name is James Longman.
I'm a writer and editor at AudioReputation. I disassembled my first portable AM/FM radio when I was only 8. At the age of 11, I burned the circuit board on my old boombox cassette player. I'm not going to explain how but it was reckless and stupid.
Since then, I have become much more careful around radios, boomboxes, and other audio devices (at least, I like to think so) but I have never lost the passion for audio equipment. Throughout 20 years of my professional career, I've been working for various audio equipment manufacturers and even started building speakers on my own in my little workshop.
I love the work we do here at AudioReputation. Testing, comparing, and evaluating all kinds of audio devices (speakers, soundbars, headphones, home theater systems, etc.) is something I truly enjoy. I try to be unbiased and give you my honest opinion on every piece of equipment I test. Still, you should take my reviews with a pinch of salt and always be just a little bit skeptical. The fact that I liked some speaker or soundbar doesn't mean that you are going to love it. If you have the opportunity, you should test it/hear it before buying it.