AudioReputation is reader-supported. When you buy through links on our site, we may earn an affiliate commission Learn More
Today's market is flooded with all kinds of headphones and earbuds – wired or wireless, cheap or premium, ANC or regular, with or without smart features. Numerous models are advertised as premium and affordable, but they rarely live up to those claims. Finding a model that can actually deliver premium performance at an affordable price is pretty hard, but it's not impossible. Today, we are reviewing Moshi Vortex 2 in-ear headphones. It's one of those models that look, feel, and sound like premium headphones but cost much less. Let's see what's so great (and what's not) about Moshi Vortex 2 in-ear headphones.
Moshi is a relatively young company, founded in 2005. They make audio equipment (headphones, earbuds, speakers) and all kinds of accessories for audio equipment, phones, tablets, and laptops. Their products are known for their functionality, impeccable performance, and for their affordable price. Moshi's products are maybe not as cheap as generic Chinese brands but still are much cheaper than premium equipment. On the other hand, their performance, almost by default, surpasses the price tag and makes them very competitive. Moshi Vortex 2 is the perfect example of that business philosophy.
Priced slightly under $60, Moshi Vortex 2 in-ear headphones offer more than you would assume. Their build is one of the things that makes them stand out. You would never guess the price tag just by holding them. They simply feel premium. And they also sound quite premium thanks to XR8 neodymium drivers. Other qualities worth mentioning are an excellent fit, satisfying mic quality, and surprisingly good passive noise isolation (up to 23dBs).
What's not so great? Well, there's not much to be desired at this price point. They are maybe just a little bit heavier than average, mostly because of the metal alloy housings. Also, they don't have volume controls, which is inconvenient but shouldn't be a dealbreaker. The only thing that could be a dealbreaker is the fact that Vortex 2 are wired in-ear headphones (they are not Bluetooth headphones).
Affordable

Attractive looks

Excellent build quality

Great fit

Easy-to-use controls

Siri and Google Assistant support

Satisfying mic quality

Very good passive noise isolation

Fairly rich and detailed sound reproduction with deep and well-textured bass
Lacks Bluetooth

Lacks in-line volume controls

Earpieces are heavier than average
To be completely honest, you will hardly find better in-ear headphones at this price point. Their build quality is impressive and their sound reproduction is on par with much pricier in-ear models. Vortex 2 headphones can easily compete with other headphones in their price range and deserve our recommendation.
What's in the box?
The presentation is nice and clean. It's not incredibly premium but you can see that everything is carefully packed and protected. Inside the box, you will find, your Vortex 2 in-ear headphones, a triangular silicon carrying case, 3 pairs of silicone tips, 1 pair of foam tips, manual, and a standard 2-year warranty. By registering your headphones, you can upgrade this warranty to Moshi's 10-year Global Warranty.
Box contents
Specs
Moshi Vortex 2 Specifications
DIMENSIONS
Weight
25g/0.88oz
Cable length
1.2m/3.9ft
MATERIAL
Housings – steel alloy

Cable – rubber + braided fabric

Ear tips – silicone/memory foam
DRIVERS
8mm full-range neodymium drivers (XR8)
TYPE
In-ear, wired
CONNECTIONS
3.5mm (gold-plated)
OTHER TECHNICAL DETAILS
Frequency response
10Hz – 20kHz (-10dB at 1kHz)
Sensitivity
103dB (+/-3dB) at 1kHz
Impedance
16Ω
Noise isolation
Up to 23dB
ADDITIONAL FEATURES
Single-button inline controls compatible with Android and iOS 

Ear tips in 3 different sizes (+ memory foam tips)

Siri and Google Assistant support

Moshi Audio Burn-In Tool

Integrated mic

2-year warranty
Design
At first glance, the headphones look very nice. The earpieces are compact but hefty and feel very tough. After all, they are made of steel alloy (the manufacturer says it's a medical-grade steel alloy 316L). The earpieces have a nice brushed metal finish with Moshi logos on the faceplates. The nozzles are angled (in order to provide a stable fit and better noise isolation). The tips are available in 3 different sizes. The cable is not very thick but it's braided and it feels just as durable as the earpieces. It's 4ft long and it ends with a gold-plated 3.5mm jack. There's a simple one-button remote with a built-in mic on the cable, right below the Y-connection.
Simple, compact, and attractive
Features and Performance
For the price. Vortex 2 earbuds have a respectable set of features.
Feature overview
The manufacturer did a great job when it comes to construction quality and durability. Moshi Vortex 2 in-ear headphones look and feel incredibly premium. There are numerous expensive headphones made by Bose, Sony, and other reputable manufacturers that look and feel less premium and less durable than the Vortex 2.
Steel alloy does make the earpieces a bit heavier, but that doesn't affect the comfort and doesn't make them less stable. Sure, they are not stable enough for sports and workouts, but they are just fine for all kinds of everyday activities.
Steel alloy housings
The cable looks a little bit thin. You may get the impression that it's not as durable as the earbuds, but the cable is stronger than it looks. It has a Kevlar core and it's braided all the way, so it should last long. The joints have additional reinforcements, which is reassuring.
The cable ends with a gold-plated 3.5mm jack so you can use these earbuds with any phone (Android or iOS) with a standard AUX output. The cable features a one-button inline remote. You can use this button to play/pause the music, answer calls and summon your voice assistant (Siri or Google Assistant). The button is responsive and easy to use. However, you can't use it to control the volume – you will have to use your phone to adjust the volume.
The remote also has a small built-in mic. The microphone offers a satisfying performance. It may muffle your voice and make it thinner but it does the job. The mic does a good job of isolating ambient noise and wind noise.
Thanks to a solid steel alloy construction and great fit, the earbuds provide surprisingly good passive noise isolation. The manufacturer claims that they can isolate up to 23dB of ambient noise, which is quite impressive.
The included carrying case is a nice bonus. The case is made of silicon, it's compact, and feels very durable.
Another feature worth mentioning is the Moshi Audio Burn-in app. The app is available for both Android and iOS devices. Surprisingly, the app won't allow you to play with some features or EQ settings. As the name implies, it's designed to help you burn-in the headphones and achieve the optimal sonic performance. The app basically plays a certain list of frequencies for a certain period of time and allows the drivers' diaphragms to relax and deliver better sound reproduction. The app also works with all kinds of third-party headphones.
Moshi Burn-in tool (available for Android and iOS)
Durable Cables
The durable cable of these earphones has a Kevlar core for added strength, and the tight weaving keeps it tangle-free.
Not just that, the cables have hard-wearing covers on the joints to prevent excessive bending where they meet the earbuds or other connectors. The slim jack is perfect for mobile users, as it won't interfere with phone cases or slim phone designs. The 4-pole 3.5mm jack is gold-plated, which means it will work with your mobile phone's microphone and even with Alexa, Google Assistant, and Siri if you have them.
On-cable controls are limited, with a single switch on the rear that's easy to control. The earphones have a small bit of branding and a pin-hole MEMS microphone, which is located nicely and sits just around your neckline. The sound quality is excellent, making it suitable for taking calls or using Google Assistant. The slide-up toggle ensures a comfortable and tangle-free fit.
Big Bass and Roaring Mids
Moshi Vortex 2 In-Ear Headphones are a great choice for people who love music with a lot of bass and mids. These headphones use Moshi's RigidBody steel alloy construction to deliver full-bodied bass without distortion. The drive units consist of high-definition Neodymium drivers with an extended range of 10 Hz-20kHz / -10dB@1kHz, housed in sintered steel alloy that minimizes cavity-induced coloration.
You'll immediately notice the big bass and roaring mids when you listen to music on these headphones. Whether you're listening to David Bowie, Roger Daltrey, Ghost, Devin Townsend, Cannibal Corpse, or Aphex Twin, the bass response is fast and powerful but balanced and not overpowering in the mix. The midranges are detailed and textured, and the guitar tones have plenty of thunder and crush. The headphones are mid-heavy and less bright than most, but this adds a quality that makes them sound more like larger floor-standing speakers.
Sound Quality
Moshi Vortex 2 in-ear headphones deliver an impressive sonic performance. With a 103dB sensitivity, 16Ω impedance, and 10Hz-20kHz frequency response, these in-ear headphones are easy to drive, quite loud, and very capable when it comes to sound reproduction.
The most noticeable highlight is the bass. It's really deep but it's not boosted. It's not a mainstream bassy sound you can get from so many earbuds. Thanks to the metal alloy housings the chamber is vibration-free which enables powerful but clear and accurate low-end reproduction. The bass is controlled and it doesn't bleed into the midrange.
The mids sound clear and articulate. Since the bass is not overwhelming, the vocals and lead instruments can shine. They lack the amount of detail and fullness you would get from audiophile headphones but they are still very enjoyable. If you prefer vocal-oriented music, you won't be disappointed.
The highs are pretty consistent and precise. If you have sensitive ears, you may notice some brightness in the 5k-10k range and that's our only complaint. It's more noticeable on treble-heavy tracks.
Recommended Reading :

Vortex 2 earbuds have a surprisingly wide and spacious soundstage for a pair of in-ear headphones. It's not going to blow you away and give you the most immersive experience of your life but, if you consider the price and type of these headphones, you can't be unhappy.
Noise isolation and comfort have to be emphasized. The earbuds don't go too deep into your ears and aren't too bulky, but they still somehow manage to block a great amount of noise.
Overall, we were impressed by the sonic capabilities of these tiny headphones. The richness of the reproduction, deep bass and impressive noise isolation are the greatest highlights.
The Competition
There are hundreds of in-ear headphones in the price range and your choice depends entirely on your taste. We have picked out three very nice alternatives.
---
Moshi Mythro
Moshi Mythro is a cheaper option. It's priced under $30 and it's available in more colors.
Mythro in-ear headphones have anodized aluminum housings while the Vortex 2 earpieces are made of stainless steel. Also, Mythro headphones have a regular rubberized cable. So, Vortex 2 headphones have the advantage when it comes to build quality. Vortex 2 headphones also provide a slightly better fit.
In terms of controls and additional features, Vortex 2 and Mythro headphones are pretty much the same.
Mythro headphones offer fairly good sonic performance that exceeds the price tag but Vortex 2 headphones offer even deeper and more impactful bass and clearer, more detailed mids.
---
1MORE Triple Driver In-Ear Earphones
1MORE is one of the most popular brands when it comes to in-ear headphones, and their triple-driver in-ear headphones are one of the most popular models on the market. They are similarly priced as Vortex 2 and offer fairly similar performance.
The biggest advantages of Vortex 2 headphones are their build quality (steel alloy VS plastic) and their bass performance. The bass is deeper and punchier.
1MORE triple-driver headphones have more convenient controls (three-button remote VS one-button remote). Unlike Vortex 2, 1MORE headphones have inline volume controls.
1MORE triple-driver headphones also deliver more detailed mids. If you are into vocal-oriented music, 1MORE triple-driver in-ear headphones are a slightly better choice.
---
urBeats3 Wired Earphones
urBeats3 earphones are also a very popular option when it comes to in-ear headphones. They are slightly cheaper than the Vortex 2 and that's probably their only advantage.
Vortex 2 headphones feature much better build quality (steel alloy VS plastic). They definitely feel more durable than the urBeats3.
Both models urBeats and Vortex 2 have one-button inline remotes with built-in mics.
As you probably know, most Beats headphones (with a few exceptions) are all about the bass. If you prefer more balance in your music, Vortex 2 is a much better option.
---
Final Thoughts
Moshi Vortex 2 in-ear headphones are one of the best-sounding in-ear headphones under $60. In fact, their performance hits well above their price point. Their build quality is absolutely impeccable and the passive noise isolation they provide is truly amazing. If you don't mind the lack of Bluetooth and volume controls, you will be quite happy with Moshi Vortex 2.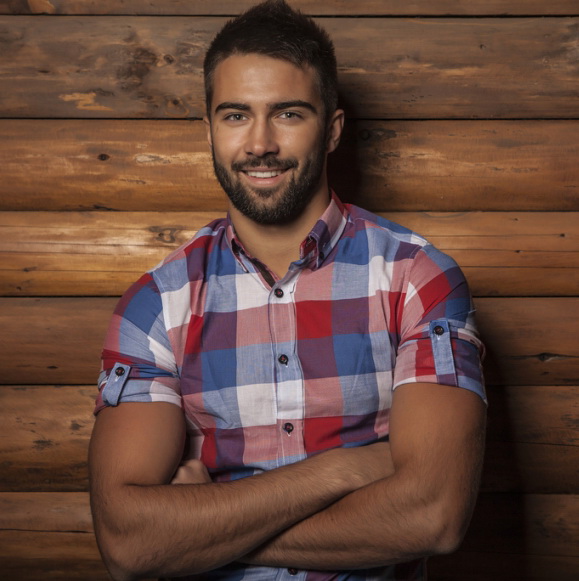 Hello, my name is James Longman.
I'm a writer and editor at AudioReputation. I disassembled my first portable AM/FM radio when I was only 8. At the age of 11, I burned the circuit board on my old boombox cassette player. I'm not going to explain how but it was reckless and stupid.
Since then, I have become much more careful around radios, boomboxes, and other audio devices (at least, I like to think so) but I have never lost the passion for audio equipment. Throughout 20 years of my professional career, I've been working for various audio equipment manufacturers and even started building speakers on my own in my little workshop.
I love the work we do here at AudioReputation. Testing, comparing, and evaluating all kinds of audio devices (speakers, soundbars, headphones, home theater systems, etc.) is something I truly enjoy. I try to be unbiased and give you my honest opinion on every piece of equipment I test. Still, you should take my reviews with a pinch of salt and always be just a little bit skeptical. The fact that I liked some speaker or soundbar doesn't mean that you are going to love it. If you have the opportunity, you should test it/hear it before buying it.