AudioReputation is reader-supported. When you buy through links on our site, we may earn an affiliate commission Learn More
Do you have your house filled with different kinds of wired devices that are too old-fashioned to be used? We have the right solution for you! We have prepared the list of 17 best Bluetooth headphone adapters in 2023 that can save you some money and make your life much easier.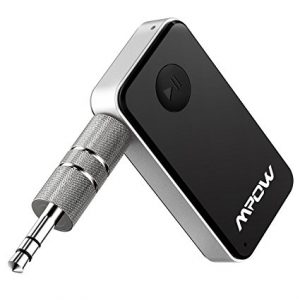 We are sure everyone has at least one pair of wired headphones, earbuds or speakers that they bought long time ago. The devices still function perfectly, but the wires make our lives more complicated.
Now you can save a lot of money and keep using your favorite devices because the scientists have produced small devices called adapters. Some of them work as receivers, others have the role of transmitters, and some devices are able to do both tasks. Right now, we need receivers, but many of the adapters on our list of 17 best Bluetooth headphone adapters are transceivers, which means they can be both receivers and transmitters (but not at the same time).
The devices on the list belong to different categories of adapters and to different price ranges. You will see some extremely cheap adapters with many features, some middle-priced devices, as well as some expensive products with only one feature. Anyway, you don't have to worry. We will try to elaborate on all the things you should pay attention to when buying products like these. It all depends on your needs and the type of devices you have at home.
17 Best Bluetooth Headphone Adapters – Comparison Table
What are Bluetooth Headphone Adapters and Why Do We Need Them?
Bluetooth headphone adapters are small devices produced in different shapes (square, round, etc.) and different sizes, but they are usually extremely small and light, which makes them portable and that is one of their main features. These adapters have their own controls, sometimes even built-in mic and their battery is rechargeable. The battery life varies from adapter to adapter but it is usually long enough for all kinds of outdoor/indoor activities (5-8 hours).
The main purpose of Bluetooth headphone adapters is to receive Bluetooth signal from some Bluetooth enabled device instead of wired headphones, speakers, etc. Most of these adapters have 3.5mm universal port, so you can insert the jack of your headphones or speakers into the port and make your old wired devices wireless. That way, you bring your old devices back to life and make them useful again by adapting them to the requirements of the modern world and busy lifestyle. Of course, some adapters have different ports but most of them have at least one 3.5mm port.
There are three types of Bluetooth adapters:
Bluetooth receivers
Bluetooth transmitters
Bluetooth Transceivers
Bluetooth receivers are used to receive Bluetooth signal emitted by Bluetooth enabled device and send it to the non-Bluetooth device. That way, Bluetooth receivers are used to add a Bluetooth feature to wired or older devices that don't originally support that technology. The receivers can be used with wired headphones, wired earbuds, wired speakers or with car stereo system. Bluetooth receivers usually come with at least one 3.5mm audio cable or connector. You use them to connect the non-Bluetooth device to the receiver. For example, if you have old earbuds with 3.5mm jack, you just have to insert the jack into 3.5mm port on the receiver, pair the receiver to the Bluetooth enabled device (phone, tablet, iPad, TV, etc.) and you are ready to go. In case you have wired headphones with detachable cable, you can buy the receiver that comes with the short 3.5mm connector, insert the connector into the port on the headphones and that's it. You can use the same procedure in your car and stream the music from your phone to the car stereo system.
Bluetooth transmitters look the same as Bluetooth receivers with some differences. The transmitters have more than one port. Apart from the standard 3.5mm aux port, they can have RCA port, optical port, etc. They are physically connected to some non-Bluetooth device like TV, desktop computer or any other smart device without Bluetooth. Once connected to those devices, the transmitter has to be paired with some of your Bluetooth devices such as speakers, Bluetooth headphones, earbuds, etc. The transmitters can usually be paired with two devices at the same time, which means you can use two pairs of Bluetooth headphones to watch a movie with another person without disturbing kids or someone else.
Bluetooth transceivers are adapters with dual nature. They have all the necessary ports and cables to work as both receivers and transmitters. There is only one small button that has to be pressed in order to switch between modes. That way, you can buy 2 products in one and, as you can see from our list, those products aren't very expensive and can be useful in any house. The one important thing is to prepare the device properly by selecting the mode before turning the adapter on.
If you're reading this article and if you have wired headphones or speakers that should be turned into wireless, the device you need is a Bluetooth receiver (or Bluetooth transceiver). In the text below, you will find their most important characteristics and find out all their advantages and disadvantages. Besides, we will explain the best way to buy the perfect adapter for your needs by instructing you what to pay attention to during the buying process.
The Advantages of Using Bluetooth Headphone Adapters
If you're not sure whether you should buy a Bluetooth headphone adapter, here we have some basic advantages of using these products. Maybe these facts can make it clearer for you if you need these adapters or not.
Bluetooth headphone adapters are highly portable
These adapters (receivers) are usually very small. On average, at least when the adapters from our list are concerned, their size doesn't go over 3 inches and only some specially shaped adapters can be longer. They are thin and light, too. The weight of these products doesn't become greater than 1 ounce. Because of all these characteristics, Bluetooth adapters/receivers are highly portable. You can put them in your pocket or bag, even attach them directly to the ear cup of your full-size headphones and you won't feel any additional weight. Some of them even have clips on the backside so you can attach them to your shirt, your pocket or something else. That is particularly useful for working out and running.
Bluetooth headphone adapters are widely compatible
As we have previously said, Bluetooth headphone adapters usually have 3.5mm aux port that most of the devices have today. They also come with 3.5mm male-to-male audio cable that can be used to connect them to non-Bluetooth devices. That way you can easily connect it to your car stereo system, different kinds of wired headphones or speakers. You can find some special models with special ports and connectors (such as 30-pin port), but most of the products on our list are universal adapters that can be used by anyone in any situation.
Bluetooth headphone adapters cut the wires
They don't literally cut the wires. The wires won't magically disappear (unless you have headphones with detachable cables), but you can be sure that your movements will be easier and you will have more freedom. For example, you won't be directly attached to your phone, you won't risk unintentionally dropping it on the floor or in the street and breaking it. Bluetooth headphone adapter can lay in your pocket or be attached to it, while your phone (or player) stays in some safe place (but still within 33ft range approximately).
Besides that, if you use the adapters with your speakers, you will have significantly fewer cables in your house, especially if you have large surround systems made from several separate speakers.
The List of 17 Best Bluetooth Headphone Adapters in 2023
---
1. KINDRM Bluetooth 5.0 Stereo Audio Receiver
When it comes to a cheap and effective Bluetooth adapter, KINDRM proves to be an exceptional choice. With Bluetooth 5.0 EDR technology, the audio signal transmission of this device remains unhindered. It also allows you to listen to high-quality music whenever you want. The brand offers a 45-day money-back guarantee for users who end up being disappointed by the product.
What's in the box?
The package includes KINDRM 5.0 Stereo Audio Receiver along with a short charging cable.
Things we like
KINDRM 5.0 stereo audio receiver is an incredible adapter for your home audio setup, radio, automobile speakers, and a lot of other devices. The clip-on style makes it super easy to carry and distinguishes it from its other competitors. It is lightweight and portable, weighing just 0.6 oz. This means you can listen to wireless music while exercising, travelling, or partying, and that too without any hassle. You can even use KINDRM 5.0 while it is being charged.
Furthermore, its latest version additionally includes a built-in microphone and a connection range of 33 feet, which is sort of great for the price. The two-device connectivity enhances its useability as the device is compatible with both IOS and Android devices.
Things we don't like
The battery fails to last for a long time when used with big headsets. The promised 8-hour playback works only with smaller earphones. Some users also complained that the adapter that sticks out can break easily. And for the price one is paying, it is inevitable to expect it to be antifragile.
---
2. APEKX Bluetooth Audio Adapter
With the APEKX audio adapter, you can transform any wired earphones, headphones, or even wired speakers into a wireless device. It comes with both USB and Bluetooth interfaces. It stands out as an excellent choice because it is highly rated by the customers, probably because it offers quality features at minimal cost.
What's in the box?
On unboxing the package, you'll find one Wireless Audio Adapter/Receiver, a 3.5mm AUX Cable, a USB Micro Charging Cable, and a User Manual.
Things we like
With Bluetooth 4.1 backed by the EDR feature, the APEKX Bluetooth audio receiver is a low-power-consuming adapter that lives up to its standard. It includes an integrated microphone and a Bluetooth receiver, making it perfect for hands-free calling as well as for listening to music, audiobooks, and podcasts. If we talk about the build quality and controls, then one would be pleased by its clean finish and big buttons.
A full single charge which takes around 1-1.5 hours, provides a Talk time of approx 5.5 hours, a Playtime of 7 hours, and up to 180 hours of Standby time. Plus, the noise reduction technology ensures unobstructed call interactions and wireless streaming of music.
Things we don't like
A few reviews noted that this gadget could not be paired with every non-Bluetooth audio device of choice. With certain devices, it fails to function, which disappointed a lot of customers. The connectivity range(up to 15m) is also quite less as compared to other adapters.
Apart from it, the adapter does not support Aptx-LL. Although the microphone's quality is fairly good, it still isn't the best for the price, just like its aesthetic finish that lacks durability.
---
3. MaedHawk Bluetooth Aux Adapter/Portable Wireless
Maedhawk is a professional producer specialising in the industry of Wireless Bluetooth adapters, with their own factory that was established back in January 2006. MaedHawk Bluetooth car adapter allows you to wirelessly convert your existing home audio system or headsets to enjoy music via streaming. It will save you from the boredom that haunts lengthy car trips.
What's in the box?
The box contains a BRT005 Bluetooth AUX Car Adapter, a USB Charging Cable, as well as a User Manual.
Things we like
Although this adapter isn't the best option for making phone calls, it still delivers clear sound. It has a sleek aluminium finish and a 3.5mm AUX Jack, as well as a decent five-hour battery life which requires just a quick charge. When out of battery, it can also function while being charged.
The adapter is simple to use and quickly connects with any Bluetooth-enabled device. The adapter's build quality is likewise excellent. When it comes to its finish, then there's a sturdy feel to it when in the grip of the hand.
Along with that, its small and compact size makes it easy to carry wherever you want. Its performance, build quality, and affordable price make it an excellent choice for anyone who wants high-quality audio and wireless connectivity.
Things we don't like
Battery life slims down since it does not switch off automatically when the car is turned off, and you must remember to turn it off, or you'll have to end up with a dead adapter. Many users have also complained about the device's pairing ability, although it might be a technical error rather than something the model carries with itself.
---
4. Best Headphone Adapter for ATH-M40X: Audio Technica BAL-M40X
4.1 1Mii Bluetooth 5.0 Music Receiver for Car/Home Stereo
1Mii Bluetooth adaptor is designed for vehicles and home audio systems and comes with Bluetooth 5.0. This ensures quick pairing and a strong, steady connection. The 1Mii Bluetooth adapter, which uses Bluetooth 5.0 technology, is backward compatible with Bluetooth 4.2/4.0/3.0/2.0 devices. It's a great option for anyone who wishes to experiment with their wired headphones or speakers and turn them into wireless gadgets.
What's in the box?
One Mii ML100 Bluetooth adapter, a micro-USB charging cable, a 3.5mm auxiliary cable, a user manual, a warranty card, and a customer service card are included in the package.
Things we like
The 1Mii Bluetooth comes with a 3.5mm sound cable as well as an RCA connector, allowing it to work with a variety of sound setups, car stereos, home theatres, and standard loudspeakers. You basically need to connect the adapter to your sound setup with the required cables, pair it with your Bluetooth device, and you're ready to jam along.
In terms of audio quality, the 1mii ML100 delivers good results. The device supports the aptX and aptX LL codecs, which provide high-quality audio with little latency. Overall, the 1mii ML100 is a great, low-cost alternative for converting wired headphones or speakers into a wireless one, too, with an easy-to-use interface and a long battery life.
Things we don't like
The aesthetic of the adapter looks a little cheap and plasticky for the price it is available for, but there's no noticeable problem with its performance. The lack of an equaliser seems to be an issue here because some users complain that, at times, high pitch sounds tend to squeak.
---
5. Aisidra Bluetooth Transmitter Receiver V5.0
If you are looking for a transmitter that provides superb wireless audio streaming with low latency and a simple setup, the Aisidra Bluetooth Transmitter Receiver V5.0 is waiting for you. It has amazing features, including simultaneous pairing of two devices and simple useability, and it even works well with a wide variety of devices, including computers, smartphones, TVs, and smartphones.
What's in the box?
An optical (Toslink) cable, a 3.5mm audio cable, a 3.5mm to RCA cable, a USB charging cable, and a user manual are included with the Aisidra Bluetooth Transmitter Receiver V5.0.
Things we like
With Aisidra Bluetooth Transmitter, users can easily pair two different devices simultaneously for an uninterrupted streaming experience and multitasking. It might surprise some, but the transmitter is more useful than it first appears because it can be used with a variety of devices, including TVs, cars, computers, MP3 players, home theatres, and Nintendo Switch.
The Aisidra Bluetooth Transmitter also guarantees low latency without any glitches for a seamless streaming experience. Additionally, the Bluetooth V5.0 technology used by this transmitter guarantees a quick and secure connection with compatible devices.
Plus, its design makes it lightweight and compact for easily carrying it along with you.
Things we don't like
This transmitter's only drawback is that it lacks some adapters that are eventually required. Like, a 1/4″ stereo male to 3.5mm female adapter will be needed to connect it to a surround sound receiver.
---
6. Nulaxy Bluetooth FM Transmitter
The Nulaxy Bluetooth FM Transmitter is a rare find when it comes to finding a wireless Bluetooth adapter that is not only well designed to deliver high-quality audio but to enrich the overall listening experience. It is made to function with many kinds of cars and mobile devices, including iOS and Android devices. 
What's in the box?
The Nulaxy Bluetooth FM Transmitter for Car comes with one transmitter device, one user manual, and one charging cable. 
Things we like
One of the key features of this adapter is its dual USB charging port, which lets you charge two devices at once. A QC3.0 quick charging port can charge your device up to four times faster than a regular port can. You can charge your phone to 80% of its capacity in just 35 minutes, which is significant and time-saving. Apart from that, there are other ports such as TF card slot and AUX port that offer the user multiple choices so that they can choose to play music via USB drive / TF card / AUX line / Bluetooth.
Things we don't like
The screen also has limited display information, and you have to switch between modes to see different settings. Depending on where you are travelling, the FM signal may also experience some disruption when the speed of you're driving changes.
Apart from it, there's an urgent need for cable management because, due to multiple ports, they end up being tangled.
---
7. Twelve South AirFly Pro
Users can now enjoy wireless audio wherever they go thanks to the Twelve South AirFly Pro Bluetooth Wireless Audio Transmitter/Receiver, which has proven to be an efficient transmitter. With its easy setup, universal compatibility, and long battery life, it's an excellent choice for frequent travellers or anyone who wants to stream audio wirelessly. It runs on Bluetooth 4.1 technology and has a range of up to 33 feet, making it an ideal device for travel or home use.
What's in the box?
The Twelve South AirFly Pro Bluetooth Wireless Audio Transmitter/Receiver comes with a keyring, carrying pouch, a small charging cable, and other accessories.
Things we like
The AirFly Pro's seamless connectivity is its most notable feature. Something like connecting your AirPods or other wireless headphones to a variety of devices, including TVs, iPads, aeroplanes, exercise equipment, and more, has turned into a left-hand task. Being both a transmitter and a receiver simultaneously proves to be an advantage. More than any other feature offered by AirFly, this appeals the most to the techies.
AirFly has a compact, lightweight, sleek, minimalist design that is easy to carry with you wherever you go. Additionally, it has universal connectivity and a long battery life of up to 8 hours on a single charge, making it ideal for long flights or road trips. Over time, this adapter has gained customers' trust and has proven to be a good choice in this price range.
Things we don't like
However, some cons exist in this model, like signal interference, limited range, and no volume control options. The AirFly Pro fulfils its promise to deliver a seamless, cord-free audio experience despite a minor audio latency issue.
---
8. Anker Soundsync A3352 Bluetooth Receiver
Finding an authentic as well as effective Bluetooth receiver is essential in a world where music permeates every aspect of our lives. The Anker Soundsync A3352 has an advanced and minimal design that blends in with almost any setting. The powerful build quality sort of ensures durability, which makes it perfect for both car and home use, which means that you can take your music with you wherever you go thanks to its small size.
What's in the box?
Anker Soundsync A3352 Bluetooth receiver comes along with a 3.5mm audio cable, an RCA cable, a Micro-USB charging cable, and a User Manual that briefs the user about all the functions. 
Things we like
Anyone would immediately notice the Anker Soundsync A3352's compact and streamlined design. It is quite small and rectangular, about the size of a credit card. That's why it is simple to carry in your pocket or bag.
This Anker's model can function both as a transmitter as well as a receiver. It also has a wide range of 33 feet, works while being charged, and is small enough to fit in a pocket. The cherry on top is the fact that it also comes with an 18-month warranty and has an impressive battery life of 12 hours. One of the Anker Soundsync A3352's standout features is its ability to connect to two devices at the same time.
Along with all of that, its audio is crisp, with deep bass and clear treble, and will surely enhance your music listening experience significantly.
Things we don't like
The overall functionality justifies the price that one has to pay for this adapter, but there are a few issues that might make you think twice about it. First, there's no battery level indicator. You need to check it on your phone but not on the device. Second, the 3.5mm shock cord isn't worth the price. You might need to buy a new one due to connectivity issues. Third, the inbuilt microphone is just okayish, which, again, for the price, isn't worth it.
---
9. FiiO Native DSD256 Hi-Res CSR8675 Bluetooth 5.0 Receiver
The FiiO Native DSD256 Hi-Res Receiver is a high-quality audio receiver that offers users a way to stream music wirelessly. It really produces high-resolution audio with DSD256 and other high-fidelity codec capabilities, making it a fantastic choice for audiophiles. If sound quality is critical to you and you're ready to spend a hundred dollars on an audio adaptor, the FiiO BTR5 is, without a doubt, the best option.
What's in the box?
The FiiO BTR5 adapter, a short and long USB charging cable, a leather carrying case, a warranty card, a quick start guide, and extra screen protectors are all included in the box.
Things we like
The (2.5mm) truly balanced input option significantly enhances this adapter's overall performance and can be used by the FD5s right out of the box because they can switch between 3.5, 2.5, and 4.5mm input options. Surprisingly, they also increase power to full IEM potential from (80mw). It can go up to (220mw), which is quite impressive for its size.
This adapter has excellent Bluetooth connectivity. Many reviews highlight how pleased they were with its smooth connectivity and long battery life. Plus, it's also quite functional and simple to use, though far from perfect. It, too, has a built-in microphone and a simple design, just like all of the other affordable alternatives. It also comes with a case with a clip.
Things we don't like
Despite its numerous benefits, the FiiO Native Receiver's price is one of its possible drawbacks. It is relatively pricey when compared to other Bluetooth receivers on the market, which may prevent some people from purchasing it.
---
10. Audioengine B1 Bluetooth Receiver with 5.0
Audioengine B1 Bluetooth Stereo Receivers can add high-definition wireless audio to any home music system, giving you full control of your music on any device. It is super easy to set up, and once done, it gets connected in seconds. The Audioengine B1 Bluetooth Music Receiver is the low-cost, easy-to-use wireless home audio solution we've been searching for. These adapters have aluminum bodies, making them immune to basic damage while adding a fine touch to their overall aesthetics. 
What's in the box?
Audioengine B1 Wireless Bluetooth 5.0 Music Receiver, a Power adapter with a detachable cable, an RCA audio cable, a Microfiber bag, Setup Guide, and a Brochure.
Things we like
Equipped with the latest technology to provide high-quality sound, the Audioengine B1 music receiver supports Bluetooth 5.0, aptX HD, aptX, and AAC codecs. These codecs actually provide HD-quality audio. Its Bluetooth 5.0 also provides up to 100 feet of range, allowing you to use your phone while your home radio is playing. This is something that compact adapters fail to offer.
The B1 has optical audio and RCA outputs that work with any stereo system. Other companies' wireless Bluetooth DACs are priced higher than the B1, and they most likely deliver the same kind of audio quality.
Things we don't like
The issue with Audioengine B1 is that not everyone can afford it. Although these adapters are worth every penny, they aren't that portable and pocket friendly. They are usually suitable for a specific setup.
---
11. Lavales Bluetooth 5.3 Transmitter Receiver
Founded in 2021, Lavales is a consumer electronics startup focused on bringing quality wireless and audio products to the consumer market. And if you're looking for a simple way to transmit audio from your TV, computer, or stereo to your Bluetooth headphones or speakers, Lavales has your back. This transmitter comes with two modes that make it easy to get the audio you need. All you need to do is to use the TX mode of the Bluetooth transmitter and connect it to your headphones or earbuds.
What's in the box?
On unboxing the package, you'll discover a Lavales transmitter, as well as a charging cable, a 3.5mm audio cable, a TRRS audio cable, and a user manual.
Things we like
Lavales transmitter includes a range of connector cords for linking the adapter to non-Bluetooth devices (such as RCA connectors for TVs). Although it is typically used to provide a Bluetooth signal, it can also be used as a receiver and may be used wirelessly, too, to connect iPads, tablets, and other devices to an old stereo receiver.
Surprisingly, it works as described, with no noticeable sound lag when a video is played. If you fly frequently, then this little Bluetooth 5.3 transmitter is worth considering because it can prove to be more useful than its worth.
This device is so small that it can fit in the palm of your hand and weighs not more than 100 grams. One of the most notable advantages of the Lavales transmitter is that it is compatible with a variety of devices, including cameras, cell phones, and tablets.
Things we don't like
This transmitter has limited control over audio volumes, which highlights the fact that it needs an EQ. Another issue that the customers raised was that it may not perform effectively in high-interference environments.
---
12. LAICOMEIN V5.0 2-in-1 Bluetooth Adapter
This low-budget adapter is designed to facilitate wireless audio transmission and reception for a wide range of electronic devices, including televisions, stereos, personal computers, and more. Just by connecting a non-Bluetooth audio system to a mobile phone via Bluetooth, LAICOMEIN users can enjoy a smooth audio streaming experience at their fingertips.
What's in the box?
The LAICOMEIN Bluetooth 2 in 1 Adapter comes with a 3.5mm Audio Cable, a 3.5mm to 2-Male RCA Cable, a 3.5mm male-to-male connector, USB Charging Cable, and a User Manual to brief the users about the specs and functions.
Things we like
Although it supports other devices, users frequently choose Bluetooth Transmitter Receiver, LAICOMEIN V5.0 2-in-1 Bluetooth Adapter, and Wireless Transmitter to use with their computer and headphones. You'll be blown away by how simple it is to set up and pair. This is because it comes with Bluetooth 5.0 technology.
It also has a low latency feature, which ensures that the sound is clear and crisp. It has an amplifier that improves the audio quality. And with its dual link mode, you can connect two Bluetooth receivers simultaneously. There is a built-in mic on the BT adapter as well so that you can make hands-free phone calls using it and your car stereo. On top of that, its battery can last up to 10 hours.
Things we don't like
The audio quality of this adapter is decent, but it could have been significantly better in many ways. On a rare note, some users also complained about it providing a fragile connection that breaks often. Others had difficulties while going through the confusing instructions.
And if you're looking to buy this for someone who uses devices like hearing aids, then don't because it isn't compatible with such devices.
---
13. Best Bluetooth Adapter for Bose QC25: Bolle&Raven
Just like the BAL-M40x and BAL-M50x were designed only for 2 ATH models of headphones in order to indulge their buyers, AirMod was designed to indulge the buyers of the famous Bose QC25 (for those who didn't want to replace it with the QC35 on time). It is not so cheap but it is small (0.3×1.4×2.1 inches) and very light (1.6 ounces). The adapter has the built-in mic, it uses Bluetooth 4.1 version with up to 30ft range and the battery can last up to 8 hours after being fully recharged (recharging requires 1.5 hours). The company called Bolle&Raven that actually makes adapters especially for Bose products makes AirMod. Bolle&Raven has one more product. It is the special adapter for QC15 (AirMod Wireless Bluetooth Adapter for Bose QuietComfort 15) that is slightly cheaper than AirMod but still performs very well and fits the headphones perfectly.
What's in the box?
AirMod comes in the nice packaging. In the blue box with Bose logo, you will find the adapter nicely tucked in protective foam, short USB to 2.5mm charging cable and the user manual.
Things we like
AirMod is well-built adapter. It is made from plastic but it doesn't seem cheap at all. It comes in black color with nice matte finish and it fits the cup of the Bose QC25 so great that it is even hardly noticeable. The adapter is very light and you won't feel any additional weight but you will be able to move more freely than with wired headphones.
The adapter has control buttons on the bottom. There are: power button with the LED indication light, play/pause button that can be used for pairing and answering/rejecting calls, as well the volume controls (also used for skipping tracks). There is also the small built-in mic that allows you to stay in touch with your friends or colleagues on the go. When you press the buttons, you will hear nice click sound. They are well distributed on the adapter so you won't have any problems using them blindly.
The most important thing is that the adapter and the Bluetooth connection don't change the sound quality or the quality of the noise cancellation. At least, any ordinary customer wouldn't notice something like that. The adapter pairs quickly and easily to both Apple and Android devices as well as other Bluetooth enabled devices you might have. It is cheaper than new Bluetooth headphones and it is great that you have the opportunity to find the perfect adapter for your expensive headphones. We say that because you can't use 3.5mm adapters with Bose QC25 as the headphones have 2.5mm port. You simply don't have any other option. You have to buy this one or some universal adapter if you want to make them wireless. Once you buy a product approved by the company that made your headphones, you know you have the right product.
Things we don't like
AirMod is more expensive than the regular adapters and the difference is not neglectable. Besides, you get to use it with only one pair of headphones and it has less features than regular adapters. Most of regular adapters (you will see many of them on our list of 17 best Bluetooth headphone adapters in 2023) work as both receivers and transmitters and they are twice cheaper.  
AirMod has indication light built in the power button and you can't see which light is on if the headphones are on your head.
The Bluetooth signal range is not perfect. It remains stable up to 25ft even with the obstacles, but if you go farther, the signal starts to cut out. Without obstacles, the signal range becomes longer and it can reach the advertised 30ft.
The adapter can pair to only one device at the time.
In addition, we have noticed some kind of static noise or hissing when there's nothing playing. It also doesn't support aptX low latency codec.
---
14. eppfun AK3040C Bluetooth 5.2 Transmitter Receiver
eppfun is a lifestyle brand that wants to create and promote lifestyle products so that the next generation can enjoy a wide range of different activities in the best way possible. eppfun is convinced that technology can improve modern lifestyles and fit seamlessly into our lives, no matter where and how we are. The eppfun brand, the one that the audio consumers trust presented the AK3040C Bluetooth 5.2 transmitter receiver, which thrives on making a place at the top in its marketplace.
What's in the box?
Users will find the AK3040C Bluetooth transmitter, an RCA cable, a 3.5mm audio cable, a USB charging cable, and a user manual in the box.
Things we like
AK3040C is surprisingly smaller than you expect it to be, which is quite an advantage as it makes it portable and easy to take around with you. Supported by a decent battery backup, it is also easy to operate, and the audio transmission is close to the best. But possibly its best feature is that it automatically selects the best possible codec (SBC, AAC, aptx, aptx LL, aptx HD).
The Eppfun transmitter does not emit anything other than what it is supposed to. There is no background noise or anything else that would interfere with the sound quality. The sound quality is very full and detailed.
Things we don't like
The biggest disadvantage of having this adapter is that it has no volume control unit and not even a Bluetooth battery indicator. Along with that, the cords provided are pretty short, which makes them unusable at times. Unfortunately, the transmission has too much latency (probably more than 50ms in low latency mode).
---
15. Best Universal Bluetooth Headphone Adapter: Esuper HK009
Esuper Bluetooth receiver is very cheap adapter that supports Bluetooth 4.2 version with up to 40ft of signal range without obstacles. Its dimensions are 2×1.6×0.8 inches and it weighs 0.4 ounces. The charging time is 2 hours and the battery can last up to 6 hours. The Bluetooth receiver has volume controls as well as the built-in mic. It can be used in cars or for reliving the old wired headphones, earbuds or speakers. The adapter allows you to play/pause music, answer/reject calls and change volume or skipping between tracks. HK009 has universal 3.5mm connector that will fit perfectly any non-Bluetooth device with 3.5mm aux port. The product comes with 18-month warranty card.
What's in the box?
The receiver comes in the partially transparent cardboard box with USB charging cable, audio cable and the user manual.
Things we like
HK009 Bluetooth receiver is extremely affordable adapter that comes in black color with very simple yet interesting design. It has interesting shape, it is extremely light and so small that it can fit any pocket. The build quality is satisfying for the price, it is plastic but it doesn't seem very flimsy.
The adapter has built-in mic, volume controls and the multifunctional button with Bluetooth logo. There is also LED indicator light that shows you if the device is on or off, pairing or paired. It is paired easily with any Bluetooth enabled device and once paired, the blue LED light will flash every 5 seconds.
Esuper HK009 Bluetooth adapter works nicely with all devices and it can be used in all situations, even for traveling as the battery is decent and the size and the weight make the adapter hardly noticeable. Besides, there is the option to make calls and talk to people any time you need with the help of its small mic that works nicely. The sound quality is decent and satisfying enough for any ordinary customer. The adapter supports relatively new Bluetooth version and the signal range is extended if there is no obstacles.
Things we don't like
First of all, HK009 can look strange if you attach it directly (without the long audio cable) to your headphones. It will just hang from the cup and it doesn't look too attractive.
Second of all, hissing that is typical for all Bluetooth devices (when there is nothing playing) appears with this adapter too.
Last, the adapter doesn't support aptX low latency codec and we wouldn't recommend watching movies on TV via Bluetooth although some customers say that there is no significant delay.
---
16. Best aptX LL Transceiver: Trond 2-in-1
Trond 2-in-1 Bluetooth adapter is quite an affordable way of making your non-Bluetooth devices into Bluetooth enabled. The adapter comes with Bluetooth 4.1V with CSR chip and A2DP profile(the newer model supports Bluetooth 4.2V), good signal range and aptX low latency codec. The adapter is actually the transceiver, as we call the devices that can be used as both transmitters and receivers. In transmitter mode, it can be paired with two devices at the same time. Its dimensions are 1.8×1.3×0.3, it weighs 0.5 ounces and it comes with 18-month warranty and 30-day no-questions-asked guarantee. The battery can last for 8 hours at max and the charging process lasts for 2 hours.
What's in the box?
The adapter comes in the cardboard box with the short 3.5mm male-to-male audio cable, 3.5mm female to RCA male audio cable, user manual and USB to micro USB charging cable.
Things we like
Trond 2-in-1 receiver and transmitter is very affordable little adapter. It comes in black color with nice matte finish that makes it resistant to fingerprints. On the front side, you will see round multifunctional button with LED light that indicates if the adapter is on/off, pairing or already been paired. One long press turns it on or shuts off, while the double click turns on pairing mode. The pairing process is quite simple with all Bluetooth enabled devices. On the bottom, there are micro USB charging port and 3.5mm aux port, while button that allows you switching between modes is on the top.
The adapter is made from aluminum, which makes it more durable than plastic ones. The cables are also decently made and the adapter works very nice in all situations and with all kinds of devices. It also supports aptX low latency in both modes, which makes it easier for you to watch movies on your TV via Bluetooth. In TX mode, you can even connect the adapter to two devices simultaneously. In any case, this adapter offers you great opportunity to improve your old wired device with some Bluetooth signal as Trond adapter can be used in cars, with headphones, speakers, TVs, etc. The battery life is decent and it can support most of your daily activities.
Things we don't like
Trond 2-in-1 adapter is not made for musicians, as the low latency doesn't work great for monitoring. It is more for ordinary users and amateur eyes and ears.
The bad thing is that the adapter doesn't have volume controls and the mic. At this price point, it shouldn't be the case.
In addition, some users have noticed problems with Bluetooth signal. They claim the range is not so long as advertised and that the signal cutouts are more often than it is tolerable.
---
17. FMIIFMS Bluetooth Transmitter Receiver
If you are looking for a high-rated, low-cost Bluetooth adapter, then you have come to the right place. FMIIFMS Bluetooth adapter is the perfect choice for you. This adapter is loaded with the latest version of Bluetooth 5,3 technology, which eliminates the transmission delay problems and connection defect issues of the previous generation of Bluetooth 5,0. It has low power consumption, high speed, and stable signal transmission, which makes it easier to listen to your favourite songs. It is time to renounce your old wireless audio experience whenever you want.
What's in the box?
The package includes an FMIIFMS Bluetooth Transmitter Receiver unit, AUX Male to Male Adapter, a USB-C type charging cable, and an instruction manual.
Things we like
FMIIFMS is equipped with advanced microphones and CVC-8.0 technology to enable the car Bluetooth receiver auxiliary to effectively filter out road noise, providing a clearer hands-free call experience on both sides of the line. The adapter comes with a 200mAh built-in battery that can provide continuous playback for 10 hours on a full charge, which just takes around 45 minutes. Along with the adapter, you'll also receive a USB- C cable to recharge the adapter.
What's great about this adapter is that it can send audio in two different ways. You can connect it to your phone or another device for your speakers, or you can connect it to a receiver and send it to other speakers. It is also designed in a super sleek manner, which, apart from easy portability, adds glamour to its aesthetics as well.
The brand also allows the user to replace the product in case they receive a damaged Bluetooth transmitter or one with an unstable connection.
Things we don't like
The build quality of these adapters is quite cheap. You need to be cautious while using it to avoid any damage. Other minor issues are unstable battery life, pairing difficulties, and its lack of compatibility with some devices. But, one needs to understand that this adapter is way too pocket friendly for the rest of the features that it has to offer. So, overall, we would recommend this product to anyone who wants to enjoy wireless audio streaming with ease.
---
The Downsides of Bluetooth Headphone Adapters
Just like any other device ever made, Bluetooth headphone adapters have their flaws that can be quite annoying if you don't know how to pick the best possible product for your needs. Bluetooth is great in theory, but in practice, we are facing problems every day. It can make our everyday activities a lot easier or extremely annoying. It all depends on the product and the person using that Bluetooth enabled device.
To be honest, this technology hasn't still been perfected and it is not meant for everybody to use it. This is our way to prepare you for the potential problems you could have with Bluetooth connection and Bluetooth receivers.
Bluetooth signal range is limited
It is true that Bluetooth cuts the annoying wires and make your movements stress-free, but only partially. Bluetooth signal range is limited no matter what version of Bluetooth you are using. At best, you will get 300 feet, but most of Bluetooth headphone adapters use Bluetooth 3.0, 4.0 or 4.1 version and the average signal range is around 30 feet. Some products (for example some TaoTronics Bluetooth headphone adapters) offer up to 65 feet of signal range, but the average is 30 feet. That basically means that you get more freedom but only within the 30-feet range more or less. When you step out from that ''circle'', you will experience signal loss and/or audio quality drop. This is tolerable if you have your phone or player in your pocket but if you have to leave it and go to another room or if you have to be in the gym and leave your phone in the locker room, it can be problematic.
Bluetooth connection isn't perfectly stable
Sadly, even if your phone is in your pocket, you can experience signal cutouts, at least from time to time. Your headphones can even completely disconnect from your phone. That is the reason why you should be careful when choosing phones as well as headphones or, in this case, Bluetooth headphone adapters. You should always try to buy the products that can establish the best Bluetooth connection and that is something you can find out from our reviews.
Bluetooth headphone adapters disable the controls on your headphones
It may not annoy everybody, but you have to know that once you connect your headphones, speakers or car stereo system to your Bluetooth adapter/receiver, all the control buttons on your devices lose their function. That means the control pad on your wired earbuds become useless as well as the mic. The mic can even be the biggest problem since the mic on the adapter is usually not as good as the mic on the earbuds/headphones. Besides, you can't expect the person you are talking with to hear you loud and clear if the adapter and the mic are in your pocket, far away from your mouth. The same thing happens when you're using adapters in your car – it is possible that the call quality will be poor. The only thing you can do is to take the adapter, bring it back to your mouth until the conversation is over, but that is no longer hands-free call.
Bluetooth headphone adapters aren't completely universal
Always pay attention to the ports and jacks on certain Bluetooth headphone adapter. It sometimes happens that headphones (especially some branded full-size headphones with detachable cables) don't have 3.5mm connectors. Instead, their manufacturers use 2.5mm connectors and that is usually the main reason why some special Bluetooth adapters are made for those specific models. They usually cost more as they are the only option to make expensive wired headphones wireless. We have explained that situation on the examples of Audio Technica and Bose full-size headphones. Their customers have to use specific models of adapters and they are more expensive than regular universal adapters.
Bluetooth headphone adapters have to be charged
When you buy a product like this, you basically get another device that has to be charged. You won't have to worry only about the battery in your phone or tablet, there will also be the adapter that has to be regularly charged in order to work properly. The bigger problem is that many adapters can't be used while charging, which some owners find irritating.
Recommended Reading :
The Important Things to Know When Buying Bluetooth Headphone Adapters
No matter what you are buying, you have to know how to choose the best product for yourself among numerous advertised items. The market is enormous and there are some bad but also some brilliant things out there. You have to be careful and plan every purchase if you want to spend your money on quality products.
We have decided to conclude our article on best Bluetooth headphone adapters in 2023 with some pieces of advice that should help you during the search. Here are the most important things you have to think about.
Purpose
The first thing you should do when buying a new product is to carefully think about its purpose. If you want to get a Bluetooth headphone receiver (adapter), you have to realize when and how you will be using it. For example, if you need the receiver for your old wired earbuds, you should consider the smallest adapters you can get as they are the lightest and they can even be used for running or working out. If you want to use the adapter for physical activities, you should also try to get one with the clip on the back so that you can attach it to your shirt or the edge of your pocket.
Price range
After defining the purpose of your new device, you have to realize how much money you have or how much you want to spend on one adapter. That is very important as it will shorten the time spent searching for the new adapter. You will focus on the products in one price range and won't spend time thinking about those that are unavailable.
Comfort
Bluetooth headphone adapter has to be portable and user friendly. That mostly means it has to be as small as possible, as light as possible and that the adapter has nicely distributed control buttons so that the user spends less time setting the adapter up. For example, if you need an adapter for running, you would buy small and light adapter with a clip. If you want to be available for phone calls during your running sessions, you will look for the adapter with nicely positioned mic, so that the adapter can be attached near your mouth. The adapter should have as much separate controls as possible because it is easier to have one power button, one button for answering calls, separate buttons for controlling the volume and skipping tracks as you will spend less time learning when you need to press the button for one, two or five second in order to set the device up.
Bluetooth version
Bluetooth version is very important as it affects the wideness of the signal range and the connection quality. Newer Bluetooth versions offer wider range as well as better connection and better sound quality.
Older Bluetooth versions were compressing files too much and the sound quality was much worse. Today we have aptX or A2DP profiles that compress files less than older versions, making them more pleasant for listening.
Compatibility
Most of the Bluetooth headphone adapters are compatible with the majority of headphones and earbuds, as well as speakers. If your device has 3.5mm jack and your adapter has 3.5mm port, you will have no problems. However, as we have mentioned before, some headphones have thinner connectors/ports, which means you will have to buy special adapters made for that model of headphones or some universal adapter with different kind of ports.
Additional features
Having additional features is not mandatory but they can be very useful, especially because many adapters offer many features for the reasonable amount of money.
AptX is the Bluetooth profile that preserves the quality of the sound on your headphones (there is also A2DP profile that has the same purpose). If your receiver/transmitter features support for aptX low latency profile, you will be able to watch movies on your TV without any significant audio delay. It doesn't really always work and it is important that the receiving and the transmitting device are compatible and support aptX low latency, but if you manage to combine them nicely, it can be really useful and refreshing.
Not all Bluetooth headphone adapters have mics. Not all people consider they are necessary. If you do, you should get the adapter with built-in mic, but you have to make sure it is well positioned and that it works nicely so that the other person can hear you normally even if the mic is not right next to your mouth.
The possibility to connect your receiver to two devices simultaneously is very useful. That means you can pair it to two phones or a phone and a tablet, so that you can, for example, take calls from one device and stream music from another.
If you have the transmitter with this feature, you and your friend or partner can watch the same movie with two pairs of Bluetooth headphones when you don't want to disturb other people.
Many newer adapters are actually both receivers and transmitters. They can be quite cheap and even if you don't think you need the transmitter, you might consider buying the transceiver as the secondary feature can be useful someday. The important thing is to switch between modes while the adapter is turned off.
We have come to the end of this article on 17 best Bluetooth headphone adapters in 2023. We hope it was useful and that it will help you find the right adapter for you and your devices.
---
FAQs
Q: Can I turn my wired headphones into wireless?
A: Yes, you can and it doesn't have to cost you a fortune. You just need the right Bluetooth headphone adapter. They are usually priced under $30 and they can easily turn your wired headphones into Bluetooth headphones. 
Q: What is a Bluetooth headphone adapter/Bluetooth audio jack adapter?
A: Bluetooth headphone adapters, Bluetooth audio jack adapters, and Bluetooth dongles are all the terms used for Bluetooth receivers and transmitters. The purpose of these devices is to turn your wired audio equipment into wireless (Bluetooth) equipment. 
Bluetooth receivers, as the name implies, are supposed to be connected to the non-Bluetooth sound output devices (speaker, headphones, car audio systems). They receive the Bluetooth signal from a Bluetooth-enabled source (phone, tablet, PC, laptop, TV).
Bluetooth transmitters are supposed to be connected to non-Bluetooth audio sources (like non-Bluetooth TV, CD player, etc.). They stream Bluetooth audio signal to the Bluetooth-enabled sound output devices (Bluetooth headphones, Bluetooth speakers). 
There are numerous Bluetooth adapters that can do both – receive and transmit the Bluetooth signal. They are usually called Bluetooth transceivers. 
Q: Are all Bluetooth adapters the same?
A: No, they are not all the same. Besides the obvious difference in design, they also have different features. First of all, they don't all use the same Bluetooth version and don't support the same kind of Bluetooth codecs. This is particularly important when looking for a Bluetooth headphone adapter that will allow you to watch TV. That kind of Bluetooth adapter will have to support the aptX LL Bluetooth codec. Without this codec, you will experience some lip-sync issues. 
Also, some Bluetooth adapters have a built-in mic and some basic controls while others don't. 
Q: Are Bluetooth adapters any good?
A: Yes, they are. They can easily turn your wired headphones into wireless and they all deliver fairly reliable Bluetooth connection. However, they don't all deliver the same kind of audio quality. The sound quality will depend on the Bluetooth version and on the supported Bluetooth codecs. For the best possible listening experience, you need a Bluetooth adapter that supports not only standard SBC and AAC but also advanced Bluetooth audio codecs – aptX, aptX LL, aptX HD, aptX Adaptive, and/or LDAC.
Q: Should I buy a headphone adapter with aptX/aptX LL/aptX HD support?
A: Yes, you should. AptX LL is the most important codec if you want to use your headphones (and adapter) for TV watching or for watching any video content. aptX HD is highly desirable if you want the best possible sound quality when listening to music. 
Q: Which is the best Bluetooth headphone adapter?
A: The market is flooded with all kinds of adapters and most of them offer satisfying performance. Our favorite brands are TaoTronics, Avantree, Mpow, Anker, AUKEY, and TROND.
Final Thoughts
Now that we have presented 17 best models of Bluetooth headphone adapters, we have to say a few words about the characteristics and features you should be looking for in a Bluetooth headphone adapter and, after all, we have to be honest and reveal some downsides of these products so that every buyer could know what he is dealing with.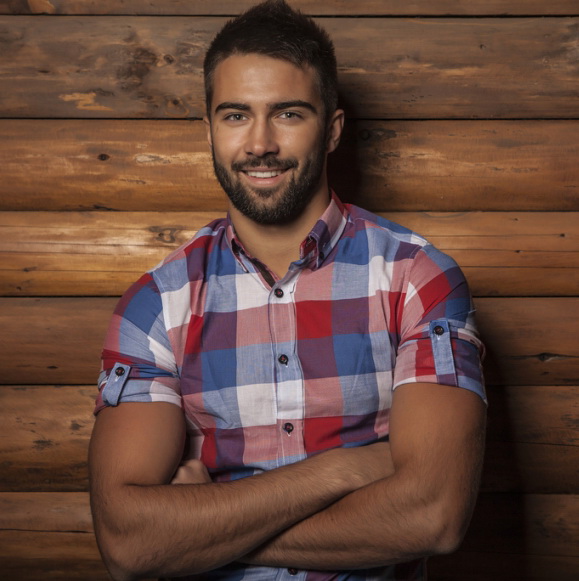 Hello, my name is James Longman.
I'm a writer and editor at AudioReputation. I disassembled my first portable AM/FM radio when I was only 8. At the age of 11, I burned the circuit board on my old boombox cassette player. I'm not going to explain how but it was reckless and stupid.
Since then, I have become much more careful around radios, boomboxes, and other audio devices (at least, I like to think so) but I have never lost the passion for audio equipment. Throughout 20 years of my professional career, I've been working for various audio equipment manufacturers and even started building speakers on my own in my little workshop.
I love the work we do here at AudioReputation. Testing, comparing, and evaluating all kinds of audio devices (speakers, soundbars, headphones, home theater systems, etc.) is something I truly enjoy. I try to be unbiased and give you my honest opinion on every piece of equipment I test. Still, you should take my reviews with a pinch of salt and always be just a little bit skeptical. The fact that I liked some speaker or soundbar doesn't mean that you are going to love it. If you have the opportunity, you should test it/hear it before buying it.