AudioReputation is reader-supported. When you buy through links on our site, we may earn an affiliate commission Learn More
Ethos by Gryphon Audio Designs is the endgame CD player/DAC. It could easily be one of the most beautiful, most capable, and best-performing pieces of audio equipment we've ever had a chance to see and hear. Today, we are putting this beautiful device to the test.
---
Gryphon Audio Designs is a Danish Audio Company founded back in 1985 by Mr. Flemming E. Rasmussen. Since day one, the main priority of this company was to lead the change in the audio industry and set new standards when it comes to both aesthetics and sonic performance. Their products, almost by default, represent a perfect synergy of striking looks and amazing performance.
The very first piece of audio equipment ever made by the Gryphon Audio was the world's first pure class-A dual-mono head amplifier and it was a huge success. Since then, the company's been following the same glorious path, always trying to push the boundaries and bring change. Some of the Gryphon Audio's legendary products are CDP-1 (the world's first CD player featuring 88.2kHz asynchronous up-sampling, released in 1998), Gryphon Adagio (CDP-1's successor offering 24bit/96kHz asynchronous up-sampling, introduced in 2001), Gryphon Mikado (32bit/192kHz up-sampling, released in 2003), Gryphon Kaliope (separate DAC), Cantata bookshelf speakers (released in 1999), etc.
Today, Gryphon Audio Designs is known for its preamps, power amps, integrated amps, CD players, DACs, phono preamps, loudspeakers, and audio accessories. All their products follow the tradition of the very first Gryphon head amp. Pure class-A dual-mono, fully symmetrical circuitries and perfectly neutral sound have always been Gryphon Audio's main priorities.
---
Ethos is advertised as a CD player and a DAC. It combines the capabilities of Gryphon's legendary CD players and Gryphon's Kaliope DAC. It can handle standard audio CDs (16bit/44.1kHz) but it can also be connected to external digital audio sources and used as a digital-to-analog converter. When used as a DAC via USB, it can decode both PCM (32bit/384kHz max) and DSD (DSD512). When using other digital inputs (S/PDIF and AES/EBU), Ethos can handle DSD128 and PCM up to 24bit/192kHz.
In the heart of the Gryphon Ethos is a pair of ES9038PRO Sabre DAC chips (32bit/768kHz). One DAC chip is used for each channel, and each chip consists of 8 separate D/A converters.
Ethos features top-of-the-line asynchronous up-sampling (up to PCM 384kHz and PCM to DSD up to DSD128). You can also select one of 10 available digital filters (7 PCM filters and 3 DSD filters).
This CD player/DAC has fully-balanced Neutrik XLR outputs as well as single-ended gold-plated RCA outputs.
Just like every other piece of equipment made by Gryphon, Ethos is designed to deliver pure and perfectly neutral sound with the fast transient response and consistent tonal accuracy. And that's exactly what you can expect. No coloration and no distortion.
The thing that you're going to notice first, the moment you open the box, is the striking design of this amazing device. Ethos looks just as good and unique as it sounds. The top-loading manually-operated mechanism resembles the mechanism of a turntable. You have to lift the aluminum handle that looks like a tonearm to insert the CD, and then you have to use the included gold-plated CD clamp to press the CD and keep it in place. The whole top mechanism is devised to recreate the experience you get when listening to vinyl. The backlit display on the front (Gryphon describes it as Vacuum Fluorescent Display or VFD) is beautifully incorporated, too. Gryphon Ethos is, by far, the most unique and most attractive piece of audio equipment we've ever seen.
The biggest " downside" of the Gryphon Ethos is its price. This thing is made for serious audiophiles (or rather seriously rich audiophiles). We haven't experienced any issues with the existing features and performance – Ethos is simply flawless and it does everything it's made to do. It does it effortlessly and with incredible authority.
The lack of SACD and MQA support as well as the lack of streaming capabilities might be considered a downside by some, but people from Gryphon never wanted to make an all-in-one music player. As they say, Ethos is ''single-mindedly and unapologetically dedicated to the compact disc playback with no concessions and compromises''
Striking design (it could easily be the most beautiful piece of audio equipment we've ever seen)

Impeccable build quality

Fully-balanced Class-A XLR outputs and single-ended gold-plated RCA outputs

Versatile DAC connectivity – USB Type-B, S/PDIF, AES/EBU via XLR

Top-of-the-line

ES9038PRO SABRE DAC

for each channel

Supports PCM (up to 32bit/384kHz) and DSD (up to DSD512)

Optional up-sampling (PCM – up to 384kHZ and PCM to DSD up to DSD128)

User-selectable digital filters

Remarkable music reproduction
Very expensive

Lacks MQA and SACD support

Lacks Ethernet port and Wi-Fi connectivity
The ability of Gryphon Ethos to deliver every single detail in your music with absolute accuracy and transparency is unparalleled. Every aspect of its sound reproduction is simply remarkable.
At $39.000 price point, Gryphon Ethos is meant only for the bravest audiophiles out there. And if you're one of those, you won't regret buying it. Every second spent with it, will be a moment of pure joy.
Official video
What's in the box?
Gryphon Ethos CD player/DAC comes in a wooden box. The player is protected with thick inserts of foam. On the top of the box, there's a nicely written and very informative user manual and a pair of white gloves in case you want to give your Ethos a special treatment (since you just spent a fortune on it).
Within the large box, you will find a few smaller boxes with a metal IR remote, a power cable. and a tiny spirit level for adjusting the feet.
Also Read: FiiO Q5 Review.
Specs
Gryphon Ethos Specifications
DIMENSIONS
Width
18.9in/48cm
Height 
7in/17.8cm
Depth
17.8in/45.3cm
Weight 
30.2lbs/13.7kg
INPUTS
CD

USB Type-B

S/PDIF

XLR AES/EBU
OUTPUTS
Fully balanced Neutrik XLR (L and R)

Gold plated RCA (L and R)
DAC DETAILS
Supported sampling rates
PCM – up to 384kHz/32bit

DSD (via USB Type-B) – up to DSD512
DAC chips
ESS SABRE ES9038PRO 768kHz/32bit, one for each channel
TECHNICAL DETAILS
S/N (Unweighted)
< -117dB (20Hz-20kHz)
THD + N (@0dB)
<0.0070%
Input impedance
AES/SBU - 110Ω

S/PDIF - 70Ω
Output impedance
XLR - 110Ω

RCA - 30Ω
ADDITIONAL FEATURES
Remote control

+12V link (power on/off)

Upgradeable software

Vacuum fluorescent display with touch-sensitive buttons

Variety of filters (7 PCM filters + 3 DSD filters)
Design
The design of Gryphon Ethos is truly unique and incredibly eye-catching. The manufacturer paid attention to every little detail. The idea behind this kind of design with a top-loading CD mechanism was to simulate the experience you would have with a turntable. That's the point of that gold handle on the aluminum lid arm that you have to open manually (just like you have to move the tonearm on the turntable) and insert the CD. Then, you have to use the included gold-plated CD clamp to press the CD and keep it in place, and then close the lid.
Striking design –meant to recreate the experience of listening to vinyl
Gryphon Ethos features a very attractive triangular design. The CD transport on the top has an all-metal plate and a brushed aluminum arm. The CD well has a built-in LED lighting that lights up when the disc is spinning. The effect is mesmerizing.
CD well with a built-in LED lighting
The base has a glass-like shiny polished acrylic finish that only adds to the stylish appearance. Sure, it's a huge fingertip magnet but that's why you have the gloves.
On the front side, you have the so-called Vacuum Fluorescent Display or VFD. Just like the LED lighting, the display creates a hypnotizing effect. You can adjust the brightness of the display or turn it off completely.
VFD display (in CD mode and DAC mode)
The chassis stands on Gryphon's proprietary Atlas spikes/feet. You can adjust the height and level the player in just a few seconds with the included spirit level.
The heatsinks are mounted on the left and right side, and all the digital inputs and analog outputs are on the back. Ethos houses USB Type-B input, BNC S/PDIF input, and a pair of AES/EBU. On the left and right ends, there are the audio outputs – a pair of balanced XLR outputs and a pair of single-ended gold-plated RCA outputs. You will also find a 12V DC trigger and an IEC power socket.
Rear panel – digital inputs and analog outputs
Features
The first defining feature of the Gryphon Ethos is the top-of-the-line CD-Pro 8 CD module with a metal housing that improves damping characteristics and provides great rigidity and stability.
The housing uses constrained layer damping that keeps vibrations under control. Even the Atlas spikes, coupled to the chassis, contribute to the overall performance – they are designed to channel the resonances.
The VFD display on the front is dimmable and gives you all the information you need about the playback (input, sample rate, active filter, up-sampling rates). At the bottom of the panel, you have an array of touch-sensitive buttons that allow you to control the playback and access the menu. Instead of the touch-sensitive buttons, you can use the included remote to control the unit. It's a high-quality remote with a metal housing and a rubberized back. It takes some time to get used to those small buttons, especially to those clustered buttons in the middle, but it gets much easier after a day or two of use.
Ethos remote
As mentioned earlier, Gryphon Ethos can also operate as a DAC. On the back, you have three digital inputs – USB Type-B, S/PDIF, and AES/EBU. The DAC portion of the Ethos runs on one of the best D/A chips on the market – ESS SABRE ES9038PRO D/A chip (32bit/768kHz). There's a dedicated chip for each channel, and each chip contains 8 separate D/A converters.
Just like the previous Gryphon CD players, Ethos offers user-selectable asynchronous sample rate conversion – you can up-sample any PCM to 32bit/384kHz or convert PCM to DSD (up to DSD128). The USB input can handle PCM up to 32bit/384kHz and DSD up to DSD512. The other two digital inputs (AES/EBU and S/PDIF) can handle DSD128 and PCM 24bit/192kHZ. BNC and XLR digital inputs and outputs are galvanically isolated, which minimizes the jitter.
Ethos also offers a variety of roll-off filters to choose from – there are 7 PCM filters and 3 DSD filters.
Ethos has two sets of analog outputs – fully balanced Neutrik XLR outputs and unbalanced gold-plated RCA outputs.
One of the cornerstones of Gryphon's philosophy is the use of dual-mono class-A circuitries and Ethos is not an exception. Analog and DAC configurations are true dual-mono class-A, and all the analog outputs are fully discrete Class-A with 0 feedback. Each analog output channel features a 20.000uF capacitor bank and 32VA toroidal transformer.
Other implemented solutions and technologies are the ultra-short signal paths, low-noise voltage supplies (to minimize THD and noise), etc.
Also Read: 10 Best Portable CD Players With Bluetooth
Performance and Sound Quality
Gryphon Ethos is fairly easy to set up. Handling the unit and navigating through the menus was a breeze. The remote felt a little awkward at first but we got used to the button arrangement in no time.
The menu allows you to name each input, adjust the gain (-6dB/0dB), select one of 10 available filters, change up-sampling options, adjust the brightness of the VFD display, etc. After long playing with the filters, we went back to the default filter (which is Filter 4 – Hybrid). All 7 PCM filters offered certain modifications to the sound and are probably good choices for different genres (maybe even different songs), but the fourth sounded great with everything. The difference between the available DSD filters was impossible for us to notice. You can make the changes and select a different filter in a second, so you can play with them and see what suits your taste.
We tested both Ethos's CD playback capabilities and its DAC capabilities. In both cases, we used GOLDMUND TELOS 7 NEXTGEN amp and Paradigm Persona 5F floorstanding speakers. MacBook Pro running on Roon was our primary audio source connected to the Gryphon Ethos via USB cable. NORDOST Heimdall 2 speaker cables and interconnects were used throughout the system. Ethos doesn't require any drivers when connected to MAC or Linux, but it does require drivers for Windows. They are available on Gryphon's website.
What can we say about Gryphon Ethos without sounding like we're selling it? We honestly don't know. Gryphon Ethos really makes it hard to talk about flaws, inconsistencies, or any kind of performance-related issues. Because there are none.
Recommended Reading :

First, we used it as a CD player and tried a large collection of CDs. We went from classical (Tchaikovsky, Violin Rococo Variations by Radulovic, Goetzel and Borusan Istanbul Philharmonic), to heavy metal (Iron Maiden, Number of the Beast), then to R&B (Beyoncé, Lemonade), to electronic (True by Avicii), and then back to classical (Handel: Opera Arias by Philippe Jaroussky). And Ethos handled everything with ease. It didn't even need any time to warm up. From the very first tone, throughout the whole session, until the very end. Gryphon Ethos was simply flawless. The reproduction was detailed, accurate, revealing. It was dynamic and fluid. It even revealed some tones we've never heard before in our favorite tracks. Ethos is, by far, the best CD player we've ever had a chance to test or even hear.
But Ethos is not just a CD player. It's a DAC, too. And it delivers the same kind of performance in DAC mode. Well, it's actually better in DAC mode. Connected to a Mac, Ethos delivered the same kind of joyful, revealing, dynamic performance with even more detail, better dynamics, more textured bass, larger soundstage, more delicate and more transparent sound.
In one word – Ethos was remarkable.
Check out our article on 'DAC vs. Amp'.
Final Thoughts
Gryphon Ethos CD player/DAC turns listening to your favorite CDs and digital audio files into pure joy. The ability of Ethos to deliver detailed, dynamic, transparent, and above all, perfectly neutral sound, is almost impossible to match (at this or any other price point). It's, by far, the best CD player/DAC we've ever heard.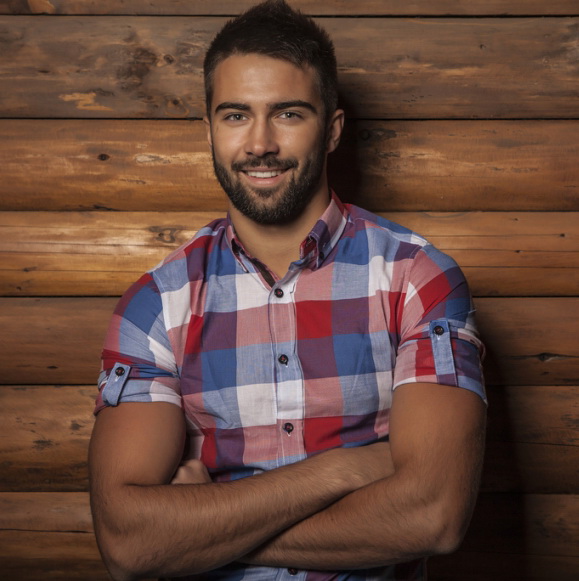 Hello, my name is James Longman.
I'm a writer and editor at AudioReputation. I disassembled my first portable AM/FM radio when I was only 8. At the age of 11, I burned the circuit board on my old boombox cassette player. I'm not going to explain how but it was reckless and stupid.
Since then, I have become much more careful around radios, boomboxes, and other audio devices (at least, I like to think so) but I have never lost the passion for audio equipment. Throughout 20 years of my professional career, I've been working for various audio equipment manufacturers and even started building speakers on my own in my little workshop.
I love the work we do here at AudioReputation. Testing, comparing, and evaluating all kinds of audio devices (speakers, soundbars, headphones, home theater systems, etc.) is something I truly enjoy. I try to be unbiased and give you my honest opinion on every piece of equipment I test. Still, you should take my reviews with a pinch of salt and always be just a little bit skeptical. The fact that I liked some speaker or soundbar doesn't mean that you are going to love it. If you have the opportunity, you should test it/hear it before buying it.