AudioReputation is reader-supported. When you buy through links on our site, we may earn an affiliate commission Learn More
High latency can make the process of recording significantly less enjoyable than it's supposed to be. That's why you need to choose your recording equipment carefully and we are here to help you with that. Today, we are here to talk about audio interfaces. We will discuss the factors that affect the latency and present to you our selection of the 6 best low-latency audio interfaces in 2023. Let's start.
---
What is Latency?
Although it sometimes looks like the recordings are done instantaneously, that's never the case. It takes some time for the analog audio signal to travel from the instrument or microphone, through the audio interface, to your computer. This process includes converting the analog audio signal to digital, communication between the audio interface and your computer, and software processing on your computer. If you are using speakers or headphones to monitor your recordings, it takes a bit more time for the signal to travel from your computer, through the audio interface, to your speakers/headphones. All the time that passes from the moment you make a tone to the moment when that tone gets processed and recorded (and then played back) is called latency.
The latency is usually measured in milliseconds and it's not a big deal if it's shorter than 10ms (5ms or lower would be ideal).
What Factors Affect Latency?
There are four major factors that affect latency – the speed of your computer's CPU, the quality of your audio interface (connection type), compatibility between the audio interface driver and the operating system and your DAW, and the selected buffer size.
Why some of these things, like the speed of your CPU, affect the latency, is pretty much self-explanatory. The reason why buffer size affects it is also pretty simple to understand. Buffer size is a portion of your computer's memory used to momentarily store the audio, which gives the computer some time to process it and ensure a stable sound stream without any popping sounds. The larger the buffer, the more time your computer has to process the audio. Increasing the buffer size will allow you to use more plugins but it will also lower the responsiveness of the whole system and increase the latency. So, you basically have to find some balance between the buffer size and latency.
Now, as far as the audio interface is considered, you have two things to pay attention to – the connection type between the interface and your computer, and the driver compatibility. So, how to make latency lower? Well, look for an audio interface with either Thunderbolt 3 or USB-C connection. And look for the one that has perfectly compatible drivers for your OS.
Another crucial thing to look for when buying a low-latency audio interface is the so-called DIRECT MONITORING. This feature allows the interface to bypass the computer and send the audio directly to the monitors. Some audio interfaces have a simple dial that allows you to balance between the source and the computer. Others have a software control panel that allows you to manage direct hardware routing.
To reduce the latency, you could also try to reduce the buffer size to the minimum (but not to the point when your computer can't handle the audio stream properly), avoid using plugins, use an external analog mixer (bypass the software monitoring), and finally, buy a faster computer.
Best Low-Latency Audio Interfaces – Comparison Table
With all the previously stated facts in mind, we've gathered a bunch of great audio interfaces, tested them, compared their latencies, and selected the 6 best low-latency audio interfaces in 2023. The following models are our favorites.
6 Best Low-Latency Audio Interfaces in 2023
---
1. Best Deal – Focusrite Scarlett 2i2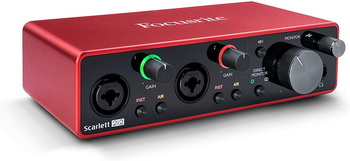 Focusrite's Scarlet line of audio interfaces is one of the most popular on the market, partially because of a huge marketing campaign and partially because Focusrite audio interfaces truly deliver great performance at a more than affordable price. Focusrite Scarlet 2i2 is fairly versatile, it has an intuitive user interface, and allows direct monitoring, which is very important if you're looking for a low-latency audio interface. This line of interfaces is our top suggestion when it comes to performance/price ratio.
Things we like
Like all the Focusrite Scarlet units, 2i2 comes with a USB-A to USB-C cable, and a bundle of software tools (Focusrite Creative Software Pack) and plugins.
The interface has a very stylish and recognizable design with a strong aluminum chassis and red finish. The front panel houses two combo inputs. They can accept both – mics with XLR connectors and instruments with ¼in connectors. Each input has a dedicated gain dial with a circular gain indicator (alternates between green and red depending on the gain). Also, each input has two buttons – INST and AIR. You can activate the INST feature when a guitar is connected. The AIR feature simulates Focusrite's mic preamps to give them a more open and brighter sound.
On the right end of the front panel, you have the phantom power button in case you want to connect a condenser mic, the direct monitor button (for zero-latency monitoring), one 6.35mm headphone output, and two volume dials (the large one controls the monitor volume, while the small one controls the headphone volume).
The rear panel is not as crowded as the front one. It houses only a USB-C port (to connect your computer), and two line outputs (to connect the monitors).
Setting up the unit is done in just a few minutes. Since it comes with all the necessary software tools, you can start recording the moment you set it up. The max supported bit depth is 24bit and the max sampling rate is 192kHz. 2i2 doesn't require a separate power supply – it gets all the necessary power through the USB-C connection from your computer, which makes it perfect for on-the-go use.
Things we don't like
Like all the 3rd GEN Scarlet low-latency audio interfaces, 2i2 features a USB-C port that actually uses USB 2.0 protocol (not USB 3.0 or 3.1 like the majority of devices with a USB-C port). This lowers the cost of production but also reduces the connection speed, which has a negative effect on the latency. Luckily, thanks to the direct monitoring feature, you can still monitor your recordings without any latency.
---
2. Best Budget – PreSonus Studio 24c
PreSonus is one of our top recommendations when it comes to budget options. PreSonus interfaces are more versatile than the same-priced interfaces made by other manufacturers, they deliver quite reliable performance, good sound quality, and are capable of low-latency monitoring. Today, we are taking a closer look at PreSonus Studio 24c.
Things we like
Like the previous Scarlet 2i2, PreSonus Studio 24c comes with a USB cable and with its own bundle of software tools for recording (the software is called Studio One Artist).
The unit is solidly built. It has a strong aluminum housing with the PreSonus logo on the top.
Most of the connections and all the controls are on the front panel. On the left end, you have two combo inputs (XLR/6.35mm). These inputs will work with mics, instruments, and line-level input devices.
In the middle, there's a nice-looking and easy-to-read LCD display with 4 VU meters (two for the inputs 1/2 and two for the main outputs).
On the right end, you have a 48V phantom power button and 5 dials. Two dials are used for the input gain control, two are used for the monitor volume and headphone volume control, while the dial below the 48V button, is a mixer dial that enables direct monitoring.
On the rear panel, you have MIDI IN/OUT ports for connecting MIDI keyboards, two ¼in line outputs, one ¼in headphone output, and a USB-C port.
PreSonus Studio 24c is very easy to set up and use. It supports high bit-depths and sampling rates (24bit/192kHz) and delivers very good audio quality. It doesn't have a separate power supply which makes it great for mobile use.
Things we don't like
The interface doesn't have INST/MIC selectors. Instead, the unit recognizes the type of connection that's being used (XLR or 6.35mm) and provides appropriate gain.
The unit doesn't have a separate power supply, which is great when using the computer or laptop. However, you can hardly use it with iPads and smartphones because they are not powerful enough to drive the interface.
---
3. Best for Small Recording Setups – Native Instruments Komplete Audio 1
Native Instruments is another great brand with a bit higher reputation than the previous two. NI audio interfaces are not extremely expensive but are slightly pricier than the previous two. Today, we are reviewing the cheapest and least versatile interface from the NI's Komplete line called Komplete Audio 1. This unit is great for smaller home recording setups that include just one mic guitar, and laptop.
Things we like
Just like the previous two interfaces, Komplete Audio 1 comes with a USB cable (Type-B to Type-A) and a software bundle for recording. NI's software bundle is a bit bigger and of higher quality than those that come with Focusrite Scarlet and PreSonus.
The interface looks simple yet very attractive. It has an all-black aluminum chassis. Most of the controls and inputs are on the front. There's one XLR input and one 6.35mm line-level input. Each input has a dedicated gain dial. The front panel also houses one LINE/INST switch selector, 48V phantom power button, input/host mixer dial for direct monitoring, one high-power headphone output, and a headphone volume dial.
On the top, NI Komplete Audio 1 has a large volume knob for controlling the monitor volume, two input gain meters, and two indicators (power indicator and 48V indicator).
The rear panel is the simplest. You have one USB type-B port (used for power supply, too) and two RCA output ports for connecting monitors.
Komplete Audio 1 enables zero-latency monitoring through the input/hose mixer dial. The max supported bit-depth/sample rate is 24bit/192kHz.
Things we don't like
Setting up the unit is not exactly hassle-free. NI requires you to use the Native Access app to install the drivers and to register your unit before downloading anything.
---
4. Best Under $500 – Universal Audio Apollo Solo
UA Apollo line is our top suggestion when it comes to high-end low-latency audio interfaces. Apollo Solo is maybe one of the cheapest and least versatile Universal Audio interfaces but it's still much more capable than other interfaces with the same number of inputs/outputs. It looks very professional, it has a great user interface, and it features a Thunderbolt connection. Since it's powered through the same port, it's great for portable use.
Things we like
UA Apollo Solo comes with all the standard paperwork and with an impressive software bundle that includes a bunch of emulation plugins (compressors, preamps, guitar amps, EQs, etc.). The most important parts of the bundle are the Console Software (Mac/Windows) and the Luna recording system.
The unit has a very user-friendly interface. The inputs/outputs are on the front and rear panels. On the back, there are two combo XLR/6.35mm inputs (mic-pre and line-level). Next to these inputs, there's a pair of line outputs and a Thunderbolt 3 port.
On the front, there's a single hi-z guitar input and a headphone output.
All the controls and indicators are on the top. It takes some time to get used to the control scheme but it gets easier after a day or two. On the right end, you have a large dial with a circular volume/gain indicator and two buttons (PREAMP/MONITOR) below the dial. These two buttons allow you to control the gain of the selected input (PREAMP mode) or to control the headphone/monitor volume (MONITOR mode).
On the left end of the top panel, there's a nice-looking display with VU meters and indicators. Below the display, you have a series of 6 buttons – input select, hi-pass, 48V (phantom power), PAD (lowers the gain by 10dB), reverse polarity button, and link button (links two channels when a stereo source is connected and allows you to control both channels simultaneously).
Thanks to the UAD processing, Apollo Solo can process the audio in real-time and deliver audio with zero latency. Thunderbolt 3 connection significantly improves the data transfer speed and additionally lowers the latency. Apollo Solo is very capable in terms of AD/DA conversion and can handle 24bit/192kHz audio files.
Overall, the UA Apollo line is one of the best professional-grade lines of audio interfaces you can find. Apollo interfaces are easy-to-use, very versatile, capable, and provide perfectly reliable performance.
Things we don't like
The unit is not compatible with iPads (only Mac and Windows).
Apollo Solo doesn't come with a Thunderbolt 3 cable, which is quite disappointing, especially for such an expensive device.
---
5. Most Versatile Under $200 – M-Audio AIR 192|8
M-Audio is a company with lots of experience in making MIDI interfaces. Their M-Audio AIR 192|8 is a highly versatile, capable, and surprisingly affordable low-latency audio interface. It's our top choice under $200, especially if you need something with numerous connections.
Things we like
Like every other audio interface, M-Audio AIR 192|8 comes with a software bundle and plugins that you can use for free. Most of the emulator plugins and software tools are, as always, sold separately. The interface also comes with some cables (USB-C to USB-A cable, USB-C to USB-C, 3.5mm to MIDI adapters).
The unit looks sleek and stylish. It has a very solid black housing, shaped the same as the housing of the previously reviewed UA Apollo Solo.
The front panel houses two Hi-Z guitar inputs, a phantom power switch, and a headphone output.
On the rear panel, there are two combo inputs (XLR/6.35) for connecting your mic or other devices with line-level connectors. Furthermore, you have a pair of ¼in monitor outputs (for connecting powered monitors), 4 RCA outputs (for connecting DJ mixers, outboard gear, or monitors), 3.5mm MIDI IN/OUT ports (only for MIDI devices), and a USB-C port.
All the controls and indicators are on the top. M-Audio AIR 192|8 has a very intuitive control scheme. On the left, there are two gain dials for two input channels, paired with LED gain/clipping indicators. Right below the button, there's a mic pad switch for each channel (lowers the input signal gain by 10dB). In the middle, there's a large monitor volume dial and a MONO/STEREO direct monitoring selector. On the right, there's a mixer dial (USB/DIRECT) for direct monitoring, headphone volume dial, headphone output selector, and a series of LED indicators (power/phantom power/MIDI/mono).
M-Audio AIR 192|8 delivers quite an impressive and reliable performance. It can handle high bit-depths/sample rates up to 24bit/192kHz.
Things we don't like
Customers using PCs running on Windows 10 had all kinds of issues with this audio interface (driver incompatibility, crackling, popping, etc.). Windows 7 or Mac OS users had no issues.
The included cables are quite short so if the distance between your computer and audio interface is longer than 1.5ft, you should probably buy longer cables.
---
6. Best Low-Latency Audio Interface for Professional Use – Apogee ELEMENT 88
Apogee Element 88 is a bit different from all the previously reviewed audio interfaces. This one is also a great low-latency audio interface but it's made for professional use. Element 88 has an onboard DSP, it can be controlled in different ways, it features Thunderbolt connection and high-quality audio circuitries. Finally, it delivers a fantastic audio experience. The only downside – it's quite expensive.
Things we like
Element 88 features a simple minimalistic design. It's compact and has a has solid, very strong chassis.
The front panel houses 8 mic-pre XLR inputs. The first four inputs are combos and also feature 1/4in instrument inputs compatible with high-impedance instruments, so you can connect keyboards and guitars without issues. The front panel also houses two headphone outputs with independent routing.
On the back, you have a pair of XLR and a pair of TRS line outputs for connecting two speaker sets for monitoring. The unit also has two optical inputs, two optical outputs, word clock IN/OUT ports, and a Thunderbolt connection. Thanks to Thunderbolt connectivity and Apogee custom drivers you will experience amazingly low latency with a surprisingly low PCU load.
Furthermore, Apogee Element 88 has the best AD/DA converters in the class.
One of the things you'll definitely notice is that Element 88 has no control buttons. That may seem inconvenient, but there are actually many ways to control the unit. First, you have the Apogee Control software for Mac, which is highly customizable and gives you control over gain levels for each channel as well as control over many other settings. Second, there's the Apogee Control for iOS that allows you to control the gain and volume levels via Wi-Fi. Furthermore, there's the Apogee Control accessory in case you prefer physical controls (this accessory is sold separately).
One of the most impressive and innovative features of Element 88 is its dual-path plugin workflow. This thing allows you to run plugins on the Element's internal DSP hardware and natively in your DAW.
Recommended Reading :

If you're using Logic Pro, you will be very happy to know that Element 88 offers integration features that can't be found on other interfaces. For example, from the Logic Pro interface, you can easily get direct monitoring with zero-latency just by pressing the direct button. That's just one of the things that you can control through the Logic Pro.
Things we don't like
The only downside of Element 88 is its price. This low-latency audio interface is most definitely worth it but it's still quite expensive.
---
7.

Solid State Logic SSL2+
When it comes to audio interfaces, the Solid State Logic SSL2+ stands out as one of the best low-latency options on the market today. It's packed with features that make real-time audio monitoring and recording a breeze, and it delivers clean and accurate sound using high-quality audio converters and preamp.
Things we like
What we like about the SSL2+ is its low round trip latency, which measures at less than 4ms. This means there's no delay between your input and output, making monitoring and recording a seamless experience.
The practical arrangement of the SSL2+ is also noteworthy, although it's worth noting that pressing the Hi-Z button alone won't connect an electric guitar or other devices; you require both the Line and Hi-Z buttons engaged.
In addition to its low latency, the SSL2+ also offers great value for money with its high portability. It can easily fit into any studio or home setup, and it provides other quiet sources and records spoken words with clear preamp gain.
Things we don't like
While the SSL2+ is undoubtedly a great option for many, it's important to note that it might not be suitable for larger recording projects due to the only availability of two inputs. Some users might also prefer quarter-inch outputs to the 2+'s photos.
Additionally, unlike other audio interfaces, the SSL2+ lacks built-in digital signal processing capabilities, limiting its functionality for some users.
Another potential drawback is its higher pricing, which may put some users off. And while the SSL2+ delivers on many fronts, it lacks in providing Monitor Mix Control and doesn't have a MIDI option, which can be a drawback for some.
---
Buying Guide
In this buying guide, we'll discuss some essential factors to remember while purchasing a low-latency audio interface to help make decision-making easier for you.
Connectivity
When selecting a low-latency audio interface, the first factor to consider is connectivity. Determine the type and strength of connectivity required for your setup. Some common options include Firewire or PCIE for older Macs, USB for Macs or PC, and Thunderbolt for Macs. USB 2.0 and 3.0 are the most common options due to their fast connectivity speed.
Inputs and Outputs
The number of inputs and outputs required for your recording setup will depend on your specific needs. If you're a solo artist or lyricist, you'll likely only require two inputs to record vocals or an instrument. However, if you're in a band, you'll likely require four inputs for multiple vocal and instrument recordings.
Preamps
Preamps play a vital role in the quality and performance of an audio interface. Higher quality does not necessarily mean a higher price and vice versa. Look for an audio interface with preamps that meet your specific requirements.
Sample Rate and Bit Depth
The sample rate and bit depth are essential factors that determine the quality of your recording. For the best sound quality, choose an audio interface with a capacity of at least 24-bit/192 kHz.
Software Compatibility
Ensure that the low-latency audio interface you select is compatible with your Digital Audio Workstation (DAW) software. The user interface should be easy to use and navigate, allowing you to focus on your recording and mixing workflow.
Price
Price is a crucial consideration for most buyers. It's essential to set a budget and stick to it to avoid overspending. Consider all the factors discussed in this buying guide and read reviews to help make a well-informed decision within your budget.
---
This was our list of 6 best low-latency audio interfaces in 2023. Hopefully, you now have a better understanding of audio interfaces and know what to look for if you need the lowest possible latency. If you want to find out more, read our FAQ section. If you still have questions or want to share your opinion, feel free to comment.
---
FAQs
Q: Will a better audio interface reduce latency?
A: The short answer is yes. Why? Well, because higher-quality audio interfaces use higher-quality and higher-speed connections (like Thunderbolt or USB-C), they have higher processing powers and better driver support.
Q: What is the best low-latency audio interface?
A: There can't be only one best low-latency for every purpose, especially if you're not prepared to spend a fortune. Depending on your technical requirements (number of inputs/outputs, type of inputs/outputs), and your budget, the number of viable options will be different. You can find quite a few great units on our list of 6 best low-latency audio interfaces in 2023 so check it out if you need a suggestion.
Q: Do interfaces affect sound quality?
A: Yes, audio interfaces have a significant impact on the audio quality. After all, they are in charge of all the audio converting (analog-to-digital and digital-to-analog). The quality of the built-in DA/AD circuitries is one of the crucial factors that determine the quality of the recording.
Q: What is acceptable audio latency?
A: Ideally, it should be lower than 5ms, but most people won't have a problem with 8-12ms latency. Some people are even fine with 20ms latency.
Q: What is the easiest audio interface to use?
A: Most of today's audio interfaces and most of those on our list of 6 best low-latency audio interfaces are very easy to use. They are not exactly plug-and-play (especially if you are using a PC running on Windows), but they are still fairly easy to set up and use.
Q: What is a good cheap audio interface?
A: There are a few brands known for affordable and great-performing audio interfaces. Our top recommendations are Focusrite, Behringer, Steinberg, M-Audio, or even Native Instruments. Some of the products on our list of 6 best low-latency audio interfaces in 2023 are made by these manufacturers.
Q: How to get rid of latency?
A: To eliminate latency, try using a low-latency audio interface, reducing the buffer size, closing unnecessary applications, and using a direct monitoring feature. You can also try upgrading your computer hardware or using an external DSP accelerator.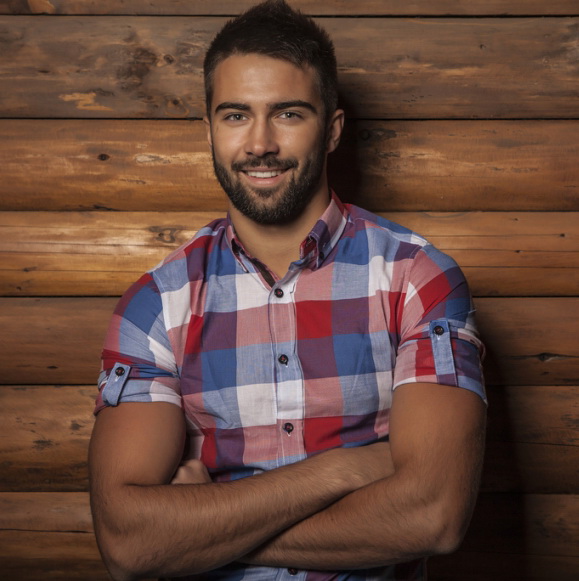 Hello, my name is James Longman.
I'm a writer and editor at AudioReputation. I disassembled my first portable AM/FM radio when I was only 8. At the age of 11, I burned the circuit board on my old boombox cassette player. I'm not going to explain how but it was reckless and stupid.
Since then, I have become much more careful around radios, boomboxes, and other audio devices (at least, I like to think so) but I have never lost the passion for audio equipment. Throughout 20 years of my professional career, I've been working for various audio equipment manufacturers and even started building speakers on my own in my little workshop.
I love the work we do here at AudioReputation. Testing, comparing, and evaluating all kinds of audio devices (speakers, soundbars, headphones, home theater systems, etc.) is something I truly enjoy. I try to be unbiased and give you my honest opinion on every piece of equipment I test. Still, you should take my reviews with a pinch of salt and always be just a little bit skeptical. The fact that I liked some speaker or soundbar doesn't mean that you are going to love it. If you have the opportunity, you should test it/hear it before buying it.