AudioReputation is reader-supported. When you buy through links on our site, we may earn an affiliate commission Learn More
Searching for the best Bluetooth speaker with alarm clock to put in your room, fill it up with great music, and wake up to the beats of your favorite songs? Search no more! This article has all that you need – 7 amazing speakers that support Bluetooth, feature an alarm clock, and many other things that might come in handy.
Why Do We Need Bluetooth Speakers with Alarm Clocks?
Bluetooth technology has become an integral part of our lives. Everyone seems to need it, and everything seems to revolve around it. Truth be told, we completely understand that. Bluetooth-enabled devices are very useful and practical. They eliminate most of those annoying cables that would otherwise be lying around our houses and offices, hanging from our pockets, and getting caught on our clothes and the objects around us. Bluetooth does make our lives more pleasant. It makes them neater, cleaner, and, subsequently, it has a place in all spheres of our lives and every room in our houses, including bedrooms.
Bluetooth speakers have been around for quite some time now and, day by day, they're getting better, cheaper, and more practical. By this, we mean that they are evolving into multipurpose devices that deliver pleasant sound while still being able to perform several other tasks. Why? Well, to make our lives even easier and reduce the number of devices we use. Let us ask you one thing. Why would you ever want to use five different devices if you can have them all packed in just one enclosure, especially if you can still get decent quality and reasonable price?
This is the main reason why numerous companies make Bluetooth speakers with alarm clocks. It's actually the perfect combination. People love to listen to music. Some of them do that even while sleeping, and they need an alarm clock to wake them up in the morning to go to work, school, gym, etc. Bluetooth speakers with alarm clock are small, compact, they fit all kinds of bedside tables, and they deliver the sound of pretty good quality. Plus, some of them can also be used as lamps, power banks, they have built-in radio, etc. Amazing, right?
Best Bluetooth Speakers With Alarm Clock – Comparison Table
Now that we've covered all the benefits of Bluetooth speakers with alarm clocks, let us say a few words about the devices we are about to review. We tested numerous devices to get to these 7 that entered our final and finest selection. They all offer great performance, they are reliable, long-lasting, and they have multiple useful features.
The List of 7 Best Bluetooth Speakers with Alarm Clock in 2023
---
1. Top Choice: Echo Dot (4th Gen) Smart Speaker with Clock and Alexa
Echo Dot is an amazing spherical smart speaker that comes with a few upgrades compared to the previous 3rd-gen version but keeps quite an affordable price. The speaker comes in a simple cardboard box with its power adapter and a set of manuals that you probably won't even need because the setup is pretty easy and is completed through the Alexa app.
Things we like
The speaker itself is very light and compact (12.3 oz, 3.9 x 3.9 x 3.5 inches), which means it is highly portable and easy to fit anywhere you want. If you want to use it not only in your bedroom but also in your bathroom, kitchen, or living room, it can be easily carried from one place to the other. Plus, you get to choose between two amazing neutral colors (glacier white and twilight blue) that will match perfectly any home décor.
The control buttons (volume, play, mic mute) are set on the top. The power connector and a 3.5mm audio output are on the back, while the bottom glows soft blue color when the music is playing. The greatest change compared to the previous version is the additional LED clock feature that allows you not only to set up an alarm but also to use a timer and see outdoor temperature. The alarm is snoozed by simply tapping the top of the speaker, while Alexa enables you to control all connected devices in your house from your bed.
Things we don't like
The upgrade to the 4th-gen version is based mostly on cosmetic changes. Apart from this, we have to say that the speaker is not powerful enough to be used in larger rooms and that its bass reproduction is quite poor.
---
2. Longest Battery Life: Gallstep Night Lights Bluetooth Speaker
DY28 is an excellent multi-purpose device with an attractive square design and compact size that will fit any room regardless of its decoration and size.
Things we like
The device comes in a simple cardboard box with one 3.5mm to 3.5mm aux cable, USB to micro USB charging cable, and user manual that you'll have to read thoroughly if you want to learn how to take advantage of all the device's features using only few control buttons.
The company logo and the speaker are right on the top. The same goes for the control buttons (play/pause, volume controls, forward/backward, and mode). Most of the speaker's body is actually a light-changing bedside lamp, and a simple tap on the top can help you adjust the light color, as well as its brightness. Near the bottom, you can find a nice LED display showing the current time and mode, track length, etc., while the ports (SD card, USB, aux, and micro USB) and the power on/off button are located on the back.
DY28 is commonly used as a bedside speaker/alarm clock/lamp, but thanks to its high portability, it can be easily transported to any other room in your house. It features a powerful 4,400mAh rechargeable battery, the charging takes 8-10 hours, and the battery can last up to 15 hours. During this time, you can use the device to play music coming from your phone or any other Bluetooth-enabled device. You can also play some music from a PC or any other device that can be connected via an aux cable, but you can also simply insert a 32GB USB drive or an SD card and play music directly from it. If you want the alarm to wake you up playing one of your favorite songs, simply put these into an 'alarm' folder when creating playlists on your computer.
When it comes to sound quality, we can say that this little fella has really surprised us. It is pretty loud, and the sound is clear. It is perfect for music but also for listening to audiobooks.
Things we don't like
The speaker can be used as a speakerphone when connected to your smartphone. The mic will get the job done, but it's definitely not the best DY28's feature.
---
3. Best for Kids: Uplayteck Wake Up Light Alarm Clock with Bluetooth Speaker
Uplayteck SG-1 is an affordable Bluetooth speaker and alarm clock designed to amuse kids. It's equipped only with the basic functions, which make the use quite easy.
Things we like
The device is very light, extremely compact, and highly portable. It can be used by anyone and everywhere, but thanks to its shape and colorful design, it's most adequate for a kid's room.
On the top, you will find some control buttons that will allow you to adjust the volume, skip tracks, play/pause audio, set up the alarm, adjust the lights and activate Bluetooth. The speaker itself and the micro USB port are located on the back, while the power on/off button and a large LED display are on the front.
Uplayteck SG-1 supports Bluetooth 5.0, which allows you to connect it to any Bluetooth-enabled device, play music or audiobooks from it, and preserve stable connection within a 33ft range. The alarm is easy to set up, and you get to choose between three non-invasive natural sounds (bird song, didi, and waterfall). Apart from this, you can choose between several LED lights, including (light) blue, (light) green, orange, indigo, purple, and red). The brightness of the lights can be easily adjusted to the part of the day or your kid's taste.
Moreover, SG-1 has a decent battery that offers 8 to 10 hours of playback time. Recharging takes only 2 hours.
Finally, we shouldn't forget about the sound quality. Despite being cheap and small, this speaker is decently loud, and it delivers quite clear audio.
Things we don't like
The only disadvantage of SG-1 is its build quality. If used properly and carefully, it can last but considering that it's meant for kids' rooms, that plastic construction may be a problem.
---
4. Best Deal: Soundance FM Radio Wireless Bluetooth Speaker Alarm Clock
Unlike many devices that are rather called alarm clocks with Bluetooth speakers, Soundance SDY-019 is a Bluetooth speaker with an alarm clock. It's a bit larger than the others (9.4 x 2.2 x 2.4 inches), but this is the reason you get better and louder sound reproduction.
Things we like
SDY-019 comes in a simple box with its user manual and non-tangle aux and USB charging cables. Its soft-matte surface looks rather attractive and elegant, and you get to choose between all-black and red&black models.
On the front side, you'll see the protective mesh, company logo, and a small LED screen. Control buttons are located on the top. They allow you to play/pause the music, adjust volume, set up the alarm, choose a radio station, and switch between the modes. On the rear panel, you'll find a power button as well as aux, USB-A, micro USB, and speaker with SD card ports.
All in all, this speaker offers a lot for a small amount of money. Apart from the possibility to play music from a USB drive or an SD card, you can also connect the device to a laptop, PC, or any other device via aux cable, or you can simply use the fact that SDY-019 supports Bluetooth 3.0 and stream music wirelessly from any Bluetooth-enabled audio source. Besides, there is the option to play the radio or even to set it up as the alarm clock sound. The battery can last up to 8 hours, which is enough for a good night's sleep.
Things we don't like
On the negative side, you may find this speaker a bit large for your bedside table. However, this is the price you have to pay if you want a Bluetooth speaker/alarm clock with higher-than-average sound quality.
One more thing – battery life should be improved, just to make sure that it would last for a whole night.
---
5. Best Overall: Emerson SmartSet Alarm Clock Radio with Bluetooth Speaker
The next product on the list of 7 best Bluetooth speakers with alarm clock in 2023 is the amazing Emerson ER100301. It comes in a great combination of black and silver colors, with many useful features and pleasant night light.
Things we like
On the top, you will find nicely distributed control buttons. You can use them to adjust your alarm clock, switch between different modes, adjust the volume, etc. On the front side, there is a huge LED display that isn't really too bright and won't disturb you while sleeping. On the back, you'll see one USB OUT charging port and one auxiliary port.
The device is nicely designed, and it looks good on any bedside table. It's easy to use. Time and date are set up automatically during its first use, while the alarm can be programmed to set off on weekdays, weekends, or every single day. You can even set it up to wake you up by turning on your favorite radio station.
Apart from these basic functions, ER100301 supports Bluetooth 4.1 allowing you to stream music wirelessly from any of your Bluetooth-enabled devices and its powerful battery enables you to use it as a charging station for your phone or tablet. Plus, if you really want or need to use it, you can always take the advantage of the aux port, connect your speaker to a PC or laptop and play music stored on them.
Things we don't like
ER100301 is a great device, but we must warn you that auxiliary and charging cables aren't included in the package.
Also Read: 6 Best Shortwave Radios.
---
6. Most Durable: Brandstand CubieBlue Bluetooth Speaker
Moving onto a bit pricier product with slightly better performance and durability than others. Ladies and gentlemen, meet the Brandstand CubieBlue – a device that combines a simple single-day alarm clock and Bluetooth speaker and fits perfectly any nightstand.
Things we like
It may be called CubieBlue, but you can get it either in black or white color. Either way, it looks pretty great. The speaker is very compact and its dimensions are 4.5 x 4.5 x 4.5 inches. As the name implies, it's shaped like a cube!
On the top, you'll see two tamper-resistant power outlets, 2 USB OUT charging ports, one large snooze/dimmer button that allows you to set up the alarm or adjust the screen brightness by simply moving the big round knob to the left or to the right. On the front side, there's a large display showing the current time and alarm time, as well as the Bluetooth pairing button. On the back, there's only one power cord.
Apart from being an alarm clock and Bluetooth speaker, this stylish device acts as a charging dock – that's why it has all those outlets and outputs ports. Apart from this, it's very durable and safe. It comes with a security C-Clamp, and it has successfully passed its spill test. Despite the fact that the manufacturer recommends it for hotel use, we believe it's perfect for any house, especially small apartments. Even though it has a non-detachable power cord, it comes with 2 AAA batteries that make it even more portable.
Things we don't like
Truth be told, this device seems perfectly fine to us. At this price point, it could have more features, but that isn't a dealbreaker anyway.
---
7. Best Design: Anker Soundcore Wakey
We all know Anker Soundcore as a reputable audio brand, but they are now expanding their line to reasonably-priced bedside speakers. One of them is this amazing Soundcore Wakey. It's an alarm clock, Bluetooth speaker, FM radio, wireless charger, and white noise generator, all in one.
Things we like
The speaker comes in a simple cardboard box with its power adapter, radio antenna, and a set of manuals. It's available in black and white colors, and it looks rather sleek in both its versions. It's compact, light, and nicely built.
The speaker is made from plastic and, on the front side, you'll see the speaker grille and touch-sensitive controls that enable you to switch between modes, set up the alarm, play music, adjust volume, etc. On the top, there's a wireless charger with a rubber ring preventing your phone from slipping and getting damaged. On the back, we have one antenna port, 2 USB OUT charging ports, one aux port, and one DC IN (power) port.
Recommended Reading :

Once you turn your speaker on for the first time and pair it with your phone, it will automatically set up the time according to the phone's time. And this is only the first step. Using this device is pure pleasure – Wakey is very responsive, reliable, and it has many useful features. The use becomes even easier if you install your Soundcore app and manage your alarms through it – you can set up to 15 alarms (for one, several, or every day), and personalize your wakeups by choosing one of 10 available alarm sounds, including the sound of your favorite radio station.
Things we don't like
Wakey is a great, good-looking, well-built, and useful device with a few flaws we consider to be minor. The bass reproduction is not very good, but you can't really expect something like that from such a small speaker. Also, there's the price. Wakey looks irresistible, but the fact is – you can find a cheaper device of similar quality.
---
This was the list of 7 best Bluetooth speakers with alarm clock in 2023. We hope these reviews helped you figure out what to look for and maybe even find your new Bluetooth speaker with an alarm clock faster. If you have some additional questions regarding any of the reviewed devices, please scroll down to our FAQs section or write it in the comments below. We will give our best to get in touch with you as soon as possible.
---
FAQs
Q: Do Bluetooth speakers with alarm clock sound good?
A: Audio equipment market is flooded with all kinds of Bluetooth speakers with alarm clock made by various brands. All of them belong to different price ranges, they have different features, capabilities, and deliver the sound of different quality. Of course, not all of them are good, but most of the devices we've had the opportunity to test performed very well. To see the best of them, please check out our list of 7 best Bluetooth speakers with alarm clock in 2023 above.
Q: What is the best Bluetooth speaker with alarm clock?
A: Categorizing something as the best is rather difficult because that is mostly subjective feeling based on personal needs, taste, and experience. However, in order to find the best device for yourself, we recommend scrolling up to our list of the 7 best Bluetooth speakers with alarm clock and reading our reviews. We sincerely hope they will help you find the device that fits your budget and meets your expectations in terms of sound quality, features, design, battery life, portability, build quality, etc. All of these are very important for the ultimate user experience and none of them should be neglected when buying a new audio device.
Note: Please, bear in mind that these are mostly very small speakers that can't deliver as rich and full sound as larger models. Subsequently, their bass delivery and their loudness won't be amazing, and they may not be suitable for larger rooms, parties, etc.
Q: How long does a Bluetooth speaker battery last?
A: Depending on the brand and the type of speaker, the battery can last from, let's say 3 or 4 hours to even 20 or more. However, having in mind that this article is about Bluetooth speakers with alarm clock, we must point out that their batteries last between 6 and 10 hours per single charge. Of course, we must not forget that many of these devices come with their non-detachable power cords and that they are made to be constantly plugged into a wall socket.
Q: Are alarm clocks on Bluetooth speakers reliable?
A: Alarm clocks that come with Bluetooth speakers don't perform worse just because they don't come as single devices. They are still very reliable and accurate. Bluetooth speaker can be considered an excellent additional feature that sometimes can even allow you to set up your favorite songs as the alarm clock sound.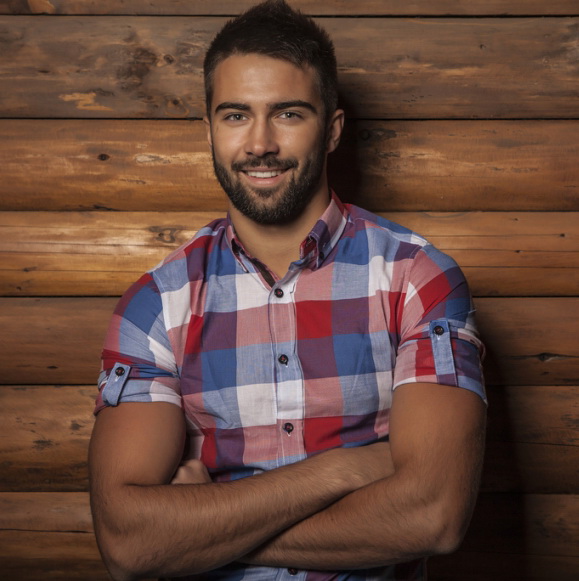 Hello, my name is James Longman.
I'm a writer and editor at AudioReputation. I disassembled my first portable AM/FM radio when I was only 8. At the age of 11, I burned the circuit board on my old boombox cassette player. I'm not going to explain how but it was reckless and stupid.
Since then, I have become much more careful around radios, boomboxes, and other audio devices (at least, I like to think so) but I have never lost the passion for audio equipment. Throughout 20 years of my professional career, I've been working for various audio equipment manufacturers and even started building speakers on my own in my little workshop.
I love the work we do here at AudioReputation. Testing, comparing, and evaluating all kinds of audio devices (speakers, soundbars, headphones, home theater systems, etc.) is something I truly enjoy. I try to be unbiased and give you my honest opinion on every piece of equipment I test. Still, you should take my reviews with a pinch of salt and always be just a little bit skeptical. The fact that I liked some speaker or soundbar doesn't mean that you are going to love it. If you have the opportunity, you should test it/hear it before buying it.