AudioReputation is reader-supported. When you buy through links on our site, we may earn an affiliate commission Learn More
Looking for a nice pair of budget earbuds under $40 for your workouts? Koss BT232i Bluetooth FitClip in-ear headphones could be the right choice for you, especially if you have really small ears.
Koss is one of the legendary names in the audio industry. The company was founded in 1958 and it is, along with Beyerdynamic, AKG, and Sony, one of the pioneers of the industry. Koss was the company that manufactured the first stereo headphones (aka stereophones) in 1958 and the first pair of US-made electrostatic headphones in 1968. During the 60s, 70s, and 80s, Koss was one of the most reputable and most wanted brands. For the last two or three decades, Koss was known for its great-sounding low-budget headphones. For some reason, the management of the company decided not to enter the high-end market, which is an odd decision considering the history behind the name. However, this article is not about Koss's business plans. It's about their budget Bluetooth earbuds called BT232i.
Koss BT232i Wireless Bluetooth FitClip Headphones
The Koss BT232i Wireless Bluetooth FitClip Headphones are lightweight and comfortable headphones that feature a unique fit clip design that keeps them securely in place during physical activity. They have a long battery life, Bluetooth connectivity, and provide good quality sound. They are perfect for sports and fitness enthusiasts who want to listen to music or take calls while on the go.
BT 232i headphones are sports earbuds with a familiar design and in-line controls and mic. At first glance, it looks like there's nothing that makes them different from other sports earbuds, aside from the Koss logo on the earpieces. But, that's just the first impression. One thing we've noticed during our testing is that BT232i headphones have relatively small earpieces, significantly smaller than other similar in-ear headphones. These are not advertised as earbuds for people with small ears but they are perfect for them. This doesn't mean they are bad for people with large or average ears, but it's still important to emphasize their biggest upside. The headphones also sound great (considering the price) and have simple in-line controls and mic.
The biggest downside is the bulkiness of the control pad. It tends to dangle when you move your head and that can be quite annoying. Also, the battery life is not on par with other sports earbuds in the same price range.
Inexpensive

Good build quality – sweat resistant

Very comfortable – perfect for people with small ears

Simple and responsive controls

Reliable Bluetooth connection

Satisfying playtime – 6 hours (at 50% volume)

Very good sound quality considering the price

Very good call quality
Bulky controller

Below-average playtime
Koss BT232i Bluetooth FitClip headphones are a viable choice in case you are looking for budget sports headphones/earbuds. Their biggest advantages are perfect fit and comfort. Due to their relatively small size, they might be a good choice for people with small ears. Also, the sound quality is better than the price implies. Durability and Bluetooth connection reliability are on par with the price, while the playtime is below-average.
Official video – Koss BT232i
What's in the box?
Koss BT232i Bluetooth FitClip headphones come in a simple plastic box. Along with Koss BT232i, you'll get three pairs of ear tips (small, medium, large), cable management clip, simple user manual, and a warranty card.
Specs
| Koss BT232i Specifications | |
| --- | --- |
| DIMENSIONS | |
| Weight | 22.7g/0.8oz |
| DRIVERS | Dynamic |
| BATTERY | |
| Type | Li-ion, rechargeable |
| Capacity | N/A |
| Playtime | Up to 6 hours (at 50% volume) |
| Recharge time | Up to 1.5h |
| OTHER POWERING OPTIONS | No |
| CONNECTIONS | Bluetooth |
| BLUETOOTH DETAILS | |
| Bluetooth version | V4.2 |
| Supported Bluetooth profiles | N/A |
| NFC | No |
| Bluetooth range | 30ft |
| OTHER TECHNICAL DETAILS | |
| Frequency response | 18Hz to 20kHz |
| Impedance | N/A |
| Sensitivity | 104dB |
| WATERPROOF/WATER RESISTANT | Sweat-resistant (not IPX certified) |
| CONTROLS | In-line controls |
| MICROPHONE | Yes |
| NOISE CANCELING | Passive |
Design
Well, there's nothing spectacular or revolutionary when it comes to design and you have definitely seen it before. You have two relatively small earpieces connected with a very thin rubberized wire. Each earbud has a large flexible over-ear hook. The hooks are not replaceable and you can't change them if they are too large. On the right side, below the right earbud, there's a simple 3-button controller with a built-in battery and microphone. The headphones look sporty and stylish.
Sporty design with small earpieces, flexible over-ear hooks, and in-line controls
Features
The build is pretty much on par with the price. The earpieces are made of molded plastic and the wire, as well as the ear hooks, are reinforced with silicone. The manufacturer claims they are sweat-resistant, which they are, but there's no IPX rating to confirm their resistance.
One of the biggest highlights of these headphones/earbuds is their fit/comfort. Compared to some other sports earbuds, Koss BT232i earbuds have quite small earpieces which makes them perfect for people with small ears, especially for those who usually struggle to find the right fit. The manufacturer also likes to brag about its patented hooks called sportclips. They look like regular hooks, but they are more flexible and much more durable than regular hooks.
The in-line mic and remote are located on the right side, under the right earbud. It's a simple controller with 3 buttons that you can use to control the volume and playback, answer calls, and initiate pairing. On the right side of the controller, there's a flap covering a micro USB charging port.
The battery is not the best thing about these earbuds. Compared to similar earbuds, the playtime is only average or slightly below-average. You will get approx. 6 hours at 50% volume. This is more than enough, even for the longest workouts, but it's still not on par with similarly priced earbuds. The recharge takes less than 1.5 hours.
The headphones feature Bluetooth 4.2. The pairing is fairly simple and the advertised range is 30ft. Multipoint pairing is not supported – you can't pair two phones with the headphones at the same time. NFC pairing is also not supported.
Performance
We don't have any major complaints regarding the performance. The headphones proved to be sweat-resistant and didn't show any sign of malfunction during our 1-week testing period. As mentioned previously, comfort is their biggest highlight. However, that in-line controller is a bit chunkier and tends to dangle when you move your head too much, which can be annoying. Also, the hooks look just a little bit too large. Trying these earbuds before buying them is highly recommended.
The controls are simple, easy-to-use, and responsive. You've probably seen this exact button layout many times before and you will have no problems using it.
Pairing is fast. To initiate pairing you have to press and hold the power button for 5sec. After that, you have to check the list of available Bluetooth devices and tap the Koss BT232i. You'll be paired in a few seconds.
Koss BT232i – pairing guide
Mic performance is very good. It will muffle your voice just a little bit but everything will still be perfectly intelligible. The mic struggles to attenuate very loud ambient noises and wind but, other than that, the performance is more than satisfying considering the price.
Sound Quality
Sound quality is, along with the comfort and fit, one of the biggest highlights of Koss BT232i Bluetooth headphones. The sound is not premium, but it's surprisingly good considering the price. Most of these sports earbuds are tuned to be bass-heavy but Koss BT232i are a little bit different. The bass response is just slightly elevated. It's strong, punchy, and fast, but it's not overwhelming. The midrange is not very detailed but it's clean and dynamic. The treble response is probably the biggest downside when it comes to sound. It's not very consistent, it lacks detail, and it's a bit too bright. To summarize, the sound is better than we expected.
Recommended Reading :
The Competition
The number of possible alternatives in this price range ($30-$40) is huge and choosing the best one is almost impossible. There are so many viable choices. Unlike Koss BT232i, other earbuds in this price range are made by less-known manufacturers, but some of them (like Anker and TaoTronics) have already proven to be trustworthy. So, here are our top alternatives.
---
Anker Soundbuds Slim+
We did a review on the previous version of Anker Soundbuds Slim+ a few months ago, but Anker already released the upgraded model with the latest Bluetooth version, better build, and larger battery.
Soundbuds Slim+ earbuds are, just like Koss BT232i, made for sports. They are a few bucks cheaper than the BT232i and come in a richer packaging that includes ear tips in 4 sizes, in-ear hooks (wings) in two sizes, carabiner, and a carrying case.
Slim+ buds are completely waterproof (IPX7-certified) while the Koss BT232i Bluetooth headphones are only sweat resistant (no IPX rating).
Both headphone models are comfy and provide a stable fit. Also, they both have the same kind of 3-button in-line controller with a built-in mic.
Soundbuds Slim+ earbuds feature Bluetooth 5.0 while the Koss earbuds feature Bluetooth 4.2. They both offer the same 30ft range and stable connection within that range.
Slim+ earbuds have a larger battery and deliver longer playtime (10h VS 6h).
Both headphone models deliver similar mic performance and call quality.
Compared to BT232i, Slim+ earbuds deliver punchier bass, slightly muddier mids, and more detailed treble.
---
TaoTronics SOUNDELITE 72
TaoTronics SOUNDELITE 72 earbuds are a few bucks pricier and have a few noticeable advantages over the Koss BT232i headphones – they come in a richer packaging with more accessories, they are more rugged, and deliver significantly longer playtime.
Both headphone models are made for sports and have rugged exterior but SOUNDELITE 72 earbuds are IPX6-certified while Koss BT232i earbuds don't have IPX rating.
They both provide a very good fit and stability and they also have the same kind of 3-button in-line controller with a built-in battery and mic.
SOUNDELITE 72 earbuds feature the latest Bluetooth 5.0 with aptX HD support, while the Koss earbuds feature Bluetooth 4.2. TaoTronics earbuds offer slightly longer range and support multipoint pairing.
SOUNDELITE 72 earbuds also deliver significantly longer playtime (14h VS 6h).
In the end, TaoTronics earbuds deliver slightly better call quality and more detailed sound with a punchier bass. Also, SOUNNDELITE 72 earbuds will enable you to choose one of three EQ modes/presets.
---
Anker Soundcore Spirit
Soundcore Spirit buds feature the same kind of design as the previous two models. Soundcore Spirit buds are just a few bucks cheaper than the Koss earbuds.
Both headphone models are rugged but Soundcore Spirit buds are IPX6-certified while the Koss BT232i headphones are sweat-resistant but don't have IPX rating.
Just like the BT232i headphones, Soundcore Spirit headphones are perfect for people with small ears and provide a very secure fit. They also have the same kind of in-line controller with a built-in battery and mic.
Spirit earbuds utilize Bluetooth 5.0 while the BT232i headphones feature Bluetooth 4.2. Both headphone models deliver similar Bluetooth performance with the same range.
Compared to Koss BT232i, Spirit buds deliver longer playtime (8h VS 6h).
Both headphone models deliver very similar mic performance and very good call clarity. Spirit buds are bassier and have muddier midrange reproduction. Koss earbuds deliver a more balanced sound with better midrange clarity.
---
Comparison Table
Frequently Asked Questions
Can Koss headphones connect to an iPhone?
Yes, Koss headphones can connect to an iPhone. If they are wireless, you can easily connect via Bluetooth. Even if they are wired headphones, you can purchase a Koss Lightning Utility cord along with the headphones of your choice so you can plug it into your iPhone. The Lightning Utility cord is MFI certified and also features an in-line microphone and remote to control your music and attend calls.
How do I pair my Koss wireless headphones?
Step 1: Ensure your phone's Bluetooth is turned on
Step 2: Press and hold your headphones' power button for 5 seconds till you hear the tone
Step 3: Make sure the LED light is flashing red and blue
Step 4: Select your Koss Bluetooth headphones from the device list and wait for them to pair
Final Thoughts
If you're on a budget, Koss BT232i wireless Bluetooth FitClip headphones are a very good choice. They are durable, provide a secure fit, and deliver satisfying playtime. They also deliver very good call quality and balanced sound with punchy bass and detailed mids. So, all in all, Koss BT232i headphones deliver pretty good performance for the price.
However, Koss BT232i is not your only choice at this price point. The number of viable choices is huge. If you want better durability, IPX rating, or longer playtime, you should check out our favorite alternatives – Anker Soundbuds Slim+, TaoTronics SOUNDELITE 72, or Anker Soundcore Spirit.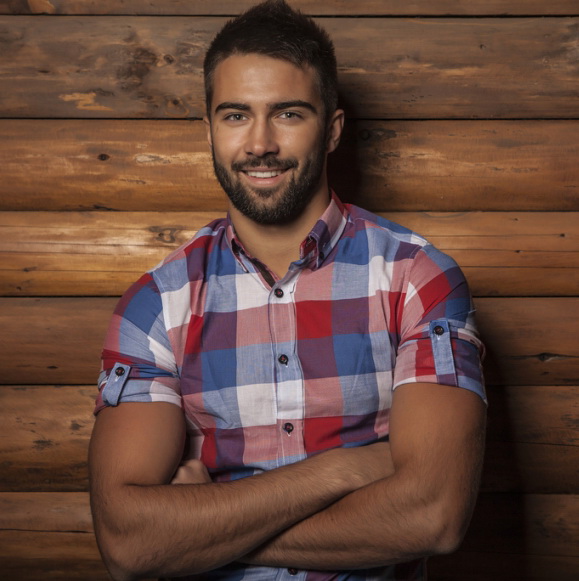 Hello, my name is James Longman.
I'm a writer and editor at AudioReputation. I disassembled my first portable AM/FM radio when I was only 8. At the age of 11, I burned the circuit board on my old boombox cassette player. I'm not going to explain how but it was reckless and stupid.
Since then, I have become much more careful around radios, boomboxes, and other audio devices (at least, I like to think so) but I have never lost the passion for audio equipment. Throughout 20 years of my professional career, I've been working for various audio equipment manufacturers and even started building speakers on my own in my little workshop.
I love the work we do here at AudioReputation. Testing, comparing, and evaluating all kinds of audio devices (speakers, soundbars, headphones, home theater systems, etc.) is something I truly enjoy. I try to be unbiased and give you my honest opinion on every piece of equipment I test. Still, you should take my reviews with a pinch of salt and always be just a little bit skeptical. The fact that I liked some speaker or soundbar doesn't mean that you are going to love it. If you have the opportunity, you should test it/hear it before buying it.