AudioReputation is reader-supported. When you buy through links on our site, we may earn an affiliate commission Learn More
Although most people prefer earbuds for sports, we understand that some of you can't give up on full-size headphones. You often ask us if we have some regular headphones that you can use for your workouts so we've decided to make this list of 7 best over-ear headphones for working out in 2023 and help you find what you've been looking for.
While earbuds are considered more adequate for sports due to their small size, lightweight, tight in-ear fit, and other features, some people simply can't stand them. We can understand why. Over-ear headphones are often more comfortable, spacious, you don't have to about losing them, etc. Also, they often provide better audio reproduction and wider soundstage. In fact, it's completely normal that if you love over-ear headphones and use them for all the other activities, you want to use them for working out as well.
However, we have to warn you that using over-ear headphones for working out can cause some problems as they aren't as tight as earbuds and tend to slide off, they are significantly heavier, and can cause excessive sweating, which can sometimes lead to headphone damage and malfunction.
Best Over-Ear Headphones for Working Out – Comparison Table
In order to help you find the best possible workout headphones, we've tested various full-size headphones made by different companies.
During the process, we've been trying to take all the relevant characteristics into consideration: design, sound quality, usability, fit, etc. Of course, the most important condition was that the headphones have a secure but not too tight fit so they don't cause fatigue or excessive pressure on your head and ears.
Subsequently, we've selected 7 models and created the following list of the best over-ear headphones for working out in 2023. We sincerely hope you'll find our reviews interesting, informative, and helpful.
The List of 7 Best Over-Ear Headphones for Working Out in 2023
---
1. Best Deal: Cowin E7
The first place on our list of 7 best over-ear headphones for working out in 2023 is reserved for a pair of amazing headphones that combine great performance, overall audio quality, and ease of use with a surprisingly low price. If you want a pair of feature-rich headphones but can't spend a small fortune on them, Cowin E7 are for you. We promise you won't regret it.
Things we like
When we took them out of the box, we realized how attractive and modern these headphones are. We tested the black version but they're available in blue, green, red, yellow, white, and purple as well. So, there's something for everyone! All the controls are located on the large cups and used to control the playback, manage calls, adjust volume, and skip tracks. There are also the pairing and ANC buttons, as well as a small built-in mic.
After that, we've decided to put them on and play some music to test their features, performance, and see how comfortable they are. We immediately realized that the headband is quite comfortable and nicely padded just like the spacious thickly cushioned cups. In case you think you might have problems in this area, you should know that the headband is easily extendable and the cups are adjustable.
The sound these headphones deliver is way better than we expected. It's nicely balanced and very pleasant. There's a lot of bass which makes them a perfect choice for bass heads. However, you won't have major problems with any range because they're all quite distinctive and nicely balanced.
The pairing was simple and fast – the Bluetooth 4.0 works just fine. The battery, on the other hand, surprised us because we really didn't expect to get 30 hours of playtime. It seems that it's impossible to run out of juice but in case you do, have in mind that these come with a detachable audio cable and can be used in wired mode, too.
Things we don't like
Although they seem to have it all, that's not quite the truth. For example, we should warn you that some customers experienced some issues related to durability and construction quality – the paint peels off after a while and the hinges produce some kind of crackling sound.
In terms of sound quality, you will experience a slight decrease in quality when you play genres other than electronic music or hip hop.
---
2. Most Durable: Plantronics BackBeat GO 810
Our second pick is an amazing model from the Plantronics BackBeat series. GO 810 may not be incredibly popular but we assure you they offer great audio quality, several useful features, and can be used for playing different types of music. And you can get all that for less than $70.
Things we like
Straight from the box, BackBeat GO 810 headphones look really nice. They are fairly similar to BackBeat Pro 2. The cups are large with thick cushions. The adjustable headband is made from copper and makes them look like some premium headphones. Our choice was the bone-white model, but you can also get them in graphite black or navy blue. They all look great.
If you take a closer look, you'll see a very simple and easy-to-use control scheme. The buttons look like touch-sensitive buttons, although they really aren't. On the left side, you'll find the buttons that control the playback, dedicated volume controls, and the additional preset and Bluetooth buttons. The preset button is used for switching between balanced and bright modes but it can also be used as a mic button. All the buttons are quite responsive.
When you put them on your head, you'll see that GO 810 headphones feel rather durable. The headband is quite flexible and the headphones seem to be able to withstand a few occasional drops. Besides, you will feel a tight fit. They're decently comfortable but the tightness around ears can be too much for some users. However, this is what you need if you want to use them for working out.
The headphones feature Bluetooth 5.0 with up to 299ft of signal range so we believe you shouldn't experience any problems with pairing or connection stability. Also, you get to pair them with two different devices simultaneously. Another great feature is the battery that lasts up to 24h per charge. The recharging takes 2 hours and the headphones have the fast-charge feature that provides you with 3 whole hours of playtime after a 10-minute charge. This should be enough for any of your daily activities but in case you run out of juice, there's always a detachable audio cable that will allow you to resume your listening in a minute.
After a few played songs, we realized how amazing these headphones sound. Their audio reproduction is better than expected. The bass is consistent and slightly elevated. The mids and treble are also great. Although ANC isn't among the best, the headphones leak almost no sound, which means you can turn the volume very high without disturbing people around you.
Things we don't like
As we have already mentioned, the headphones provide a very tight fit. Although this is good for workouts, you might feel some discomfort or fatigue because the inside of the cups is quite small and it might not fit people with larger ears.
---
3. Best Over-Ear Headphones for Running: Sennheiser PXC 550-II
If you're looking for a reliable pair of headphones made by one of the most trusted audio companies in the world, we have the right thing for you. We present to you Sennheiser PXC 550-II, headphones with impressive audio reproduction and amazing battery life. They look good, they sound good, and they feel great on the head.
Things we like
PXC 550-II is the improved version of the original PXC 550 model. To be completely honest, the new version looks almost the same as the previous one. The only difference, design-wise, is in the removal of the silver details on the cups, hinges, and headband, which still look quite amazing.
Take them in your hands and you will realize how sturdy and durable they are. Despite being made from plastic, they seem quite sturdy and durable. In addition, PXC 550-II headphones are foldable and highly portable. Apart from the good build quality, the headphones offer quite a comfortable listening experience. They have an adjustable and well-padded headband and thickly cushioned cups. They allow your ears to breathe and are very spacious.
Another great thing about these headphones is their super-intuitive control scheme. The buttons are very responsive and they allow you to control the playback, volume, manage calls, pair them to your source device, or activate voice assistant. There's also the possibility to choose between three ANC levels: off, user mode, and max.
When it comes to features, PXC 550-II feature Bluetooth 5.0 with almost 240ft of signal range. The pairing is simple and fast, while the connection is quite stable. Also, there's the amazing battery that will last you for up to 30h. Of course, the battery life is significantly shorter when the ANC is on but even so, 20h is not bad at all. The recharging takes 1.5h.
Finally, we've come to audio reproduction. As expected, PXC 550-II headphones have a very pleasant sound signature with excellently balanced lows and mids. These will sound great no matter where you use them or what kind of music you're listening to. Frequent flyers, commuters, and office employees will be very happy with their noise-canceling abilities.
Things we don't like
Sadly, PXC 550-II aren't available in any other color than black.
Also, they don't support quick NFC pairing, which is kind of expected at this price point.
In addition, we'd like to hear some improvements when it comes to treble performance as it can sometimes sound a bit uneven and harsh.
Also Read: Axiom Audio M5HP Bookshelf Speakers.
---
4. Best Bass: Skullcandy Hesh 3
The next model on our list of 7 best over-ear headphones for working out is Hesh 3, one of the most affordable headphones made by Skullcandy. This brand is very popular among young people who want to have nicely designed trendy headphones that do their job well and don't cost a fortune. If you're looking for something like this, Skullcandy Hesh 3 is one of the best options.
Things we like
Like all the Skullcandy products, Hesh 3 headphones look really good, really attractive. They have a rather simple design but still look quite sleek. The headphones come in various colors (black, gray, red, deep red, blue, olive, and teal) and they all have a matte finish.
The control scheme is rather simple and easy to use. All the buttons and ports are on the cups and allow you to control the playback, manage calls, adjust volume, skip tracks, etc.
The first reason why we believe these are great for sports is the way they feel on the head. They have an adjustable headband and spacious thickly padded cups. The padding on the headband isn't so rich but that doesn't diminish the overall impression. In fact, the headphones are quite light and comfortable. They also provide a tight and secure fit, which is very useful if you want to take the Hesh 3 to the gym. In addition, they are completely foldable and easily portable.
Another reason for picking this very model is their sound signature. It's V-shaped and we all know how bass-enhanced performance can boost your energy and help you work out harder than usual. If you don't mind the vocals being slightly pushed back and occasionally overshadowed by the lows, Hesh 3 is the right headphone model for you.
They also feature Bluetooth 4.1 with up to 190ft of signal range, while their battery can last for 19 hours. The recharging takes approximately 1.1h. 19h should be more than enough for a whole day but in case you run out of battery or forget to charge it, you can always use the included detachable audio cable as these can be used in wired mode as well.
Things we don't like
Hesh 3 are quite basic headphones. They lack some of the most popular features (NFC, ANC, fast charge, etc.). Also, they have a very specific sound signature that not all people like and their control buttons are a bit unresponsive due to their rubber coatings.
---
5. Best Design: Sony NC WH1000XM2
They're not cheap, that's for sure. But boy, they look so good! And not only that! Sony WH100XM2 are amazing noise-canceling full-size headphones with great audio reproduction and a bunch of useful features that many busy and active people around the world simply love. They are a great choice for every daily activity you can think of and they're definitely worth every penny.
Things we like
Sony WH-1000XM2 look similar to their predecessor – Sony MDR-1000X. They have large foldable cups with thick cushions and comfy adjustable headband. They look rather elegant and attractive. They are available in only two colors (black and gold) but both versions look so good that you probably won't need any other color. Not to mention that in both cases you get these with a matte finish.
The headphones weigh 0.61Ibs and feel rather comfortable and spacious on the head. They are tight enough for workouts but not too tight so they won't cause any pressure, pain, or fatigue.
Moreover, Sony WH-1000XM2 are nicely built headphones. Metal and plastic parts are nicely blended together. The result – durable and flexible headphones made to last for quite some time.
Also, the headphones are very user-friendly. The control scheme is simple and intuitive. The headphones feature touch-sensitive controls that allow you to manage calls, playback, volume, skip tracks, activate the ANC, or the ambient aware mode. WH-1000XM2 feature Bluetooth 4.1 with up to 170ft of range. They also support NFC fast pairing.
In addition, they have an amazing battery life of 28h, while the recharging takes 3.6h. There's also the Sony Headphones Connect app, supported by both iOS and Android, which allows you to use the equalizer, control the ANC levels, switch between sound modes, control the playback, etc.
Finally, there's the amazing sonic performance. Of course, we couldn't expect anything else from a premium Sony model. The headphones are great for critical listening. Thanks to the ANC that works like a charm, they are the perfect choice for frequent flyers and commuters. They can completely shut all the ambient noise out.
Things we don't like
Sadly, WH-1000XM2 headphones aren't perfect for making phone calls. They're simply unable to separate your voice from the ambient noise well, so your voice will sound rather muffled.
Also, their latency is very high and they can't be used for watching TV.
---
6. Most Comfortable: Bose SoundLink II
What would you think of a "best of" list that doesn't include any Bose product? That something's wrong, right?
As Bose products are an integral part of every list that gathers quality audio equipment, it's only natural to see some Bose headphones on this list, too. This time, it's Bose SoundLink II. They aren't too expensive, the sound is well-balanced, the comfort is more than great, and they are quite easy to use.
Things we like
The design of Bose SoundLink II reminds us of the design of Bose SoundTrue or even QC25. They look very simple but also quite sleek, and they're incredibly attractive in both black and white versions.
The control scheme is quite simple and intuitive. The buttons are responsive and they allow you to control the playback, manage calls, adjust the volume, and skip tracks.
The headphones are generally quite light and very comfortable. They aren't too tight but also not too loose, which makes them a good choice for workouts. Once you're done with your workout, you can simply place them in their case and throw them in your backpack. Although not foldable, Bose SoundLink II have rotating cups, which makes the storing process somewhat easier.
Let's now skip to features. Bose SoundLink II support Bluetooth 4.0 with a great range of up to 96 feet. The headphones also support NFC fast pairing and can be paired with two devices at the same time. They also have quite a powerful battery that delivers up to 20 hours of playtime and can be charged in 3 hours.
In addition, the headphones come with the Bose Connect app. It works fine with both iOS and Android, it allows you to update the software, rename your headphones, pair them, check their battery status, manage auto-timer, control playback, etc.
Of course, we mustn't forget about the sound. The headphones deliver a very pleasant sound with nicely balanced mids and lows. The treble is rather consistent and dynamic. No matter what kind of music you prefer, Bose SoundLink II should sound just fine.
Things we don't like
Unfortunately, the headphones don't support ANC. Also, their passive isolation doesn't work very well.
The headphones are a bit too plasticky and that's not something you expect at this price point.
---
7. Best Budget: Mpow 059
Mpow 059 headphones have been one of the most popular and best-selling headphones on the market for quite some time. Naturally, there's a logical and simple explanation for that. These headphones combine great quality, modern design, useful features, and a very affordable price. This is more than enough for us to put them on our list of 7 best over-ear headphones for working out in 2023.
Things we like
Mpow 059 are nicely designed headphones that come in red, black, gray, pink, blue, and green colors. The big round button on the earcups is used to control the playback, calls, and pairing. There are also the volume controls that can be used for skipping tracks, too. As far as the control scheme is concerned, that's pretty much it – simple, easy, and intuitive.
Despite being made from plastic, Mpow 059 headphones seem quite durable. They're also lightweight, their headband is adjustable and nicely padded, and the cups are softly cushioned. All these things make them very comfortable, while their foldability makes them highly portable.
Recommended Reading :

Mpow 059 feature Bluetooth 4.0 and have a battery that can last for up to 13 hours. This should be more than enough for a great part of the day and most of your regular activities. The headphones can be used in wired mode, too. A short 4ft audio cable is included in the package and you just have to connect it when you run out of battery.
Mpow 059 sound pretty great for such a cheap pair of Bluetooth headphones.
Things we don't like
One of the things that bother us about Mpow 059 is their glossy finish and the fingerprints it attracts.
Also, we have to warn you that the mic doesn't work well and that you should avoid using it. In addition, it can be used in wireless mode only.
---
This was our list of 7 best over-ear headphones for working out in 2023. We hope you've found it helpful and informative. In case of any further questions, please scroll down to our FAQs section or leave us a comment below.
---
FAQs
Q: Can I wear over-ear headphones while working out?
A: Yes, you can wear over-ear headphones while working out. However, you should know that most of them aren't made for intensive workouts and they tend to fall off your head and cause you to sweat more than usual. Also, using over-ear headphones for workouts can cause the headphones to damage and break faster.
Q: What are the best over-ear headphones for working out?
A: That mostly depends on you – on your taste and your needs. However, since there's a very limited number of over-ear headphones that can provide the right kind of fit for the gym use, we advise you to go through our list of 7 best over-ear headphones for working out in 2023. We're pretty sure you'll find something you like.
Q: Should I use wired or wireless headphones for working out?
A: That's completely up to you but it's much smarter to go wireless. The cables can tangle, dangle, or be caught on something and distract you. We sincerely advise you to buy Bluetooth headphones for workouts.
Q: Will sweat ruin my headphones?
A: Honestly, over-ear headphones aren't made to withstand too much sweat or any liquid. If you're sweating a lot during your workouts, you should take good care of them and wipe them up with a cloth after you're done exercising. Or simply get a pair of earbuds.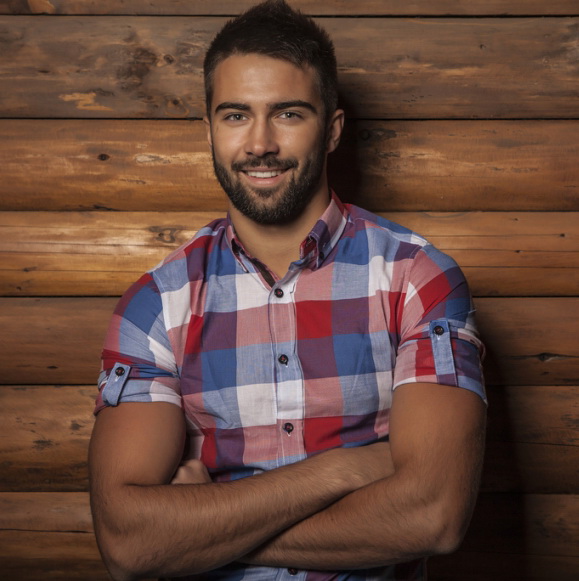 Hello, my name is James Longman.
I'm a writer and editor at AudioReputation. I disassembled my first portable AM/FM radio when I was only 8. At the age of 11, I burned the circuit board on my old boombox cassette player. I'm not going to explain how but it was reckless and stupid.
Since then, I have become much more careful around radios, boomboxes, and other audio devices (at least, I like to think so) but I have never lost the passion for audio equipment. Throughout 20 years of my professional career, I've been working for various audio equipment manufacturers and even started building speakers on my own in my little workshop.
I love the work we do here at AudioReputation. Testing, comparing, and evaluating all kinds of audio devices (speakers, soundbars, headphones, home theater systems, etc.) is something I truly enjoy. I try to be unbiased and give you my honest opinion on every piece of equipment I test. Still, you should take my reviews with a pinch of salt and always be just a little bit skeptical. The fact that I liked some speaker or soundbar doesn't mean that you are going to love it. If you have the opportunity, you should test it/hear it before buying it.